McBeth Overcomes Illness, 'Waiting Game' For Second Career USDGC Title
McBeth Overcomes Illness, 'Waiting Game' For Second Career USDGC Title
Tumultuous final round leaves Conrad in second, with Jones finishing third on the podium
Sunday, October 7, 2018 - 11:53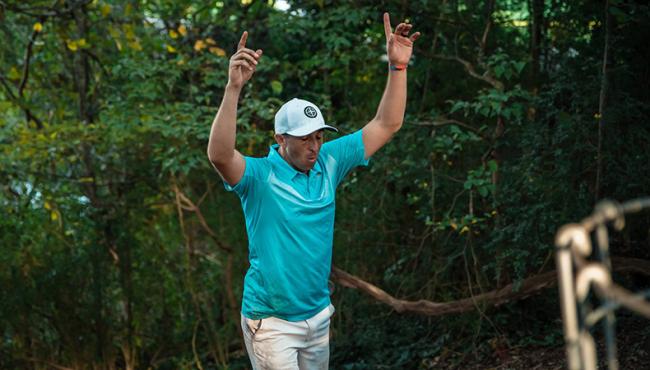 ROCK HILL, S.C. – For three-plus years, Paul McBeth was synonymous with PDGA Majors.
After winning his first at the 2012 PDGA Professional Disc Golf World Championships, the victories flooded in. He rattled off 10 more over the next 39 months, culminating in his 2015 United States Disc Golf Championship comeback to complete the "McSlam," a sweep through that season's five most prestigious tournaments. On the sport's biggest stages, it seemed he was nearly unbeatable.
That's changed the past few seasons, as he's battled injuries and a new crop of up-and-coming stars who have threatened his standing atop the disc golf hierarchy. Yes, he's feasted on PDGA National Tour and Disc Golf Pro Tour events, but hasn't won a world title since 2015, thrice a runner-up at the sport's premier tournament. That drought extended to the other stateside Majors in that span, as his win here was the last time he took home the hardware on American soil; he did, however, win the 2017 European Open.
So with his second career USDGC win in his sights Saturday at Winthrop University's Gold course, he was eager to race to the finish. But his body, and his competitors, wouldn't exactly let him.
Battling flu-like symptoms since Thursday, McBeth sported a ghastly pallor after Friday's third round. As he warmed up on the practice green before Saturday's final, he said his focus and vision were, at times, off-kilter, even if he did feel better than the day before. It was evident he wasn't playing at 100 percent health, and there was a crack in the door for James Conrad and Kevin Jones, who each sat five strokes behind the four-time PDGA World Champion.
"I knew they were gonna play well and I knew it wasn't gonna be my best round today," McBeth said. "…Today I had the clear mind, but physically didn't feel as good, so I knew just conserve my energy till the end. I knew I could…close out strong, so it was just a waiting game.
"I didn't like it. I didn't like waiting like that," he continued. "But I knew I had to. It got scary there."
Indeed, McBeth was nowhere near flawless Saturday, and scores tightened quickly. But with the tournament on the line down the final stretch, he dug deep, held off a surging chase, and emerged a two-time United States Disc Golf Champion.
McBeth's final round 5-under par 62 brought his four-day total in Rock Hill to a 34-under par 234, which was just enough to oust the upstarts on his card. Conrad's third 7-under par 60 in a row left him in second place with a 31-under par 237 total, while Kevin Jones' 6-under par 61 dropped him to third place overall with a 30-under par 238 in his second career USDGC.
2017 U.S. Champion Nate Sexton tossed the best round on the lead card with an 8-under par 59 to hold onto fourth place at 29-under, while two-time PDGA World Champion Ricky Wysocki climbed into fifth place with a 9-under par 58 to bring his 72-hole total to a 27-under par 241.
In addition to the coveted title and the esteem that comes with it, McBeth also took home a $10,000 payday. Conrad's $6,000 prize was the largest of his pro career, as was Jones' $4,000.
Instead of a victory lap around Winthrop Lake, McBeth's fistful of strokes quickly dissipated to a pinky-sized cushion Saturday afternoon. Both Jones and Conrad parked flex-forehand drives on the 255-foot 1st, while McBeth chained out on the elevated pin from just outside the circle. He recovered with a string of three birdies, but gave two of those away on the 1,083-foot 5th, which played as the track's sixth-most difficult. Clean off the tee, and again on his first approach, McBeth left a forehand short on his third toss and landed in the drink. He advanced to the water's edge and hit the peninsula green with a long look to save bogey, but he was not able to connect and slumped to a double-bogey 7.
At the same time, Jones was on fire. He connected for a birdie 3 through the planks that encircle hole 2's green, then parked his drive on 3. At 4-down through 4, he opted to play hole 5 for birdie – he eagled it last year and had the aggressive play in his back pocket if he felt like he needed it – and dissected it with surgical precision. And just like that, he had chopped four shots off McBeth's lead and trailed by one heading into hole 6.
McBeth took one back after he landed safely on the beach and Jones settled for par, and the two pushed with deuces on hole 7's triple mandatory bamboo shot.
Hole 8, a 697-foot par 4 that played a quarter-stroke over par Saturday, presented Jones with another chance to separate. McBeth, who was first to tee, laced a Destroyer clean down the fairway, but it faded out late and into the left-side out-of-bounds. Jones then stepped up and, opting for the forehand route, turned his drive over early and landed in the same OB as McBeth, but 75 feet shorter. He was forced to pitch out from an awkward stance and landed pinned against the back wall of Winthrop Ballpark, which left him with only a layup to the basket for bogey. McBeth also cleaned up for his 5 to dodge a bullet.
"That was a great opportunity to capitalize," Jones said. "I committed to the shot. I'm happy. I'm always happy with flipping it too much instead of not putting too much on it."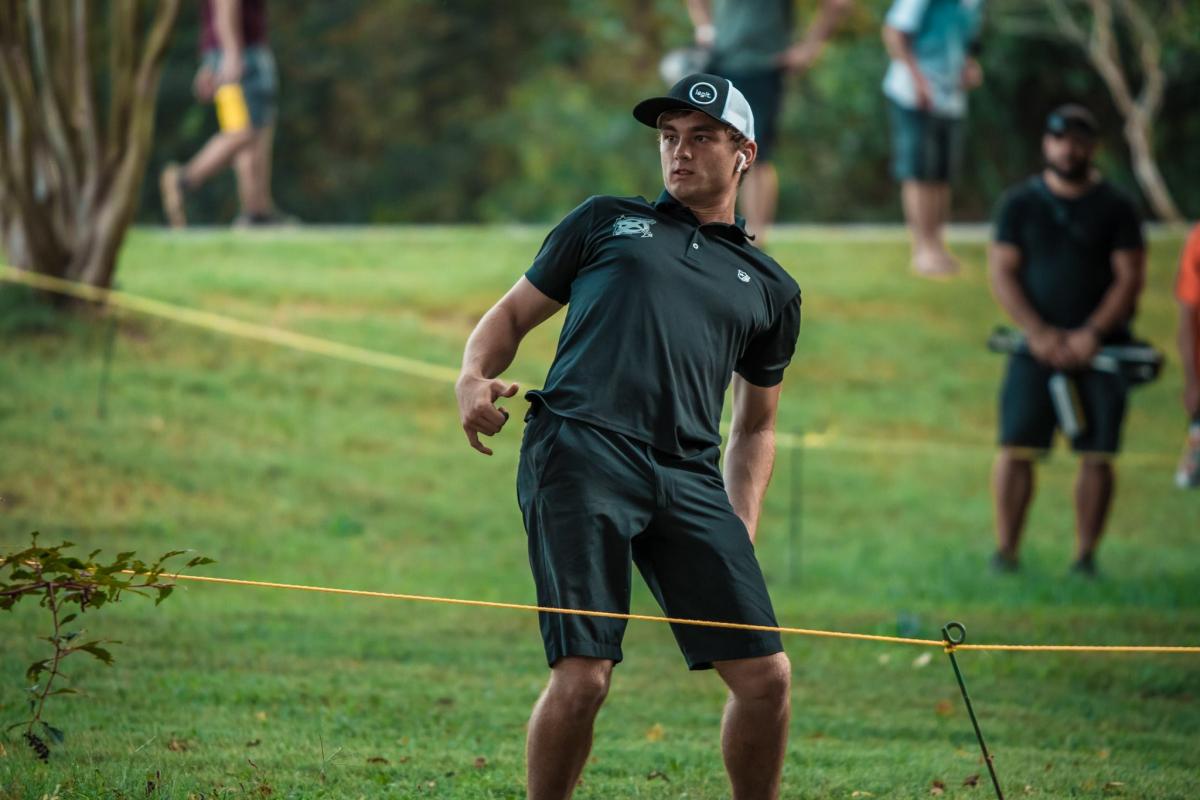 Power again proved to be problematic for Jones on hole 9, as he overcooked his drive and landed long of the kidney-shaped landing zone. McBeth, meanwhile, island hopped with aplomb and tapped-in for birdie, staving off any of Jones' building momentum.
As the lead card hit the back nine, Jones trailed by four while Conrad – who scuffled with another hazard on 3 and an inside-the-circle miss for bogey on 4 – was down by the same margin. That meant both players would take a page out of McBeth's playbook and make the aggressive move, gunning for hole 10's island green. Their success would be even more important after McBeth, perhaps showing signs of fatigue, sawed off his drive and strayed outside the lines.
Conrad was up first and, with a signature gallop from behind the tee box, unleashed a Destroyer that flexed slightly left before riding and settling 15 feet from the brick-lined basket. Jones fired a laser beam down the fairway, but didn't get the same turn Conrad did and instead faded out, safely, to about 65 feet left of the pin. He wasn't able to convert for the eagle, but did take one stroke thanks to McBeth's bogey. For Conrad, though, the two-shot swing narrowed the margin to two.
The Virginia pro hadn't aimed for the island all week, but he said that, in hindsight, he still wouldn't have taken the risk earlier in the tournament.
"It was one that I practiced the shot plenty of times. I didn't think my percentages were gonna be 100 percent if I went for it all four rounds," Conrad said. "I felt like when I need it that I trusted myself to be able to step up and execute it. I needed it then, and I did execute it."
His timing was impeccable, as McBeth began to wilt. Holes 11 and 12 cover more than 1,600 feet in length and feature relatively no shade, and the leader looked physically drained. He again shorted his tee shot on 11 and had to proceed to the drop zone, and on 12 actually fell down after releasing his second shot from a hillside lie.
Conrad, though, couldn't capitalize on the miscues. He played 11 efficiently, but for par, then missed a long bid for birdie on 12 as spectators on the opposite side the hedges carried on a loud, distracting conversation. Jones, who also went OB on 11, recovered on 12 with a smashing drive that put him with an open look for a putter upshot to the green, and he tapped in for a 3 that put him back within one of McBeth.
Again, McBeth's exhaustion showed on hole 13, also known as "999." He scolded himself after not flipping his tee shot for enough distance, then left his midrange approach too low before getting a lucky skid along the sidewalk that kept him just feet in bounds. He followed that with yet another short forehand approach, which put him 45 feet from birdie. He missed low off the cage, and again chastised himself under his breath – this time with a couple of rare expletives – as the pressure mounted. Conrad, meanwhile, got on the green in two and ultimately tapped in for an easy birdie to tie the score.
McBeth called his performance on the hole "lackadaisical," the product of trying to save his stamina for the final stretch.
"I knew there weren't many holes left, so I couldn't make those mistakes anymore," he said. "…I couldn't just hope they went in. I had to start putting them in. I couldn't just try to conserve my energy and hope this floats in there, so I had to start putting everything in every shot."
The low miss on 13 was just the spark McBeth needed. After Conrad and Jones both stepped up and left their tee shots wide right of 14's downhill placement, McBeth pinned his drive to raucous cheers and his own pumping fists. Neither Conrad nor Jones could connect for their deuces – though Jones ran his hard off the top band – and McBeth added an insurance stroke over each.
He got another with a perfect drive on 15, while Conrad made the hole's triple mandatory but had to scramble with a pitch-up forehand roller back to the fairway. Jones matched McBeth's birdie, but the leader had breathed new life back into his fading prospects.
Up two heading into 16, McBeth again landed another park job for a tap-in 2. Both Conrad and Jones misfired off the tee and saved par, but McBeth now had a three-stroke advantage over the pair with two to play.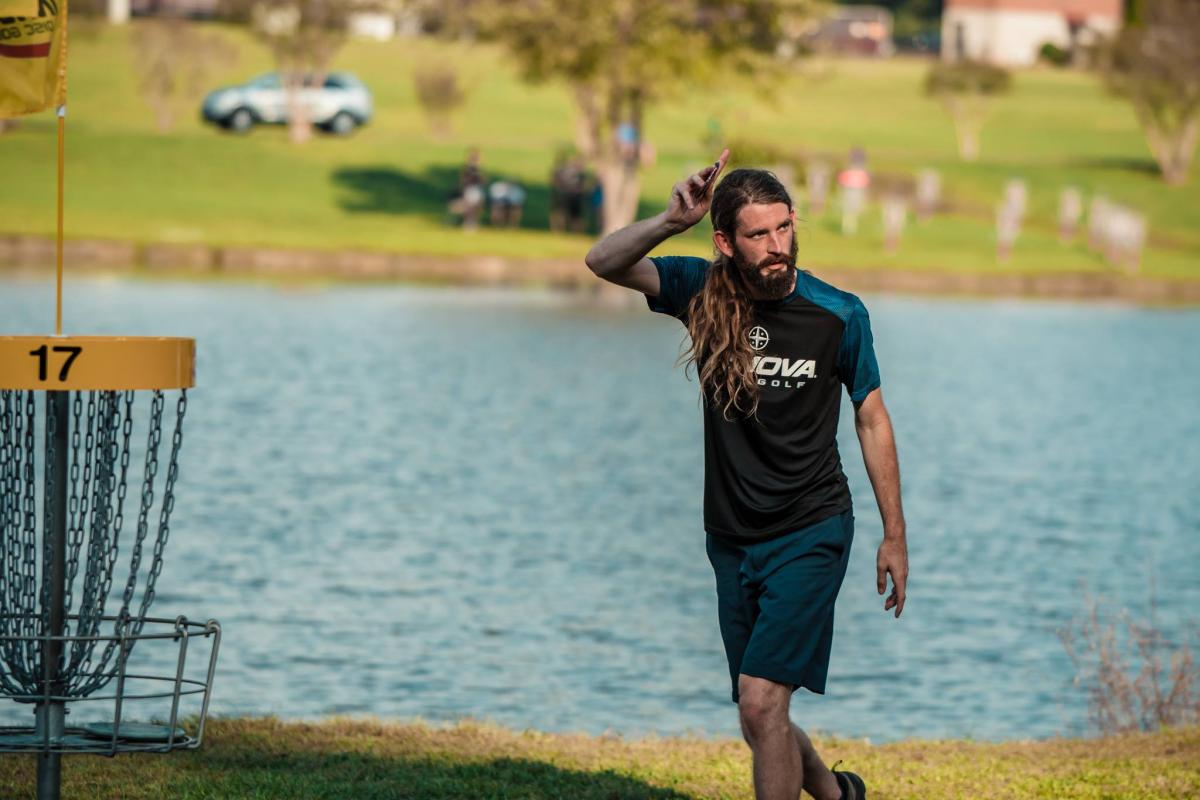 Still, the infamous round killer loomed. And hole 17, the menacing, 249-foot island hole, was hungry for its latest victim.
McBeth, first to throw after his turkey on 14 through 16, grabbed a white and black Nova out of his bag as a breeze began to stir on the tee. He then lofted the disc high and clipped a tree, which sent his shot hurtling left and toward the earth. He then trudged back to his gear and grabbed a red Firebird emblazoned with a stamp that can only be described as an amalgam of Donald Duck and the Stay-Puft Marshmallow Man. Switching to a forehand to properly play the wind, McBeth landed the second attempt, a safe 20 feet from the basket.
Oddly enough, a poor approach from earlier in the round served as the inspiration he needed for the recovery.
"Before throwing that second shot, I just thought back to hole 999 – that upshot was almost the exact same distance I left it short," McBeth said. "So I was like, 'Alright, just focus on that shot and think of this as that shot and throw this that same distance because I left it short.' And as soon as I let it go I knew it was the right distance."
Still, he could only take so much comfort in getting to the island sitting bogey, as Conrad got there for birdie, nearly acing with an Aviar and trimming the lead back to a single stroke. Jones, meanwhile, landed in bounds but wide right, and in a bid to catch McBeth fired his putt too high and over the hay bales. His bid at the title had vanished, and he dropped to third place in the process.
"On 17, it was an opportunity for me to get back into the match," Jones said. "If I would've got a 2 there I would've been in it. Going in on hole 18, I think I would have at least had an effort to do something crazy, so 17 was my last little push. I could've laid up and tried to play Conrad for second, but no thank you."
That left Conrad with the last chance for heroics. He took to the dock on hole 18 and threw a long flex shot that landed just inside the right-side ropes, but was slightly pinched behind a tree. McBeth, meanwhile, executed a Roc shot clean to the left half of the fairway and was in prime position to attack the pin.
Conrad, forced to straddle out from the tree, threw a backhand that sailed on him and clipped some early foliage. The shot landed in bounds, but on the high side of the pin. McBeth then parked his Teebird approach to secure the championship.
"As soon as I let that go I said 'be the one' because it was the line I wanted – it just had to settle," McBeth said. "And it did."
While the drama played out on the lead card, plenty of movement took place on the chase, with Eagle McMahon, Gregg Barsby, and Josh Anthon all shooting 8-under par 59s to secure their spots in the top 10. Garrett Gurthie climbed up to ninth place to match his career high from the 2013 USDGC, which was also his last time at Winthrop. Chris Dickerson, meanwhile, matched his 10th place finish from 2017 with a 23-under par 245 total.
McMahon, who came in as a favorite after winning three PDGA National Tour events and the Konopiste Open Major this season, said his Saturday effort didn't exactly find him going down swinging.
"What analogy are we comparing it to? Golf? Baseball? I was bunting today," McMahon deadpanned. "I was just trying to get on base and I think I got to first base or something like that."
The 20-year-old Colorado native was still happy that his overall game plan yielded more success than struggle at Winthrop this year – though he did say he needed more "spice" to score – and that he was heading into the offseason with a goal of becoming a year-long contender.
"There's so much positivity for this season," McMahon said. "I'd say the only thing I'd look to work on is keeping that consistency I had in earlier in the year and that outright confidence, and I felt like I'm kinda losing a little bit now and not completely on my game. It still shows I'm doing a lot better than I was last year, and so it's just really building on what I already have."
Jones, who happily signed autographs and asked fans if they were enjoying their week at Winthrop, vastly improved on his 18th place finish at last year's USDGC. He exceeded his expectations for the tournament and already has plans to continue touring in 2019.
"I don't think my goal coming into this week was first and only first or nothing else," Jones said. "Getting a top 5 at this event is huge for me. I'm super content with receiving what I got."
Conrad's runner-up showing was a career best on the Major stage, but he lamented the missed opportunities he failed to cash in on during the final.
"Obviously happy with the finish, but hard not to be a little salty about not quite stepping up," he admitted. "Being in position, being tied for the lead and letting it slip back away from me doesn't leave the best taste in my mouth."
After being a fixture on the lead card not only here, but also at Pro Worlds, he was confident that he'd eventually get over the hump.
"Getting that experience under your belt, putting yourself in position, giving yourself a chance is really all you can do," Conrad said. "It's hard to say that there's any particular thing I can do better to make it easier to win, but just put myself in that position and one of those days it'll be my day. That'll be pretty soon, hopefully."
As for McBeth, the performance only adds to his legend as this era's most dominant force, as he went wire-to-wire in what amounted to a three-day version of Michael Jordan's historic "flu game."
"It's hard to think about it right now, but I know it's huge," McBeth said. "Four world titles, two U.S. titles. It was my first Major in the U.S. since the last one here in 2015…so hopefully it sparks that momentum again and starts bringing in the Majors again."
But first, some much-needed rest and recovery.
Comments
Outstanding piece, Steve. Beautifully written and captures all of the drama unfolding yesterday. Congrats to Paul for a heroic win.