Doubles the Fun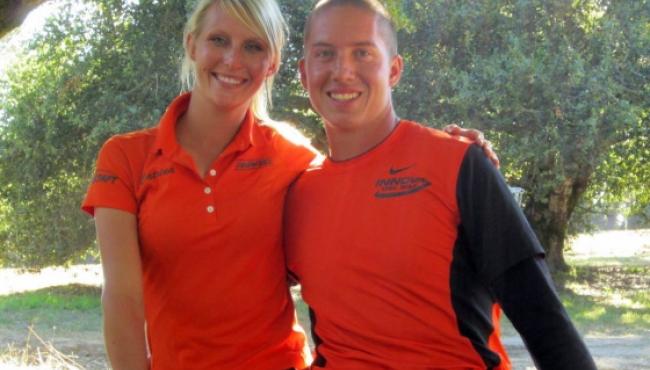 The 2012 PDGA Worlds are underway in Charlotte, North Carolina, with the first event prior to the major competition taking place on Saturday, July 14, with the Professional Mixed Doubles at Bradford Park. Defending champions, Catrina Allen and Paul Ulibarri once again were crowned champions this year. Both hale from Phoenix, Arizona and have been on the road since the Memorial Championship that took place in their home state back in March.
Allen has been on fire this year, winning the recent Beaver State Fling in Estacada, Oregon last month as well as the especially tough Dynamic Discs Glass Blown Open in Emporia, Kansas, the SOKY Championships and the St. Louis Open in addition to a number of other victories. 
I spoke with Allen and Ulibarri on Sunday afternoon under the rather searing heat during the putting competition at Renaissance Park, and asked if they felt the win would have any effect on the results of the Worlds Tournament. Ulibarri remarked, "Any win will definitely boost your confidence going in to the next event."
Allen was rather modest in regard to her success and seemed a little surprised that many people have pegged her to win the Women's Open division in the 2012 Worlds. There is no doubt that she has been impressive, and she certainly has a good head start.
Both Allen and Ulibarri remarked that they weren't doing anything differently to prepare for this event, and take it as seriously as they would any other tournament. Under the bright rays of the sunshine as well as the extreme humidity here in Charlotte, most players do have to take that into consideration with every throw. 
Allen said they've been "away from Phoenix for so long it's hard to compare it to the climate here," but it doesn't seem to have affected either her or Ulibarri as much as it has some of the other pros. 
Allen and Ulibarri ended the doubles competition with a final score of 17-under par, along with the 2011 PDGA Women's World Champion Paige Pierce and Devon Owens from Owasso, Oklahoma, but it was Allen and Ulibarri who ultimately won in overtime and taking $500 in cash for their efforts. Second place finishers Pierce and Owens took home a cool $340, while the team of Jessie Westphal of Shoreline, Washington and Ricky Wysocki of High Point, North Carolina captured third place to take home $220. The competition was so tough that only those who scored under par were able to win a cash prize. 
Over at Hornets Nest Park, the PDGA Worlds Amateur Mixed Doubles took place with local Debbie Scott and Mark Huether of Cornelius, North Carolina who were crowned champion with a final score of 8-under par and took home $250. While finishing in a tie for 8th place, Pawel Hanczaruk smashed a hole-in-one for his team on the 273-foot fourth hole at the Hornets Nest course.
The Junior Divisional Doubles was held at the Elon Park Eager Beaver course and it was Steven Jacobs of Gurnee, Illinois and Dillon Vallance of Alamosa, Colorado who scored 23-under and took the $70 prize and the win in the Boys under 19 division. While finishing in a tie for fourth place, Brian Starnes did his team well by scoring a hole-in-one on the 252-foot sixteenth hole on the Eager Beaver course. In the Boys under 16 division, it was Peter McBride of San Luis Obispo, California and Brock Dowell of Burlington, Iowa who came through with the victory scoring 11-under par, winning $50.
- K.C. Dermody