2012 PDGA Disc Golf World Championships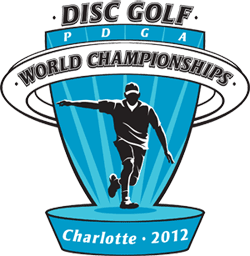 On behalf of the members of the Charlotte Disc Golf Club and Mecklenburg County Parks & Recreation, we welcome you to our little slice of disc golf heaven. Our club, Charlotte, and Mecklenburg County are hosting 1,125 players, their families and friends in what will be the largest disc golf tournament in the history of the sport. It is our pleasure to be a part of this great event.
The 2012 Worlds Host Committee and its partners have been preparing for this for five years. In that time, a number of new courses have been added to Charlotte's stable specifically for Worlds. This tournament will unfold over five days across 14 courses, the most ever used in a single disc golf event.
Among the courses are established gems Renaissance and Hornet's Nest; newcomers Bradford, Eastway, Scrapyard and Plantation Ruins; skill-testers Nevin and Angry Beaver; plus veteran tourney courses Sugaw, Reedy and Kilborne. Together, the challenges of all 14 courses will determine World Champions in 9 Pro Divsions and 16 Amateur Divisions.
The schedule of events has been laid out with top priority given to player consideration. There is a maximum of two rounds a day, no fivesomes and a goal of 3-­hour rounds. Ample time has been built in to allow for travel between courses and refreshing before evening functions. We want the only thing you're concerned about to be how you play.
We kick things off Saturday, July 14, with Mixed Doubles at Bradford for the Professional divisions, Hornets' Nest for the Amateurs and Elon for the Junior divisions. Sunday is Field Events at Renaissance Park with the Distance, Putting and EDGE Skill Shot happening next to the baseball fields off holes 11 through 13. To get to this area, from I-77/South Tryon, drive past the entrance to the Jeff Adams Tennis Center (which is the entrance to the disc golf course), about 3/4 of a mile to the entrance to the ball field complex on the right, and we will be on the left as you pull in. The Mini Golf will be set up at the Tennis Center with an exciting putting finals set up at 8 pm in the center court with bleacher seating and commentary by Crazy John Brooks. This putting finals should be one to remember, come on out and enjoy the show!
Player check-in and player pack pick up will be at The Blake Hotel on Sunday from 9 am till 5 pm and Monday from 9 am to 5 pm. We are proud to have Sun King Discs as our event vendor and will have an excellent supply of disc golf products available all week in the Blake Hotel Carolina Ballroom just off the main lobby
Monday evening will be the mandatory Players Meeting at the host hotel, The Blake, starting at 7 pm and will have the trophies for the field events during the meeting. Tuesday evening will see the Worlds Flymart & Expo at The Blake, followed by the PDGA Banquet and Awards, including the Disc Golf Hall of Fame inductions on Wednesday evening.
Display space at the Flymart is still available at only $150 per booth. Contact George Delano at [email protected] for more information.
Thursday night there will be a number of activities across the Charlotte area for players including a Vibram CTP challenge for a free disc at Independence Park for all players, with pizza and sodas from 6 to 8 pm. And we are all looking forward to the Friday night Players Party, to be held at a private location featuring a Carolina Barbecue (with vegetarian fare, too), ice-cold beverages, live music, lots of games and a 9-Hole Glow Course. Mark your calendar and don't miss it, because this is going be a blast.
Plan for hot, humid weather during play, drink plenty of water and make sure you have sunscreen and bug repellant. There will be mosquitos, but far worse are the chiggers (primarily at Winget Park), which haunt the rough of some of Charlotte-area courses. Chiggers are almost invisible – 1/150th of an inch long – but leave an itchy, slow-healing wound. Unlike ticks (we have them, too), they are soft-bodied, and so after venturing into the rough you can kill them by rubbing down with a towel.
If you haven't booked accommodations yet, you can still reserve rooms at our official host, The Blake Hotel, in uptown Charlotte at 555 S. McDowell Street, just a few blocks from the heart of Charlotte's vibrant bar, restaurant and cultural district, the NASCAR Hall of Fame and the Metropolitan Center with its restaurants and shopping. Across the street from The Blake is Marshall Park, offering an expanse of green for relaxing, practice and catch discs.
The Blake is located adjacent to the city's inner beltway and just a short distance from interstate highways I-77 and I-85. Most courses are within 15 minutes of the hotel, with the farthest about 30 minutes. And a nice touch is the hotel will be providing $2 beer specials for tournament players and their guests in the hotel bar and during functions.
A very favorable room rate of $89/night is being offered from Wednesday, July 13 through Sunday, July 22. Reservations can be made using the promo code "1648" online. You may also book by phone at 1-888-664-6835 using the identifier "Combined World Disc Golf Championships."
Because The Blake is nearing capacity during Worlds week, we have secured a secondary host hotel, Renaissance Suites Hotel, 2800 Coliseum Drive. You can reserve a room at the Renaissance online at a rate of $89. This is just a few blocks from the Renaissance course and about 10 minutes from The Blake, site of many of the Worlds functions. 
We are looking forward to having you join us for the premier tournament in disc golf. We hope this event raises the visibility of our sport and shows people just how much fun they can have just by throwing a Frisbee. Thanks for being a part of the 2012 PDGA Professional and Amateur World Championships.
You can download the entire confirmation package in a 34MB ZIP file or browse through and download just the individual documents you need, such as Events Schedule, Course Maps/Rules/Scorecards; Driving Directions, Junior Players Transportation Package, Overview Map including all venues, and latest Course Schedules. 
Sincerely,
The 2012 Worlds Host Committee
Sam Nicholson
Senior Tournament Director
Lindsey DeFaber
Charlotte Regional Visitors Authority
Jim Banbury
Charlotte Disc Golf Club
Bill Jacobson
Tournament Director Pro Divisions
Preston Buckman
Charlotte Mecklenburg Parks & Recreation
Paul Bergey
Charlotte Disc Golf Club
Kirk Yoo
Tournament Director Amateur Divisions
Travis Dancy
Lake Norman Visitors Bureau
Debbie Scott
Charlotte Disc Golf Club