Worlds Fundraiser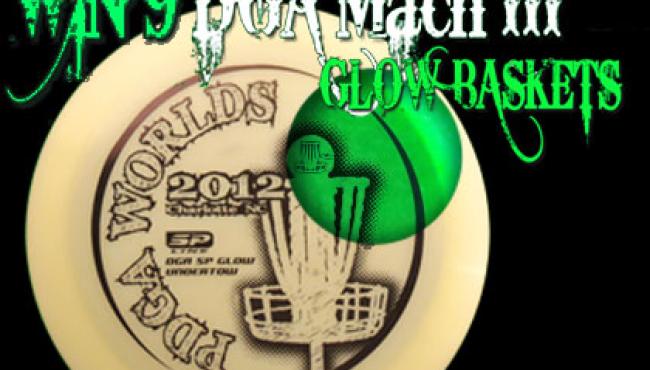 Once again, DGA is offering a unique and exciting way for you to support the PDGA World Championships in Charlotte. By purchasing one of their limited edition Glow SP Line Undertow's you are not only supporting the event, but also entering yourself into a drawing to win your very own nine-hole dream course. This year's Mach III baskets are more special than ever. Keep reading to find out more.
DGA's Dream Course Giveaway
This year's fundraising disc is the SP Line Glow Undertow, which is a blend of glow material and DGA's premium SP Line plastic. These are part of an extremely limited run and will not be available after the promotion is over. The baskets that can be won through purchasing this year's fundraiser disc are even more of a limited edition, as this year's grand prize will be a 9-hole course of GLOW Mach III baskets!
Each year, DGA racks their brains to come up with a unique color for the prized courses. This year color scheme is an industry first, Mach III Deluxe baskets with glow powder coating. Each glow raffle disc gets you one-step closer to owning your own glow Mach III course.
Purchase your SP Line Glow undertow today for your chance to win your dream glow course! 
Are you next?
Here's how it works:
Purchase a fundraiser SP Line Glow Undertow from one of DGA's participating retailers.
Your information will be entered into the raffle database at the time of purchase.
The attached raffle ticket combined with your contact information, submitted at time of order, will enter you to win one of two Dream Courses.  Two chances to win per ticket!
You will get one entry for each fundraiser disc you purchase.
The drawing for the courses will be made during the week of the 2012 PDGA World Championships. Need not be present at Worlds to win!
The Prize: 
One of Two Custom "GLOW" Mach III 9-Hole Courses. These will be the first ever glow-in-the-dark baskets.