PDGA Champs Day 1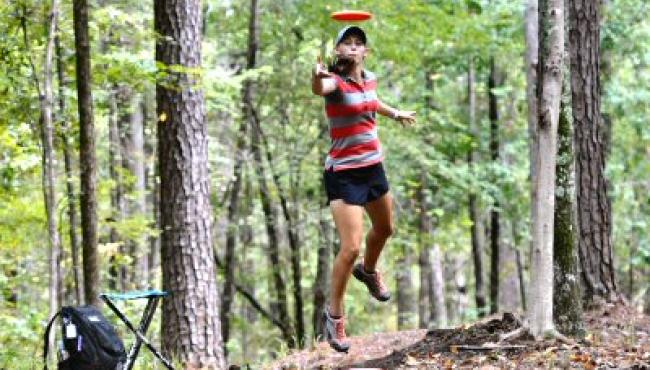 The first PDGA Championship teed off Friday afternoon with blue skies and puffy clouds after drizzle and threatening skies dampened and canceled the Random Doubles scheduled for the morning. A solid field of 117 players took on two of the courses at the International Disc Golf Center. The Open Pros who averaged 1004 and Women Pros who averaged 934 rating played the long Jackson course. The Advanced men who also averaged 934 rating took on the Warner course along with 6 Advanced Women who averaged 835.

PDGA Board president, Dave Nesbitt, briefly led the Open division with a birdie on the first hole after impressively outdriving young guns David Feldberg, Tyler Horne and Tony Ganger. That lead was short lived as Feldberg moved ahead with an almost textbook birdie 4 on the monster par 5 hole 8. On other holes, several top players were picking apart the Jackson with Avery Jenkins taking the lead with a 56 followed by Cam Todd at 57. The trio of Nate Doss, Will Schusterick and ROY candidate Ricky Wysocki followed with 58s. It was great seeing Ken Climo back in action after not competing all summer while recuperating from injury.
Paige Pierce leads Valarie Jenkins by two among Open women with Sarah's Hokom and Stanhope both four more back. Heather Damron leads the Advanced Women by four over PDGA staffer, Sara Nicholson who won free entry into the PDGA Championship by winning Advanced Women in the PDGA Global event.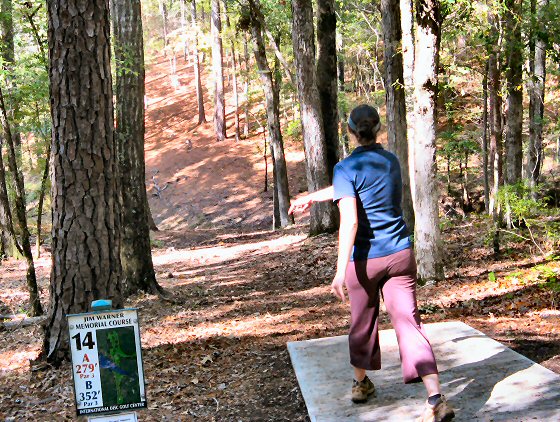 Bryan Gort of Macon, GA leads the Advanced men by 2 over James Fellows of Fairborn, OH. The trio of Ryan Adams, Brian Earhart and William Taylor are tied one more throw back. Gary Suarez (see below) aced the 333 ft downhill hole 6 on the Warner on his first throw of the tournament.
Ams and Pros play two rounds on Saturday and one more Sunday plus a Final 10 for the top players. Pros play the Warner, Steady Ed and Jackson. The Ams get the Jackson, shorter Warner and Steady Ed to finish. The Open Pro champion will be declared the National Champion for 2011. The other division winners will be declared the PDGA Champions for 2011 since the National titles for their divisions have already been determined in other events.
Check out the PDGA Media page to see more photos during the event. Click the red link on the upper right of the PDGA Home page for Live Scoring during this event.
Links
PDGA Championships Leaderboard
PDGA Championships Photo Galleries