Memorial Preview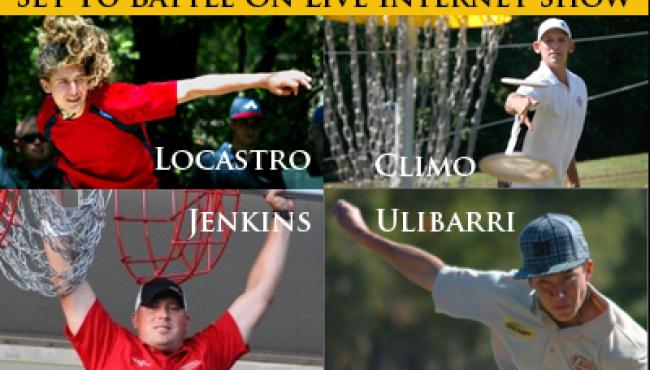 Memorial Championship Super Group Kicks off 2010 PDGA National Tour
by John G. Duesler, Jr.
The drama of the 2010 PDGA National Tour will be on display from the very first tee of the first round as defending Memorial Championship titlest Nikko Locastro will be grouped with growing rivals Avery Jenkins and Ken Climo, as well as Arizona's top disc golfer Paul Ulibarri in the event's annual first round Super Group.
The disc golf world will be able to watch the competition unfold, as the PDGA and its broadcast partners Todocast.tv and E-Planet Media present the event live on DiscGolfPlanet.tv.  All the action from the broadcast will also be archived just a few hours after the live coverage for Video on Demand access.  This will allow subscribers to watch anytime they are able.  Click to www.discgolfplanet.tv/memorial/index.php for more information and to register.
Locastro, whose emotional style of play can energize a gallery, as well as frustrate a competitive field, captured the 2009 Memorial (now known as The Memorial Championship presented by Discraft) with mistake-free tee play down the narrow fairways of the Vista del Camino course.  His numerous chain-smashing putts from well outside "the circle" were the difference during the final round, and they brought to the gallery to a roar when they went in.  And though Locastro quietly began his 2009 season with four titles under his belt before showing up in the desert last year, his impressive win was unexpected by most observers, as he overcame challenges from Jenkins, two-time World Champion Barry Schultz, and Ulibarri, who finished a solid fourth.
This year, though, Locastro may be the player to beat, as a come-from-behind win at the United States Disc Golf Championship last October earned him the Woodchuck Drive for the Championship point total in 2009.  In the meantime, Locastro has also captured the attention of disc golf fans, and foes, alike.  And while Locastro's tremendous skills cannot be doubted, the now 21-year old will be under intense scrutiny from both his competitors and the PDGA, both of whom have frowned on some of Locastro's on-course emotional outbursts.  Whether he can channel that instinctive energy towards productive results remains to be seen.
Climo comes into this year's NT as the sport's highest-rated player, again proving "The Champ" still has plenty of game left to complete with competitors at least two decades younger.
Reigning World Champion Avery Jenkins will look to regain his winning form in the desert, after taking a much needed break from disc golf at the end of 2009.
Paul Ulibarri may be the sleeper of The Memorial Championship, as his home-state advantage, and Fountain Hills Thrills title in January, should bode well during the season's first National Tour event.
On the women's side, the main question is whether anyone can stop the disc golf juggernaut known as Valarie Jenkins, who will be throwing for her third consecutive Memorial Championship title.  Her one main rival, Des Reading, should benefit from an extended rest from competitive disc golf, as well as her athletic pride that has helped Reading earn numerous World and Memorial Championships.  The other threat to Jenkins's supremacy could be Liz Lopez, who bested the three-time World Champion by five throws in this past weekend's Gentlemen's Club Challenge in Las Vegas.
Disc golfers are invited to escape the winter blues and subscribe to the Live Internet broadcast of The Memorial Championship by clicking over to www.discgolfplanet.tv/memorial/index.php.