$100k+ in Grants Awarded Through EDGE Tournament Charity Program
$100k+ in Grants Awarded Through EDGE Tournament Charity Program
Friday, January 13, 2017 - 15:13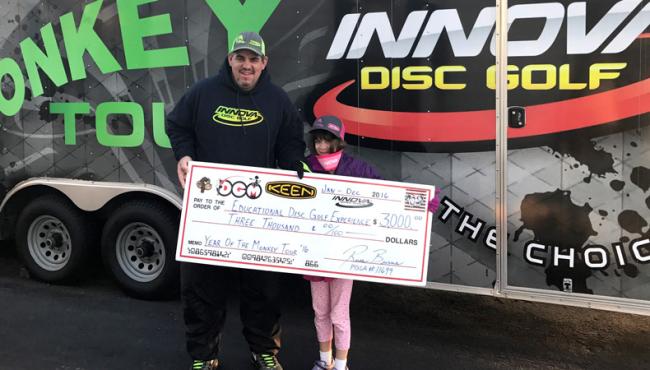 One of the many effective and inspiring fundraising tools developed by the Educational Disc Golf Experience (EDGE) is the Tournament Charity Program (TCP). It started as an idea to get disc golf events involved with EDGE in 2005 with the program working with seven partner events that raised just over $4,000. The EDGE TCP has now partnered with disc golf events in over half of the United States and has now crested an incredible milestone. Over $100,000 has been awarded in the form of 252 Grants to schools and youth programs that desire to bring the great lifetime activity of disc golf into their wellness curriculum!
EDGE TCP awards grants directly in the states and areas where the TCP event contributions originate on behalf of the tournament participants and organizers. "Most of the event partners are PDGA-sanctioned events, but we do have several non-sanctioned charity-specific events we work with as well," says TCP program creator and administrator, Jay Reading. "The PDGA actually has an under-used Competition Endowment Program that specifically adds charitable benefits for events partnering with 501(c)(3) nonprofits such as EDGE," added Reading.
For an event to become part the Tournament Charity Program, a Tournament Director (TD) must register their event and pledge a donation goal amount, based on projected contribution. There is no limit on the creativity of an event as far as generating donations. Events often add per-player contributions on entry fees, hold auctions, drawings, have local businesses donate lunch proceeds, etc.
"My yearly Disc Monkey Tour is very proud to have supported EDGE and the TCP program from the very beginning," stated Director Russ Burns. "The tournament players are all supportive to how EDGE is growing disc golf in and around the locations where we host tournaments. They always look forward to the updates of new schools that are adding disc golf in Missouri and Arkansas."
The events partnering with the EDGE TCP can also benefit by receiving a sponsorship package on behalf of EDGE and it's sponsors that may be used to raise more funds or reward per-player participants with CTP's and/or other prizes. "We have had some great support over the years from KEEN Footwear, Innova Champion Discs, Paul McBeth, and Steve Dodge with the Disc Golf Pro Tour," says Reading. Reading encourages clubs and other series directors to consider getting involved with this great program, one that benefits the entire sport.
For more information about EDGE and/or the TCP program please visit the EDGE website or contact them by email at [email protected]
2016 EDGE TCP Yearend
Stats
65 Tournament Partners
$25,524.00 in contributions into the EDGE TCP grant program
$10,399.70 granted out in the form of 25 EDGE TCP grants in eleven states
14 states involved in 2016 EDGE Tournament Charity Program
Acknowledgments
Highest Contributions for Single Event
Cha Cha Charity Triples (TX) - San Antonio Community Disc Golf ($2,500)
Texas State AM Doubles (TX) - Meteor Mike Schulgen ($1,924)
Young at Heart Parent-Child Event (TX) - Rock Schumen and Waterloo Disc Golf Club (1,450)
Homie Fall Celebration (IN) - Deb and Jay Svitko @ Lemon Lake ($1,000)
Sky High Throwdown (CA) - Suzette Simons ($982)
Woodway Challenge (TX) - Channon Quillen ($860)
Highest Contributions from a Series
The Year of the Monkey Tour (MO/AR) - Russ Disc Monkey Burns ($3,000)
WAFDA Events (AR) - Eric Savage and Western AR Flying Disc ($1,975)
The Iowa Tour 2016 (IA) - Kurt Conrad and Iowa Tour TD's ($1,906)
Wisconsin Tour and Silver Cup (WI) - J Van Lanen and WI TD's ($1,264)
Hyzer Bomb Events (TX) - Matt Siri ($880)
Georgia Super Six (GA) - Wes Campbell and Georgia TD's ($655)