Wire to Wire?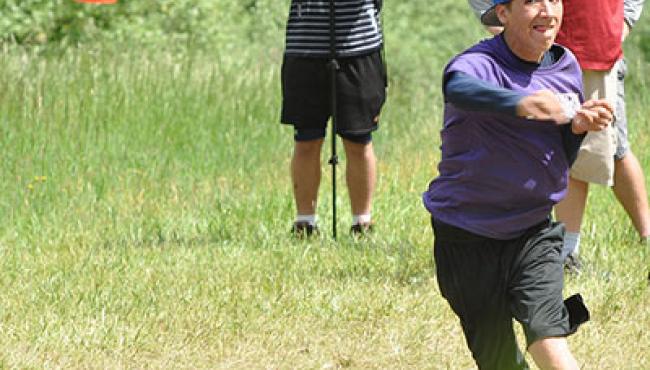 As day two of the 2013 United States Disc Golf Championships presented by Discraft kicked off today, the Toboggan course was at its most vulnerable state.  From the early tee times throughout the day, the sun was shining and the wind was down; perfect conditions for scoring in the second round of this PDGA Major event.  Just a week after Ricky Wysocki set the new overall course record at an astounding 50, the top rated amateurs, representing 24 states and 3 countries, have their sights set on the next hot round.  Sometimes easier said than done, however, as the rough on this course is unforgiving, and a shot that misses by only a foot or two can be severely punished.  Some pay, while others prosper.  The true definition of risk vs. reward style golf.  If an aggressive player is on, they should be able to take advantage and make some birdies.  That's exactly what we saw today.
Raymond Oberley Jr started the day tied atop the leaderboard with Virginia native Austin Pfaff.  That would last only one hole.  After watching his opponent bogey the first, Oberley waltzed around the Toboggan course this afternoon, lacing drives both forehand and backhand, and ran in to trouble only once throughout his round, carding his only bogey on hole 8.  That can make the difference here: how little one has to deal with trouble.  Pfaff played solid for the most part, only slipping up a few times and scoring a respectable 60, or 2 under par, which leaves him tied for third place going into the final round.  The man he is tied with is Tim Barham, who, as the third highest rated player at USADGC, was a favorite going into the event.  A -1 in round one had him at a five throw deficit, but he found his groove on Saturday, firing off the best round of the weekend with a 1030-rated score of 55, or seven under par.  Sam Smith finds himself alone in second place at -10 after two rounds of solid golf, filling out our lead for Sunday.   With only 18 holes of golf left and only six shots separating the top ten competitors, we are sure to see some fireworks tomorrow. 
Again, the competitors and volunteers were treated like royalty today.  A continental-style breakfast, complete with toasters for the bagels, coffee and mounds of fresh fruit was the perfect way to begin a day of golf.  And upon the completion of the round, a truly special treat; bbq pulled pork sandwiches.  Oh, and the pig had been on a spit at the park since 3 am!  After the final cards strolled in, Discraft's own Mark Ellis led the famous "Lizard Games", where players competed in various and hilarious disc games for prizes.  A fantastic end to another competitive and exciting day of disc golf.
Don't miss tomorrow's action, as the final round promises to see an epic finish.  Follow all the live scoring on pdgalive.com and constant updates on Twitter.  Check out the complete listing of today's scores and photos from today's action and come back to find out who will be the next United States Amateur Disc Golf Champion!