Wide Open, Narrow Leads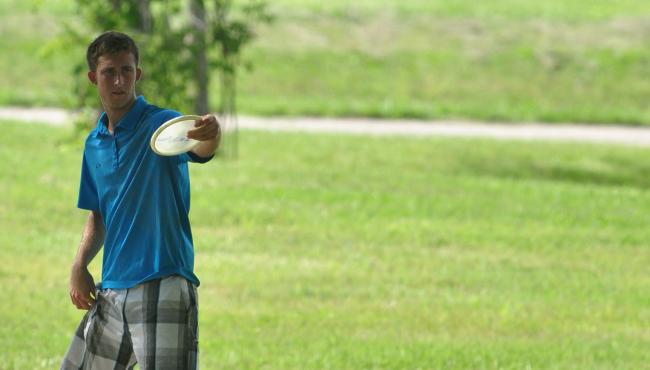 The long awaited start of the 32nd Kansas City Wide Open came to fruition this morning at Wyandotte County Park on the Kansas side of Kansas City. Thanks to a ton of prep work by the tournament staff, the course was primed and ready to go for championship caliber disc golf. The air horns sounded off right on time for the shotgun start, and the 84 players were lucky enough to tee off and play all day in nearly perfect weather conditions.
Wyandotte County Park, often referred to as simply "WyCo", is a challenging course due mostly to the distance of the holes, the positioning of the out of bounds lines, and the placement of the baskets. At 8741 feet and par 63, calling it a long course would be an understatement for most. It's not really a wooded course, but there are plenty of large, mature trees throughout the fairways. It's not really a wide open course, because of the painted/roped out-of-bounds lines that shape the fairways. It's the type of place where every throw requires planning and placement, but a bad throw or two isn't going to make or break your round. 
In the hours before the round, Will Schusterick #29064 guessed that the hot round of the day would be a 51. He wasn't far off. In fact, only one player would beat Will's estimate, and by just a single stroke. Ricky Wysocki #38008, coming off his second PDGA Major win at the 2014 Japan Open, shot the hot round finishing at 50, unofficially rated at 1061. Paul McBeth #27523 and JohnE McCray #9852 both finished at 51, which was just one better than Philo Brathwaite #26416 and Mitch Sonderfan #17998 at 52.
Catrina Allen #44184 holds the lead in the Open Women's division after shooting a 56, unofficially rated at 1010. She'll be joined on the lead card tomorrow by Val Jenkins #17495 who finished with a 59, Paige Pierce #29190 at 60, and Ragna Bygde #8559 at 61. The women of this sport seem to have made it a point this year to show the world that gender doesn't matter much in disc golf. They come out to every tournament and absolutely kill it, day in and day out. They will tee off tomorrow morning at 8:10am at Blue Valley Park, the second largest 18 hole course in the world, and we are beyond excited to watch them tear it to pieces.
No matter what happens on the first day of a three day event, it's safe to say that there's still a ton of golf to go. The course being played for round two is absolutely enormous. Seriously folks, it…is…ridiculous. The average hole length is 581 feet! 
Tune in to PDGALive.com all day tomorrow for live scoring, commentary, pictures, and videos from the lead cards of both the Open Women and Open divisions. Check the PDGA Flickr page for high resolution pictures from each day of the event and make sure to check the Kansas City Wide Open results page to find out when your favorite players tee off tomorrow at Blue Valley Park!