Heimburg, Allen Top National Tour Points Leaderboard
Heimburg, Allen Top National Tour Points Leaderboard
Checking in on the standings at the season's halfway mark
Friday, May 24, 2019 - 13:59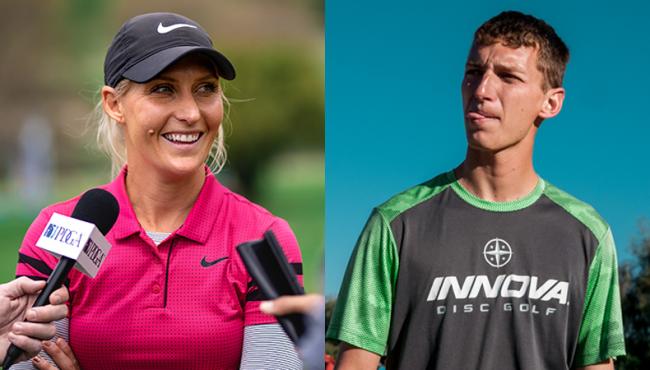 Florida native Calvin Heimburg finished 41st in the 2018 PDGA National Tour points race, a byproduct of not hitting the road until late in the season and only playing in three of the circuit's six tournaments.
What a difference a year makes.
Now on the road full time, Heimburg is making the most of his travels and is out in front of the 2019 National Tour points standings. He shares that honor with Catrina Allen, who is pacing the Open Women's field with her strongest season since 2016. Both can earn an added tour series payout bonus if they hold onto their top slots at the end of the year.
 
Open (MPO)
'Burg Is The Word
If it wasn't clear that Heimburg was the real deal, it should be now. He followed up his season-opening triumph at the Las Vegas Challenge with a fifth-place showing at the Dynamic Discs Glass Blown Open and a final day climb into solo fourth at the Santa Cruz Masters Cup, helping him earn 270.33 points in the NT standings. That gives him the narrowest of margins over 2018 NT Champion Eagle McMahon, who has twice played runner-up this season.
The mild-mannered Heimburg said he didn't expect to come out of the gates so strongly, but that he'd certainly take it.
"I don't think anyone that's going on tour for the first time thinks they'll be leading a points series," Heimburg said. "It definitely helps that I got the win at Vegas and I've played pretty good at the other two. It definitely was not anticipated, but I guess that I'm glad I am [leading]. It means I'm playing good."
While some might venture that the increased consistency has come from simply competing more often, Heimburg instead attributed his strong start to the work he did during the offseason. If anything, he said that the constant movement of the tour actually makes it more difficult to fine tune anything in his game. Case in point: His rating has actually dropped this season.
"You do get to play a bunch on the road," he said. "But it's kinda hard sometimes to sit down and focus on a certain thing you're struggling with."
Still, Heimburg is on top of a leaderboard that is crowded with the best names in the sport. Seeing his name on top of the likes of Paul McBeth and Ricky Wysocki -- however amazing it might be -- hadn't really hit him yet. And he's not sure he wants it to.
"It's definitely cool, seeing as those are the people I've spent a lot of time watching the last couple years and try to take what I could from their game," Heimburg said. "...I don't know if that's registered…I don't necessarily think it's a good thing to think about, either."
In that same vein, Heimburg wasn't looking at the rest of the season with starry eyes or lofty goals. Instead, he's content to put one foot in front of the other and reassess the points standings when it's closer to crunch time.
"I had no points series goals going into the season, and I don't think that's really a goal at this point," Heimburg said. "I think it's something I may look at again come the end of the year, the Hall of Fame Classic, but it's not really something – you're really trying to go out there and play your best every week."
Open Women (FPO)
Allen Is All-In
Catrina Allen has won two of three NTs this season, which has aided her in compiling a nearly 20-point lead in the standings. She last took home the points crown in 2016, when she swept the series, and she's looking back to that season (and another) for inspiration, religiously hitting the gym.
"I noticed in 2014 -- maybe whether the competition was playing as good or not -- that was my winning percentage biggest year ever, and that's when I started working out," the 33-year-old Minnesota native said after her Masters Cup win. "2016, same thing. I was always working out in those years, and I've noticed that I have to stay in there because, for some reason, it translates to confidence and helps my mental game."
Indeed, Allen is known for going to the gym right after rounds, but that's not the only place she's putting in the work. Her reformed putting style -- she switched from a spin putt to the push putt she employed earlier in her career -- has given her a boost: She's up to 65% in circle 1 putting through this season, up from last year's 56% clip.
"Changing my putt and being confident in that has like -- I've talked about how I don't have to worry about, 'Oh, I have to get it to five feet,'" Allen said. "I can throw the highest percentage shot and give myself a look and know I have a chance to make it."
Off the course, she said her relationship with fellow touring pro Austin Hannum -- who is tied for 10th place in the Open standings -- has added to the balance.
"Austin and I just do really well, and his support -- when I do have a bad round, I have someone there who is talking me through it and pushing me to be better," Allen said "...He has a great mental game, so I kind of look up to that."
The PDGA National Tour resumes June 7 at the Beaver State Fling, where Allen comes in as the defending champion.