USWDGC Blast Off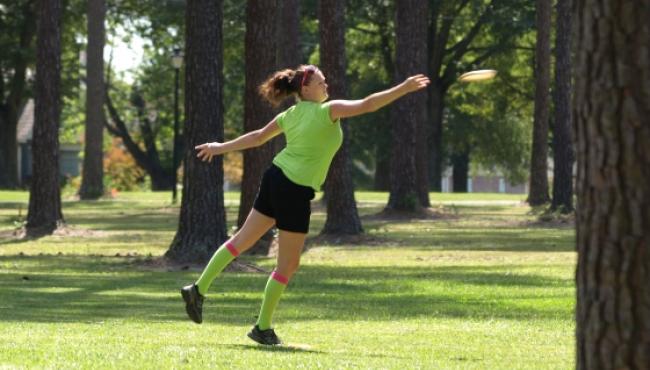 The players at the United States Womens Disc Golf Championships enjoyed a beautiful day in the Huntsville, Alabama area on Thursday.  Both rounds were at the Sparkman Park course in nearby Hartselle and the highest the temperature reached was 79 degrees and the humidity was at a very enjoyable 40 percent.
Elaine King jumped out to the early lead shooting the hot score of 51 in round one.  She did it by shooting only three 4s, while carding six deuces.  Elaine was also one of only two FPO players (Catrina Allen was the other) to deuce Hole 16 at Sparkman which is only 261 ft long but is very tight with trees encroaching all along the right side and an OB Ballfield fence along the left side forcing players to make low straight shots to stay out of trouble. Val Jenkins, Sarah Hokom and Sarah Cunningham were all a single throw behind Elaine carding 52s in the first round.  Val did it with a only single 4 on the course and three deuces, while both of the Sarah's managed their three fours with five deuces.
At the end of the day, the Pro Open lead was held by Catrina Allen who shot a blistering 49 in round two which came in as an unofficial rating of 1004.  Catrina had only a single 4 on Hole 11, but seven deuces including getting Hole 16 again.  Two throws back, in a tie for second place were Sarah Hokom and Elaine King.  Sarah had shot another 52 by adding one more 4 to her round but also another deuce.  Elaine had shot better on holes 1, 4, and 18 in round 2, but had run into some trouble with a 5 on the 489 ft. Hole 12 which produced the second highest scores after the 585 ft island green Hole 5 that played the toughest.  Val Jenkins holds fourth place another throw back, and three ladies, Liz Lopez, Paige Pierce, and Sara Cunningham are two further throws back tied for fifth place.
In the Masters division Des Reading holds the lead after day one shooting a 55 in the first round and but coming back with a 52 in the second round with five fours and seven deuces.  Barrett White, who led after the first round, ran into some trouble in the second round but holds second place five throws behind Des.  Sheila Kirkham holds third place another four throws back, and local player Karen Jaskolka holds fourth a single throw behind Sheila.  Karen had the only ace of the day hitting the 219 foot Hole 18.
In the Grandmasters, Sandy Gast is running away with it shooting a 59 and then a 55 to hold a 13 throw lead over Suzette Simons in second place.  Susan Macaluso holds third place three throws further back and Sharon Jenkins holds fourth another seven throws back.
On the Amateur side, the Advanced Division is led by Krystin Nowicki and PDGA Memberships Manager Sara Nicholson who shot 119 for the day to tie for the lead.  Wendy Boutin and Victoria Pruitt both shot 122 for the day to place them in a tie for third place three throws back.  Christine Barker is a single throw further back in fifth and three more ladies are within only another two throws so the Advanced division will be one to watch.
For all the scores and divisions, check out the USWDGC Scores Page.
Today the ladies are in Huntsville proper at the Branham Springs course for another two rounds of action.