Magnolia Blooms for Breast Cancer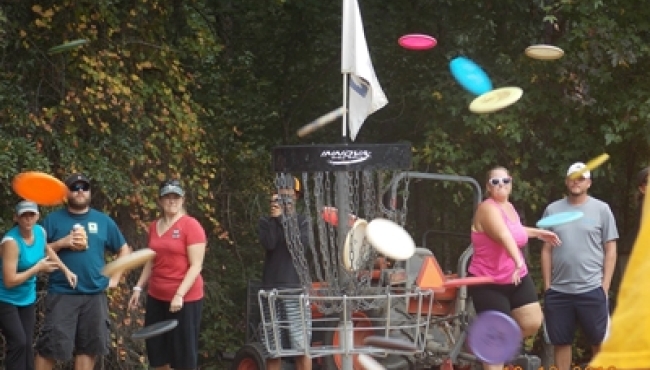 The 5th Annual Magnolia Open is officially in the books.  With record breaking numbers in attendance at this year's event, one can't help but think the old saying should be changed to "5th time's the charm." 
There were 55 ladies from 8 different states in attendance this year, including Alison Blakeman, who won a prize for traveling the farthest, coming all the way from Washington State.  
The event started Friday morning with check-in and practice rounds. Friday afternoon, a random draw mixed doubles round was held, giving the caddies and local guys a chance to play with some of the region's best female golfers.  
The tournament kicked off with a 10:00am shot gun start on Saturday morning.  Following Saturday's second round there was a double elimination KanJam tournament, Hott Shott putting challenge, cornhole games and dinner from Robolli's Italian Bar & Grill. Following dinner, DJ Jason Allind rocked the house as usual, hooking the ladies up with all their favorite tunes.  The karaoke portion of this event is anticipated almost as much as the disc golf and the women were not let down. 
Sunday started early, especially for the ladies who "rocked the mic" way into the wee hours. Lucky for them, Sunday only had one round on the schedule.  Immediately following the Sunday round there was a Ring of Fire and mini Ring of Fire competition for additional prizes. 
With all of the side activities you might wonder how these ladies were able to focus on the disc golf action at all, but a quick look at the scores will show that these ladies had no problems focusing on their game.
Sarah Cunningham, now 5x Magnolia Open Champion, was on fire all weekend in the Pro division. Sarah took the lead in round one and never let up. She followed her stellar play in round one with a 1011 rated round two (unofficial) to give her a 6 stroke lead going into Sunday's final round.  Sarah picked up another stroke on Elaine King during the third round, shooting 12 down, to take the win by 7 strokes.  Elaine took second, followed by Sandy Gast (2013 Women's Grandmasters World Champion) who shot 5 down for the weekend to round out the top three Pro women. 
In the Advanced Division, Christine Barker, fresh off a disc golf sabbatical, shot well over her rating all weekend to take the win by 5 strokes over Virginia's Joy Callan, who aside from her first round, gave Barker a run for her money all weekend. Phebe Kemmer, shooting a hot 54 (4 under par) in the third round almost came from behind to beat Callan out of second place.  
The Advanced Masters division title went to Heidi Schaffner who has attended every Magnolia Open since the event started in 2009. New comer Tara Cravens, from Tennessee, beat out two Magnolia Veterans, Candy Roque and Robyn Tindall for second. 
In the Grandmaster Division, Tracy Lacue took first over Kari Dianich. Tracy has been trying to beat Kari for years, and finally accomplished her win with a 10 stroke margin this weekend. 
The Intermediate women took the crowning of their champion down to the wire with a sudden death playoff between Genevieve Belanger and Marley Riley for first place. Genevieve won the playoff, Marley took second and Jane Ellen Hanks took third, behind by only one stroke. 
Angie Jeter brought home the Recreational trophy beating Cindy Layhew by two strokes with Sarah Becker in third just one away from Cindy. 
This year's Junior division came down to the final round where new comer Kyra Weissleder shot the hot round for the Junior's division to take the lead from Victoria Scott. 
Other Champions:
KanJam Winners: Sarah Cunningham & Gina Street beat Sandy Gast and Christine Barker in the finals to be crowned the first ever Magnolia Open KanJam Champions and each take home a mini KanJam set of their own. 
Hott Shott Winner: Elaine King. Elaine set the bar early in the weekend posting a high 310 that no one was able to touch.
In addition to having an awesome disc golf weekend, the women helped raise $650 dollars for the PDGA's fundraising efforts to help fight Breast Cancer. This event and all the charity funds would not be possible without the generous contributions from our sponsors:
Special thanks to Mom and Old Man Wallis for coming all the way from Illinois to help make The Magnolia Open a success. Old Man will be the Tournament Director for the 2014 United States Women's Disc Golf Championship being held at the International Disc Golf Center.