Texas' Lowrie Tosses Historic Final To Win NCDGC Individual Title
Texas' Lowrie Tosses Historic Final To Win NCDGC Individual Title
Grad student storms back from fourth card
Friday, April 13, 2018 - 10:09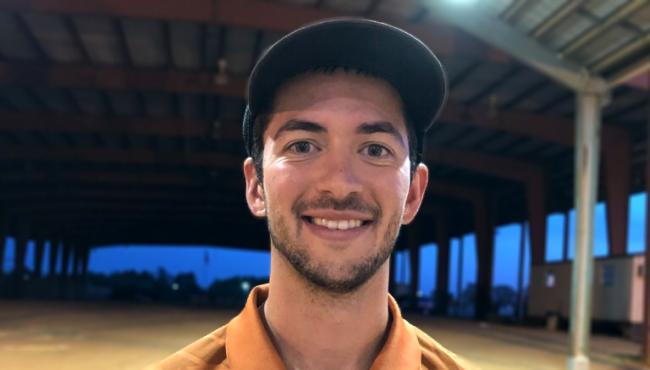 After shooting two modest rounds Thursday at the National Collegiate Disc Golf Championships, the University of Texas' Andrew Lowrie was relegated to the fourth card for the event's Championship Flight Individual Final 9. He was content to try to move up a few places in the standings and maybe break into the top 10, which would qualify him as an All-American, so he talked strategy with a teammate and came up with a plan to keep his approaches safe on the elevated, mounded baskets at the Hippodrome Disc Golf Complex's Dunipace Dunes course.
Winning was the last thing on his mind.
"Basically, my thinking was, 'First place is out of it at this point.' I would have to do something crazy to make it happen," Lowrie said. "Saying it now is funny, but that's what was going through my mind.
"I'd have to do something special."
Shooting the highest rated individual round in NCDGC history certainly counts as special.
Lowrie fired off a 1091-rated 5-under par 23 during the Final 9 to come back for an improbable National Championship title. The feat brought his Thursday total to a 7-under par 132, while Texas A&M's Mitchell Gothard and East Carolina's Austin Quick tied for second place with 5-under par 134s. Josiah O'Polka of Iowa State finished in fourth place after a 4-under par 135, with four players – Kansas' Brandon Melton, Mississippi State's Jacob Henson, UNC-Charlotte's Brandon Robertson, and Oregon State's Aspen Eagle – tying for fifth place at 3-under.
Lowrie, a graduate accounting student at the Austin university, displayed a level of disc golf acumen that belied both his 968 player rating and his 23 years of age. Bitten earlier in the day by rollaways at Dunipace, he did one of the most difficult things to do in the sport: He swallowed his pride and committed to laying up. Little did he realize it would pay such massive dividends.
"We had a couple putts that were 40-footers that you might run, maybe not…[I decided to] take the par and move on," Lowrie said. "There were a couple times I deviated from that if the wind died down, and I was fortunate it worked out."
Because Lowrie's performance came from far down in the standings, he was actually in the dark for a bit about if his championship was confirmed. Quick, who played on the lead card and tossed a 6-over par 34 during the final, was initially announced as the "tentative" winner.
"It was one of those things where you ask around," Lowrie said. "Me and the guys on the team were thinking we had it, but we weren't sure."
That team ideology – Lowrie rarely said "I" during his post-round interview – is what brought Lowrie to the NCDGC in the first place. Though his Longhorns are currently in seventh place in the Championship Flight with plenty of work to do – Mississippi State currently leads with a 24-under par 475 – he was ready to help them make some moves during Friday's doubles rounds at Moody Woods and Hogback.
"The individual thing is awesome, but it's more about the team than anything else," Lowrie said. "I thought, 'Texas has a chance to represent and has a chance to take the individual or team thing down.' We just had to take care of business."
Lowrie has already done that off the course. He has a job lined up at consulting firm Ernst & Young this fall, and he'll continue to mix in some pro events – he recently placed 59th at the Waco Annual Charity Open and 41st at the Open at Flat Creek – as he aims to someday merge his education with the sport.
"It's very much a long-term plan," Lowrie said. "The next few years is gonna be learn as much as I can on the business side of things, try to get better as a pro…In the long run, I'd like to come into the disc golf business world."
For now, he's on top of disc golf's collegiate world.