Mississippi State, Liberty Knocking On NCDGC Title's Door
Mississippi State, Liberty Knocking On NCDGC Title's Door
Both squads take double-digit leads into finals
Saturday, April 14, 2018 - 00:59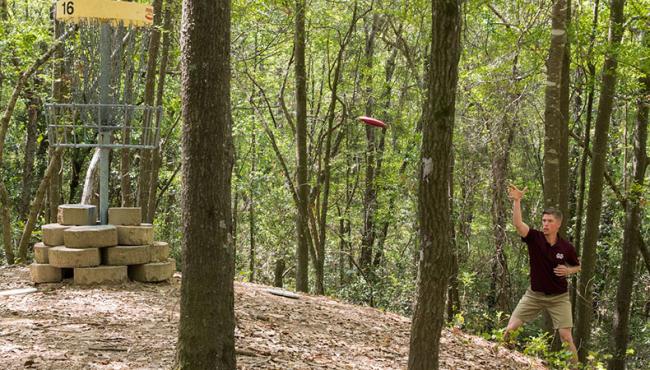 For being members of teams heading into the final day of the National Collegiate Disc Golf Championships up by 23 and 33 strokes, respectively, Mississippi State's Jacob Henson and Liberty's Heather Wyatt sure sound…unsatisfied.
"To be honest, man, we were all actually disappointed in our singles rounds," Henson said. "We played above average in our first round of doubles and probably the second round and the third round of doubles was pretty average. We set our expectations pretty high for ourselves, I guess. We didn't meet them, but we were only one of two teams to shoot negative in singles."
"At this point in time, I don't think that we've exceeded our expectations," Wyatt said. "In all honesty, we think that we haven't – there's been some rounds or some holes where we have played to our abilities and capabilities, but there have been a lot of stretches of holes where we have underperformed."
Perhaps it's that lack of complacency that has both the Bulldogs and the Flames knocking on the door of their first NCDGC team titles.
Mississippi State – a unit comprised of Henson, Steven Hillerman, Micah Peacock, and Trevor Strong – teamed up for an 11-under par 43 during even-odd doubles play at Moody Woods Friday morning, then followed that with an afternoon 10-under par 45 at Hogback. Combined with their singles scores, the team sports a 45-under par 568 total in the Championship Flight with one more round at Dunipace between them and the title.
Liberty, a team that Wyatt said is new to the sport – she only started playing disc golf last July, while teammates Hannah Trotz, Cortney Cooper, and Savannah Fox first hit the course during the 2017 fall semester – logged dual 59s at Hogback and Headrick Hills to bring their Women's Flight total to an 82-over par 310. 
Though the Flames may lack disc golf age, they make up for it with a complementary set of skills. Wyatt said each of the women on the team boasts a different throwing style – she's the right-hand forehand expert, Trotz is a lefty backhander, Cox plays right-hand backhand, and Cooper, a former softball player, prefers overhand – giving them an answer for just about every situation.
"That dynamic in itself helps us out a lot," Wyatt said. "We have a lot of different shots, and each of us are able to throw different ways."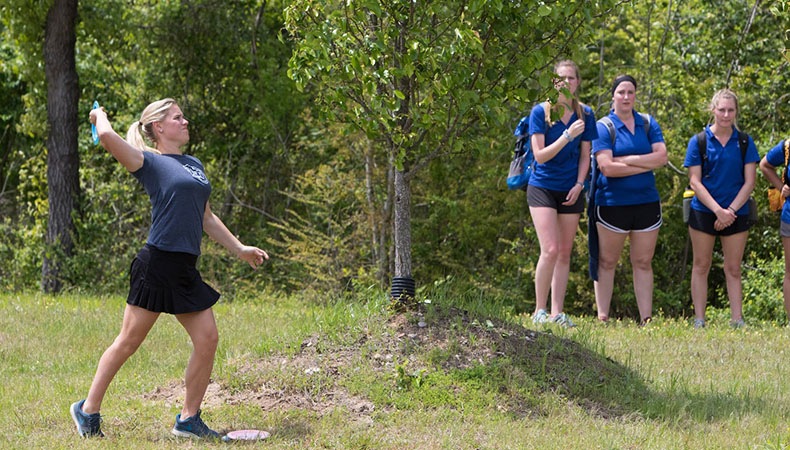 Wyatt, who just finished her graduate degree in sports administration, said she and her teammates have seen exponential growth this season through the tutelage of Championship Flight captain Hunter Thomas, who laid out stipulations for extra putting practice and field work for those who wanted to join the school's top teams. And though she'll be leaving Liberty after this season, Wyatt said she is aiming for her MBA and will look to join the disc golf team at whatever university she chooses for her continued education.
"Maybe in the future you'll see me at Nationals again, just with a different school," she said with a laugh. "This is my first and last year, so I still have few years of eligibility left, right?"
Henson, a freshman business finance major, chalked up the Bulldogs' morning success to hot putting. The group went 7-down through the front nine at Moody Woods and ended the day with plenty of long-range connections, including this shot from Strong that split the uprights on hole 11:
"We were doing that all day, basically, in the morning," Henson said. "We had probably six or seven putts outside 40 feet that we hit."
The afternoon round, however, didn't start quite as planned. A run of five straight pars at Hogback found the crew only at 3-under par through 10, but they weren't about to let the sluggish sequence derail their quest for a championship. Some errant tee shots on hole 11 from their card counterparts, Ferris State and Texas A&M, left the door open for a move.
"Trevor Strong and I just looked at each other, and we just said that we had to get something going," Henson said. "He steps up and pures the line and puts it probably 20, 25 feet away, and I stood up next to him and put an ace run probably 10 to 12 feet out. That's what got our second round going."
Though competition in the elite flights has gotten out of hand, team scores in the First Flight are much closer. North Carolina State holds a one-shot lead over Iowa State after two rounds at Dunipace on Friday, with the Wolfpack taking a 45-under par 597 into the division's final tilt Saturday at Moody Woods. Liberty lurks in third place with a 38-under par 64, while Clemson (-34) and Ferris State (-26) round out the top 5.
In Second Flight action, North Carolina State's Caleb Huston took home the division title after singles rounds at Headrick Hills and Moody Woods with a 2-over par 112 total.
While both Mississippi State and Liberty hold virtually insurmountable leads heading into the upper echelon finals, the teams will diverge in their Saturday strategies. Though they'll reassess their plans if the wheels come off mid-round, Wyatt said her Flames will be "creative" and unafraid. "You're gonna see a lot more of us going for the basket and taking a lot more risky shots because we know that we kind of have the National Championship guaranteed," she said. "…We're just aiming to have a lot of fun tomorrow."
For Henson and the Bulldogs, though, it will be all business. "We're setting a goal tomorrow to go out and reach 60 [under par]," he said. "If we can pull out a 40 tomorrow, that'd just be a good statement to end the tournament on. That's just the goal we're setting for ourselves."
The Women's Flight final tees off at 11:10 a.m. ET, while the Championship Flight lead card takes off at noon.