Mississippi State, Liberty Comfortably Cruise To NCDGC Wins
Mississippi State, Liberty Comfortably Cruise To NCDGC Wins
NC State sweeps First and Second Flights
Monday, April 16, 2018 - 09:36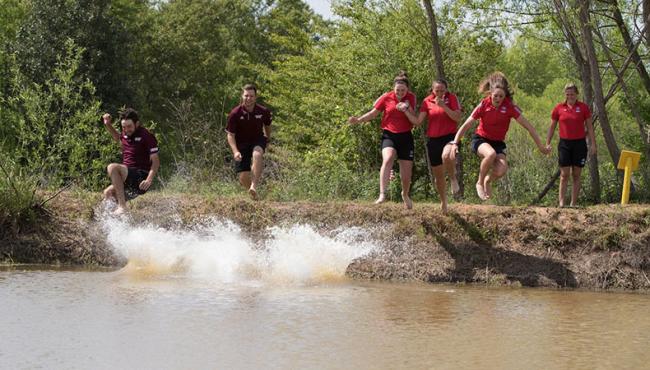 Though neither team broke much of a sweat, a celebratory dip in the Hippodrome Disc Golf Complex's pond was in order after Mississippi State University and Liberty University comfortably cruised to National Collegiate Disc Golf Championship titles Saturday afternoon. The spontaneous swim – which was a bit chilly given the 85-degree temperatures – gave the new Championship Flight and Women's Flight winners an opportunity to bond.
The topic of conversation? Their massive margins of victory, of course.
"We were joking with [Liberty's women's team]," Mississippi State freshman Jacob Henson said. "We walked up and we asked how much they won by, and it was 45 or 40. And jokingly enough we said, 'Well, were tried to make it 40, but we couldn't get there. So we made it 33.'"
­Indeed, Saturday's proceedings in the tournament's two upper divisions served more as a formality than anything else: Mississippi State finished the tournament with a 14-under par 41 to bring the team to a whopping 59-under par 609 total in the Championship Flight, while Liberty took down the Women's Flight after their final round 8-over par 62 put their four-day total at a 90-over par 372. The title is the second in the division for Mississippi State after their 2009 win and the first for Liberty.
In the First and Second Flights, it was all about the Wolfpack: North Carolina State pulled away with a 10-under par final round to take the First Flight with a 55-under par 643 total, and the school's Second Flight squad came back with a 9-under par showing at Hogback to knock off Ferris State by two shots with a 14-over par 684 overall. 
For Henson and his Bulldog teammates – captain Steven Hillerman, Micah Peacock, and Trevor Strong – the final round at Dunipace Dunes wasn't just a walk to the podium; it was a sprint to the finish. Though they came up one throw short of their 60-under par total, they went down swinging with a bogey-free performance that included an 11-birdie streak. Once Peacock hit a long, uphill putt for deuce to open play the team never looked back.
"We put on a putting clinic," Henson said. "It was basically the same thing we had been doing all weekend. The team that teed off would put it close, or close enough, and the team putting would just drain the putts."
Liberty, on the other hand, played the round with a less rigid approach, but was still rewarded. Despite team members Heather Wyatt, Hannah Trotz, Cortney Cooper, and Savanna Fox stepping out of their comfort zone to play unconventional shots, they still padded their lead.
"We weren't expecting the 40 [-shot victory]," Wyatt said. "We were kind of expecting some strokes to be lost today because of the craziness we were gonna be doing."
Wyatt also said the victory proved the overall strength of the Liberty program. She praised Championship Flight players and coaches for taking the women's team under their wing and helping them to improve. All four women on the school's A team started playing within the last year; for Cooper, the NCDGC was only her second tournament.
"I think [winning] was definitely encouraging and validated a lot of the work that we put into over the course of the entire school year and the season," Wyatt said. "We practiced several times a week for hours at a time as a team."
Hillerman, now in his third year on Mississippi State squad and first as the club's president, said their triumph was the culmination of a vision hatched in 2016 when the team went to the NCDGC.
"My first year we went to Nationals and didn't do particularly well, but had a ton of fun," Hillerman said. "Ever since that, every time we've gone out and practiced, every time I've done anything disc golf, it's been with the goal to win Nationals at some point. To accomplish that goal has been a huge joy for me, for sure."
Now, talk turns to a repeat. Liberty's path may be tricky – Wyatt is likely starting grad school at a to-be-determined university – and Mississippi State may have some pro problems to handle: Hillerman and Henson plan to do a summer tour together, and "if this year goes as planned," Henson will have to move on.
"The team next year – the A team, at least, is still kind of a mystery," Henson said. "Last year, actually, I had to start denying cash to play. I told the guys that I'd give it one year, so give it one shot."
They were right on target.