Clemson's Lambert Adds NCDGC Title To Long Résumé
Clemson's Lambert Adds NCDGC Title To Long Résumé
School's only women's player triumphs after hectic Final 9
Friday, April 13, 2018 - 12:47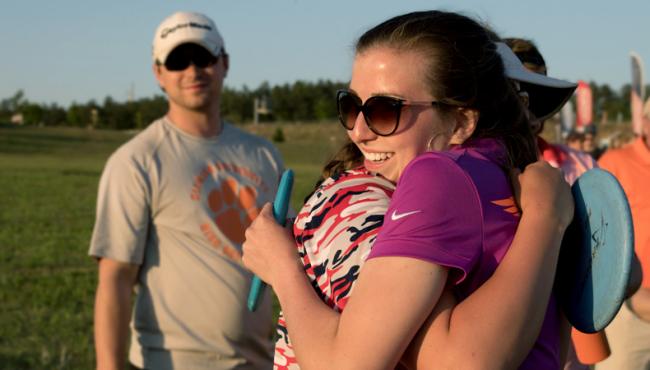 Alex Lambert is the only woman on a 12-strong contingent from Clemson University that made the two-and-a-half hour in-state trek to this week's National Collegiate Disc Golf Championships. So when the spotlight was on and it was time to represent for the Tigers, the freshman mathematical sciences major answered the call.
Lambert – whose resume already boasted a 2014 United States Women's Disc Golf Championships Junior title, wins in 2012 and 2013 at the Amateur and Junior World Championships, and a handful of South Carolina Junior State Championships victories – now has another piece of hardware to add to her trophy case: The 18-year-old is the 2018 National Collegiate Women's Disc Golf Champion after gutting out a hectic Final 9 at Dunipace Dunes Thursday evening.
Lambert's 11-over par 39 was enough to bring her to a 12-over par 100 total and hold off a charge from Liberty's Heather Wyatt, who matched Lambert's Final 9 score to take second place in the division with a 14-over par 102. Oregon's Reilly Warren shot the final's hot round with an 873-rated 8-over par 36 to move into third place at 18-over, while Southern Arkansas' Madi Chitwood and Liberty's Hannah Trotz tied for fourth at 21-over.
Knowing that she was the only woman representing her school gave Lambert plenty of motivation coming into the event, but the camaraderie and team spirit on her Clemson squad put her over the top.
"It was definitely the main goal," Lambert said. "I really want to play well [Friday] during Second Flight singles, but I wanted to win. I also want my team to win. My team is so wonderful, I can't thank them enough.
"I'm the only girl, and they definitely had many opportunities to exclude me from things," she continued. "And they are so encouraging and so respectful and wonderful."
Though Lambert entered the Final 9 with a two-shot lead, that margin fluctuated and led to a roller-coaster round. She padded her score on hole 1 despite throwing into a hazard and was up four, then logged a double-bogey and a bogey to see her advantage shrink to one. Wyatt then posted a double-bogey, followed by a quintuple-bogey 9, but Lambert built a snowman of her own on the same hole.
The stress of the round was a new experience, Lambert said. Her prior titles all came in relatively smooth fashion, but yesterday's tilt with Wyatt found her making mid-round adjustments – her dad, Steve, was caddying until a teammate took over – and relying on her strong support network.
"Heather was a super great competitor, and she pushed me so hard," Lambert said. "…I've never been in something this tight, and I was already super intense, and my teammates just calmed me down and they were like, 'Alex, you've got this.'"
The encouragement gave Lambert the final push to close out the win. Though she only managed one par in the last four holes, she still had enough of a margin to take an easy tap-in for the win. Her dad – who she offered to have come back to the bag, she said – and mom Libby were waiting for the celebration, her biggest fans since her dad introduced her to the sport in fifth grade. Now, they proudly sport the purple and orange.
"They call themselves the Clemson Booster Club, and they buy all these snacks and they come to almost every tournament," Lambert said.
Though Lambert doesn't have a full complement of women's counterparts to make up a team, she will still participate on a mixed squad in the tournament's Second Flight. North Carolina State currently leads that competition with an 18-under par 152 with two rounds of singles play Friday before Saturday's doubles finale at Hogback.