Pierce Seizes GBO Lead With Late-Round Scoring Flurry
Pierce Seizes GBO Lead With Late-Round Scoring Flurry
Cox one shot back heading into day two at Jones East Park
Friday, April 27, 2018 - 01:10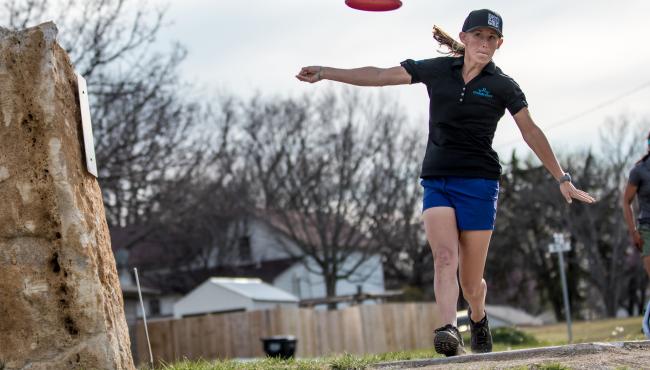 EMPORIA, Kan. – On the 14th hole of a round that Paige Pierce described as "nothing spectacular, really," the wheels came off.
Pierce was sitting at 1-under par at Swope Park, the first of three courses the Open Women's division plays this week at the Dynamic Discs Glass Blown Open, when she put her drive on the 300-foot par 3 inside the 10-meter circle. A seemingly routine uphill putt was impacted by a slight headwind, and Pierce blew by the pin. She missed her comebacker and settled for a bogey, then headed to hole 15, the penultimate par 4 on the course.
There was only one problem: "Honestly, I played a practice round there, but it was the one hole I skipped," Pierce said.
The lack of experience bit her, as she shanked her drive for her only out-of-bounds penalty of the day. She had added three strokes to her score in a matter of two holes, then was faced with a three-card backup on hole 16 to think it all over.
Pierce, though, didn't let the downtime keep her from stopping the bleeding. When it was finally her turn to tee off again, she unleashed the shot of the day, a 450-foot drive that left her one 20-foot putt away from an eagle. She converted.
"I kinda sat there and was just motivated, ready to recover from that," Pierce said. "I just ripped it hard. In practice I had a look at it, but it was a 40, 45-footer. I knew I can't really overthrow the hole, so I threw it as hard as I can, let out a little aggression, and got closer than I thought I could."
Pierce followed up the heroics with two more birdies – including one in which her putt bounced off a rock wall and into the basket – to capture the lead at the Glass Blown Open, with the late flurry of scoring yielding a 998-rated 5-under par 53. Rebecca Cox, who led for much of the round, sits in second place after her 4-under par 54, while Minnesota pro Lauren Butler holds onto third place at 1-under. Lisa Fajkus, Andrea Meyers, Nicole Bradley, and Emily Beach all share fourth place after even-par showings.
Cox, a 21-year-old Ohio native who is in her first full season of touring, logged only one bogey on the day and led the Open Women's field by parking 20 percent of her shots. She also ranked second in four other statistical measures and only landed outside the top 10 in circle 1 putting (82 percent).
"I thought I played consistently, finally," Cox said. "I just kind of stuck to my game and kept my head down."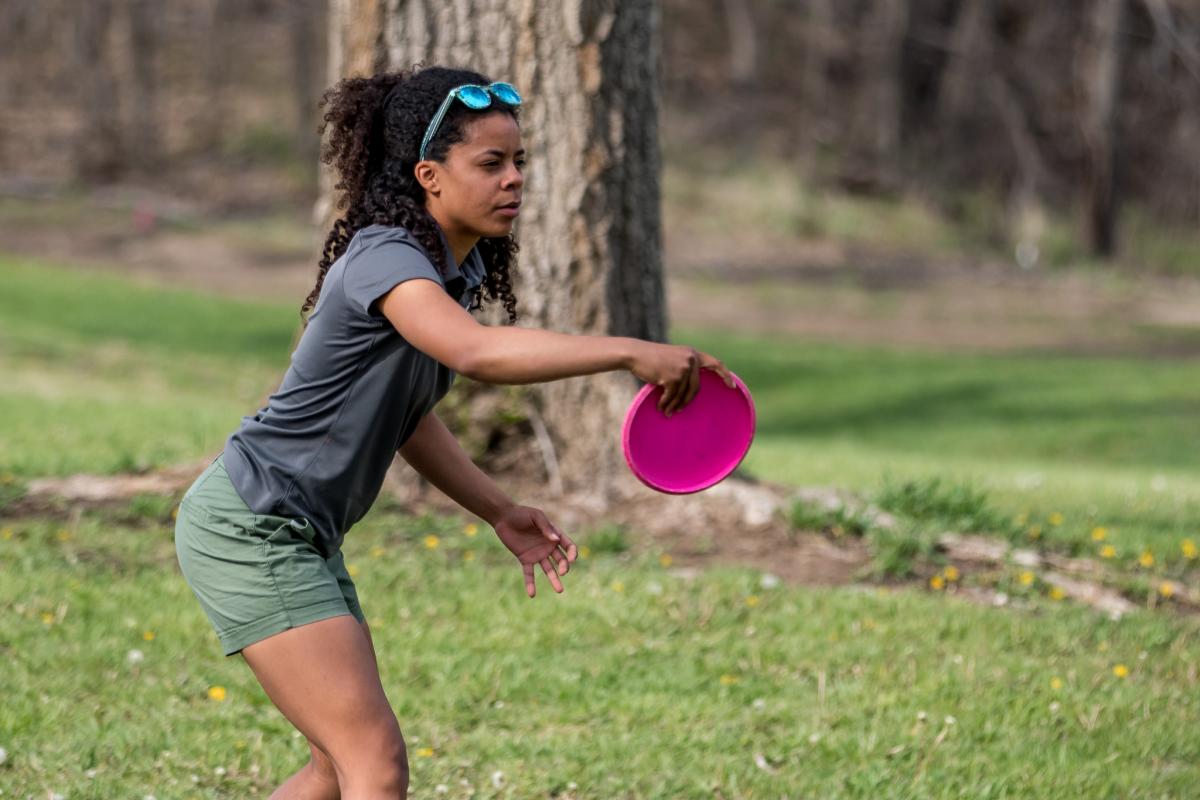 That doesn't mean she didn't deliver any big moments. After coming up short off the tee on the 273-foot 2nd, she connected on a 40-footer to save the must-get birdie.
"I walked up to it and I'm like, 'OK, I can't just give up on it,'" Cox said. "I looked at it and I'm like, 'OK, I can do this.' And I let go of it and I didn't think it was gonna go in."
As Pierce told it, though, Cox's conversion set the tone for the round and found the four-time PDGA World Champion encouraging the young pro to keep playing with an aggressive mentality.
"I was gonna tell her after, you know, that's the kind of stuff – when you go for things and that's the outcome – it rattles the other players," Pierce said. "It's a lot of a mental game, too."
Butler shot 80 points above her 880 player rating in large part due to her accuracy off the tee. She was second in the field in fairway hits (72 percent), and even when she was off target managed to convert on four of six scramble attempts. The performance was her best of the season.
Play now moves to Jones East Park, where Pierce's distance should give her an opportunity to separate from the rest of the field. Still, she was more concerned about getting her putter back on track after she failed to connect on any attempts outside the circle.
"I just know I need to execute my shots, really," Pierce said. "I have the capability to birdie a lot of those holes, and there's not really gonna be any laying up tomorrow."
There rarely is. The Open Women's lead card tees off at 3 p.m. local time, with real-time scoring and statistics for all groups available at UDisc Live.