Pierce Outlasts Fajkus To Repeat At Glass Blown Open
Pierce Outlasts Fajkus To Repeat At Glass Blown Open
Texas pro remains undefeated in 2018
Sunday, April 29, 2018 - 20:48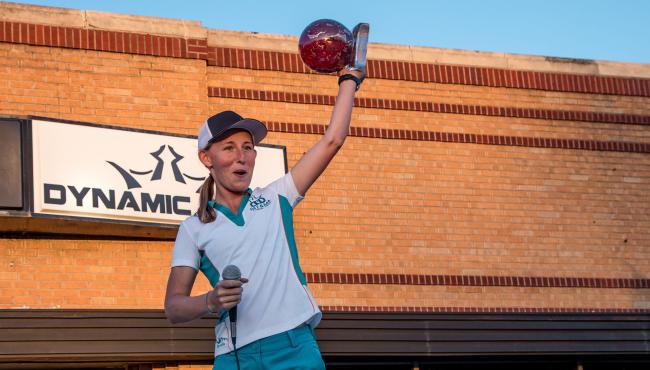 EMPORIA, Kan. – Paige Pierce has had a firm grasp on the momentum in the Open Women's division this season, but for a few holes Saturday at Peter Pan Park, her grip on it started to loosen.
A missed putt here, a bogey there, and her Dynamic Discs Glass Blown Open lead – which started at two shots over Lisa Fajkus entering the round – evaporated.
Even as Pierce and Fajkus lobbed birdies back and forth, Pierce was looking for her moment to attack. And the course's signature peninsula hole, the 321-foot 12th, presented the perfect opportunity.
Pierce watched Fajkus lay up a safe forehand, then thought back to Wednesday afternoon, when she and Ricky Wysocki hosted a Luck of the Draw Doubles event at Peter Pan. The fan-friendly format boils down to a skins match, and she played the aggressor on hole 12 during that showdown.
"I threw that shot during that and parked it, and I also was hitting a lot of big putts that day, so I was trying to channel that, thinking of me making a skin over Ricky instead of getting a stroke against one of the ladies," Pierce said. So she stepped up and fired a Marshal – a putter – that bounced off the cypress knees that lined the peninsula. The disc the landed safely on the green, 15 feet from a birdie.
"I felt like I needed a little bit of hype," Pierce said. "I needed to hype myself up and get that momentum on my side…I felt like even if it missed, it would be worth it to try."
In the end, it was the shot that won her the tournament. Pierce's final round 4-under par 53 matched Fajkus and gave her a two-stroke margin of victory after a 7-under par 167 for the three-day tournament. Sarah Hokom finished the event in third place with a 4-under par 170, while Jessica Weese moved up one spot and into fourth place, where she tied with National Tour upstart Emily Beach at even-par.
It was the seventh win in Pierce's still undefeated season, giving her repeat at the GBO and her fourth career victory at the Emporia staple. She pocketed $2,000 for the weekend performance.
Beyond the career superlatives, the tournament brought some closure for Pierce, who tied for first place in 2017 after the final day was canceled due to inclement weather.
"It feels nice to conclude it, in my mind," Pierce said. "I didn't think that last year that was my last throw of the tournament. I missed my last putt from 15 or so feet to go into a tie that would eventually be the final outcome of the tournament."
But even as the hero shot on 12 got her blood pumping, the battle with Fajkus was still a nail-biter until the end. Pierce managed another birdie on the par 4 13th to take a two-stroke advantage, but gave it back on the 515-foot 16th. That hole found Pierce deviating from her normal approach – a flex shot down the fairway – in favor of a hyzer to handle the crosswind. That decision, though, proved problematic.
"I sailed my hyzer too far and it went OB," Pierce said. "The reason I decided to change my plan was the exact thing that happened, so it's kind of ironic."
That opened the door for Fajkus, who lasered a low line drive off the tee before lofting a forehand approach to 25 feet. She canned the birdie – she connected on 90 percent of her circle 1 attempts during the round – to move to within one shot of Pierce.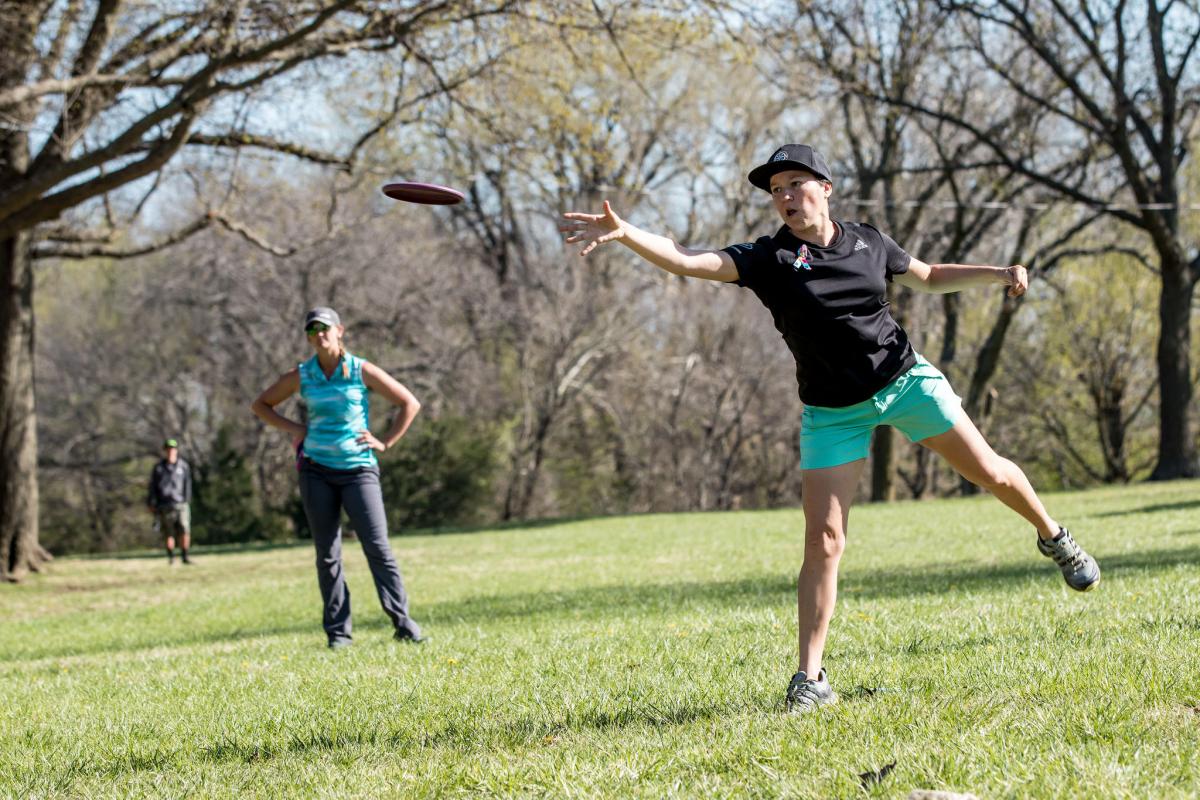 The pair traded pars on 17, taking the same margin into the right-bending, 340-foot 18th. Fajkus, still first on the box, pulled her drive too far right and it hit a tree before careening to the left side of the fairway. She tossed her second shot out-of-bounds, and Pierce was able to walk in the win.
"It felt good to finish it out strong, and battling with Lisa is always intense and she keeps you on your toes, so I know one of these days its gonna go her way," Pierce said. "So it felt nice. For the time being, I was able to capitalize and win kind of on my home turf."
Pierce expressed gratitude not just to her competitors, but also the spectators who gathered at Peter Pan to take in the spectacle. With the Open division final taking place concurrently at the Emporia Country Club, the crowd didn't go unnoticed.
"I was just thanking them for watching the women," Pierce said. "I know they had to choose the men or the women, so I was thanking them for coming out and supporting us."
Zoe Andyke and Valarie Jenkins tied for sixth place at their first National Tour event of 2018, with the pair sharing that spot with Ellen Widboom at 5-over par. Madison Walker and Kona Panis battled to a ninth place stalemate at 6-over par, while Emporia local Paige Bjerkaas finished the weekend in 11th place.
The PDGA National Tour resumes in three weeks for the beginning of the season's west coast swing at the Santa Cruz Masters Cup.