Record-Setting USWDGC Makes Northern California Debut
Record-Setting USWDGC Makes Northern California Debut
How to Watch the 2021 United States Women's Disc Golf Championship
Tuesday, May 18, 2021 - 15:00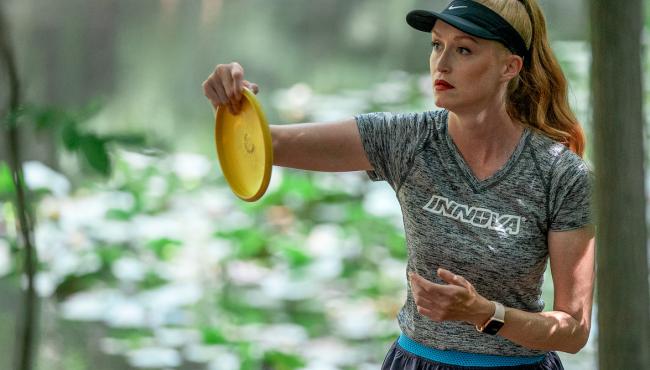 Twenty-two years ago, five-time PDGA World Champion Juliana Korver won the first edition of the Women's National Championship, besting eight players in the FPO division in a tournament that had a total field of 21 players.
Beginning Friday, Korver is back in action at the United States Women's Disc Golf Championships and is one of a record-setting 267 players across 16 divisions in the first PDGA Pro Major of 2021. Korver is competing in a 21-player Pro Master Women 40+ division while the Open field includes 63 players, the highest number in the professional division in tournament history.
The tournament field includes a wide range of PDGA numbers, from Sue Horn, PDGA #68, to Marissa Whitacre, PDGA #178948, as well as age-protected divisions ranging from 12 & under to 70-plus. It features another five-time world champion in Paige Pierce, who is gunning for her fourth USWDGC title. Pierce is currently tied with Des Reading with three USWDGC titles.
Women's Global Event Smashes Records, Celebrates Women's Disc Golf Around the World »
This weekend, women's disc golf of all ages and all skill levels will be celebrated together.
Here's everything else you need to know to catch the action:
Instant Scoring
With more stats than you can shake a stick at, keep an eye on UDisc Live all week for in-the-moment moves from the tournament's stacked DGPT field. 
Limited In-Person Spectating Allowed
The United States Women's Disc Golf Championships will be operating in Phase 2 of the COVID-19 Requirements and Best Practices for PDGA Elite Series Events, which allows caddies and limited in-person spectating.
Tee Time & Round Ratings
Official scores, tee times and round ratings can be found at the official event page on PDGA.com.
Live Video Coverage 
Disc Golf Network | Subscribe 
The Disc Golf Network (DGN) is the new home of live disc golf. Built by the Disc Golf Pro Tour, the DGN is a subscription streaming and on-demand platform much like Netflix or Disney+. Covering the world's best players competing in the sport's most elite tournaments, a subscription includes post-produced coverage of select disc golf tournaments as well as exclusive disc golf shows, touring pro interview series, podcasts, and other segments only available on the Disc Golf Network. The DGN offers a PDGA Member discount of 50% to all active members bringing the cost down to $4.49/month.
Friday's feature card for the live coverage of the USWDGC includes Paige Pierce, Jessica Weese, Ohn Scoggins and Kristine King.
Terry Miller, Hannah McBeth and Valerie Jenkins will provide commentary for the live coverage. Jamie Thomas will be the on-course reporter.
In addition to the DGN, the live broadcast for both divisions will be simulcast free on the DGPT YouTube channel for the final round only on Sunday, May 23.
DGPT Press Conference | Watch
Hear from some of the player before the action gets going during a press conference from 2-4 p.m. PT on Thursday live on the DGPT's YouTube channel. Here is the tentative schedule for the press conference (all times PT):
2:00 p.m.: Paige Pierce
2:10 p.m.: Catrina Allen
2:20 p.m.: Kona Star Panis
2:40 p.m.: Jessica Weese
3:00 p.m.: Lisa Fajkus
3:10 p.m.: Ohn Scoggins
3:20 p.m.: Madison Walker
3:30 p.m.: Hailey King
3:40 p.m.: Missy Gannon
3:50 p.m.: Holly Finley
4:00 p.m.: Vanessa Van Dyken
4:10 p.m.: Ellen Widboom
4:20 p.m.: Ella Hansen
Post Production Video Coverage 
Central Coast Disc Golf | Subscribe
Open Lead Card / FPO Round 1 Feature Card: Catrina Allen, Hailey King, Zoey AnDyke, Ellen Widboom
Central Coast Disc Golf will be on hand catching all of the action from the FPO feature card on Friday and the lead FPO card throughout the weekend. Get ready for some coverage of NorCal disc golf from CCDG!
Check back to PDGA.com daily for a recap of all of the action from the 2021 PDGA Majors.
Or, you can head to the Disc Golf Pro Tour's home on the internet for daily coverage, too.
DGPT & PDGA Social Media
Disc Golf Pro Tour
DGPT Media will be on the ground all week bringing the sights and sounds from the event. Whether it's behind the scenes shenanigans on Instagram stories or photos and interviews on Facebook, they'll be communicating across all of their platforms for the week. Plus, be sure to subscribe to the Disc Golf Network and the DGPT YouTube channel, where the live coverage will be simulcast as well!
PDGA