Tattar Cruises, Wysocki and McMahon Lead MPO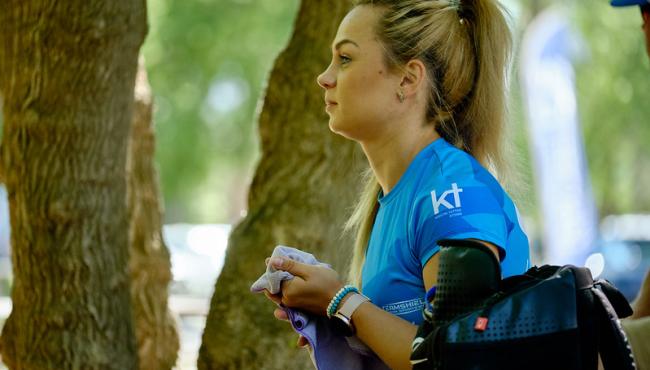 (Recap via Disc Golf Pro Tour)
As the smoke filled the air from the northwest, the players at the Preserve Championship teed off for the second round of action in Clearwater, MN. As the air quality worsened and the wind picked up, players found the conditions considerably worse than in round one.
Despite the poor conditions, both divisions provided some great disc golf to watch and made for some exciting action across all cards.
In the FPO division, Kristin Tattar (-13) continued her calm and cruising play by crushing the course and putting up a -6 round, one off her round from yesterday, and pushing her lead to 7 strokes.
With smooth, controlled drives and long pressure putts, like this one below, Tattar has been on a war path this weekend, leaving the other competitors in her dust.
Trying to give the Estonian a run for her money, Hailey King (-6) put up a respectable -4 round and climbed two spots on the leaderboard to springboard herself into 2nd place on the weekend. Despite a pair of bogeys, King cleaned up and shot the second-best round of the day, beating Paige Pierce's (-3) round by a stroke.
Pierce struggled to piece together a round as great as Tattar's, but still shot -3 with 5 birdies and 2 bogeys, bringing herself up to 4th place and earning a spot on the lead card for the last round of action. Lydia Lyons (+2), who had a great performance during round 1, just couldn't replicate her performance and shot a +5 round. This drops her 6 spots and brings her to the last spot on the chase card. Catrina Allen (E) did manage to clean up her performance from round 1 to shoot -2 and jump 7 spots to sole 6th place.
With only 5 FPO players shooting below par, and only King was close to replicating Tattar's great round, Sunday's final round may just be a competition to see who can move up the leaderboard or claim one of two remaining podium spots, as it seems unlikely that anyone can catch the dominance of Kristin Tattar.
FPO Round 2 Notes:
Kristin Tattar (-13) lead in birdie rate again at 44%, with Hailey King (-6) and Catrina Allen (E) just behind her at 33%
Paige Pierce (-3) lead with an 88% conversion in C1X putting and also gained the most strokes Tee to Green with 7.42
With 3 C2 putts, at 38, 49, and 60 feet, Tattar gained the most strokes putting with 4.71, and with 3.33 gained from C2
Jessica Weese (-2), Rebecca Cox (+1), and Ellie Bryant (+9) were the only players outside the top 4 to not card a bogey or worse during the second round
In the MPO division, we had an exciting day as both lead and chase card gave it their all despite the air quality issues. Ricky Wysocki (-24) came in with a 3 stroke lead over Paul McBeth (-22), but it was Eagle McMahon (-24) who created the story of the round by shooting -13, 4 strokes better than Wysocki, to finish the day tied for 1st. McMahon birdied 13 holes, and capped it off with another eagle on Hole 18, despite taking two birdies on the day. Wysocki and McBeth had another one of their classic battles throughout the round, and while McBeth bested Wysocki by 1 stroke, even with a double bogey on Hole 3, he ends up back 2 strokes heading into the final round due to the 3 stroke lead that Wysocki came into the day with.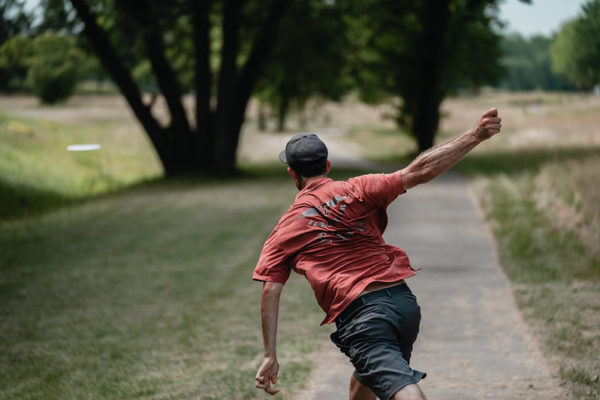 Impressive performances from Matthew Orum (-21) and Gannon Buhr (-10) kept their names in the conversation, as Orum will remain on the lead card in 4th place, and the young gun Buhr came up just short, but will be a player to watch out for from the chase card in 5th place.
While some players like Gavin Rathbun (-19), Alden Harris (-15), and Ezra Aderhold (-15) all struggled to match their first-round success and dropped down the leaderboard a bit, other players like Anthony Barela (-18), Garett Everson (-18), and James Proctor (-16) all jumped up a number of spots to bring themselves into contention for the third and final round.
MPO Round 2 Notes:
Eagle McMahon (-24) lead with an incredible 72% birdie rate, with an Eagle on Hole 18, as well
This time, only 6 of the MPO division were able to card Eagles during the second round, from 17 during day 1; Simon Lizotte (-11) was able to Eagle Hole 7 and Hole 18
Paul McBeth (-22) gained the most strokes Tee to Green at 7.29, barely beating out McMahon at 6.93 and Ricky Wysocki (-24) at 6.50
Gannon Buhr (-20) moved up the leaderboard with 4.36 strokes gained putting, aided by his 2 for 4 C2 putting
Tune in Sunday for the final Round action on the Disc Golf Network at 2:30 ET, follow the live scoring at UDisc Live, and check out all of the post-production of Round 2 from JomezPro, Gatekeeper Media, and GK Productions.