Short Memory Helps McBeth To Early Lead In Delaware
Short Memory Helps McBeth To Early Lead In Delaware
Paju, Fish, Ulibarri, and Bell knotted up in second place
Friday, September 14, 2018 - 20:09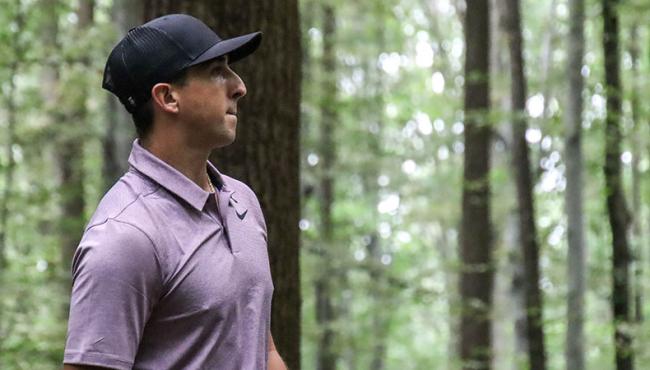 A short memory, and a short turnaround.
Those were the two elements that drove Paul McBeth's opening round at the Delaware Disc Golf Challenge, where the four-time PDGA World Champion – and now three-time runner-up – kicked off play Friday with an 11-under par 61 at Iron Hill Disc Golf Course to take an early lead at the three-day PDGA National Tour stop. He's ahead of defending Delaware champion Andrew Fish, Seppo Paju, Paul Ulibarri, and Matt Bell, who all fired off 9-under par 63s to tie for second place. Three players – Ricky Wysocki, Jeremy Koling, and Zach Melton – are tied for sixth place at 8-under.
For McBeth, whose final round flourish just five days ago in Vermont found him nearly making a chase card comeback for the world title, Delaware was bringing mixed emotions. On the one hand, he was ready to get back to competing for victory after one so recently escaped his grasp. On the other, he lamented that this National Tour event came so quickly on the heels of the World Championships, and that as a result new PDGA World Champion Gregg Barsby might not enjoy the spotlight for as long as he deserves.
"It's not really a good thing, but my mindset's like, whoever wins this week is gonna be talked about more than our current world champion because it's so fast," McBeth said. "It's just gonna be overshadowed so fast because we have a big tournament this weekend…If it's me, Ricky, and Eagle [McMahon] at the top, it's gonna be like, 'Oh, Worlds was a fluke,' and that's kinda not fair."
At the same time, McBeth was using that shift in the conversation as motivation: "So the mindset was go out and win this weekend."
He got off to an inauspicious start, though. After connecting from circle's edge for a birdie to open play, McBeth carded the only bogey in the top 30 on the 380-foot 2nd. He said he slipped on the tee pad – a number of surfaces were wet throughout the day as a result of rain earlier in the week – and ended up kicking the corner of the box with his left foot as he tried to catch himself from falling over. He loosened his shoelaces and played through pain for the rest of the round, but it didn't seem to hold him back: After taking three more birdies on the front eight, McBeth caught fire on Iron Hill's second half.
Parked. Parked. Parked. Circle 1. 30-foot birdie. Circle 1. Parked. 40-foot connection. McBeth rattled off eight consecutive shots under par to jump to the top of the leaderboard, in the process rediscovering the putt that failed him down the home stretch of Worlds. That's where that short memory came in handy.
"I'd forgotten the last round at Worlds I missed a whole bunch, so it's always good to make outside-the-circle putts," McBeth said. "They're kind of a bonus." He added one more, then, with another 40-footer for 3 on the 630-foot 18th to secure his hot round.
Paju, meanwhile, used a different tactic than McBeth to attack Iron Hill. The 23-year-old Finn said the track reminded him of those in his homeland, and that he tried to channel his mentality from the 2017 Finnish National Championships, where he emerged with a two-shot victory.
So a long memory, then.
"I really like this course," Paju said. "…With really good and focused throwing you can make a good score, but if you're off with your focus at all you can hit trees and you're over par."
Case in point: Paju's lone blemish came in the form of a 5 on the 630-foot, par-4 18th after he nicked a tree and sprayed off the fairway. To his credit, that hole played as the second most difficult relative to par, but it left a bad taste in his mouth.
"Bogeying the last hole, it took the cherry from the top and put it in the trash," Paju said.
Indeed, Iron Hill's final three holes spoiled many a solid round. Ulibarri's bogey-par combo to close took him out of a share of the lead, while a bogey-bogey run saw Michael Johansen plummet to a ninth-place tie. He shares a spot there with, among others, Calvin Heimburg, who was on pace for second place before taking a triple-bogey 7 on 17.
On the other hand, Wysocki shredded the difficult closing stretch with four consecutive birdies, punctuated by a 40-footer to end his round.
Fish, who got off to a smooth start in his title defense but also struggled with footing, was happy with his 1-under score on the closing gauntlet. "I would be thrilled to go par-par-par," he said. "Anything better than that is even better."
The Baltimore pro handled his time on the feature card with aplomb, scrambling with 100 percent effectiveness and pacing the field in parked shots at 33 percent. He said he wasn't looking to necessarily make a statement with his play, but he wouldn't turn down his position, either.
"If we can stoop to platitudes, I was playing my game," Fish said. "It is validating to see it actually work and to know that I'm right up there at the top."
With two more rounds to play at Iron Hill, the top 17 competitors chasing McBeth are all within five shots. Barsby sits in the ninth-place logjam at 7-down, while McMahon, Philo Brathwaite, and Kevin Jones headline the 14th place grouping at 6-under. With that many players in the mix, it makes for a stacked top end of an otherwise small field – a product of many touring professionals splitting between the first state and the concurrent Canadian Disc Golf Championships.
That exodus, combined with its spot on the schedule, had McBeth lamenting that Delaware didn't yet have a "big event" feel – although he did acknowledge that it was only Friday and that a decent amount of spectators had trekked to the course. Paju shared a similar sentiment about the field size, but he wasn't complaining.
"Somehow it doesn't feel very big compared to Worlds…having 63 Open division players here, it doesn't feel very big," Paju said. "…Still, it's a great title if you get it, because most of the best players are here."
The Open lead card tangles with Iron Hill at 2 p.m. ET Saturday, with real-time scoring and statistics available at UDisc Live.