Shades of 2017 as Pierce Takes Control at Beaver State Fling
Shades of 2017 as Pierce Takes Control at Beaver State Fling
Four-time world champ stakes an early eight-shot lead
Saturday, June 8, 2019 - 03:04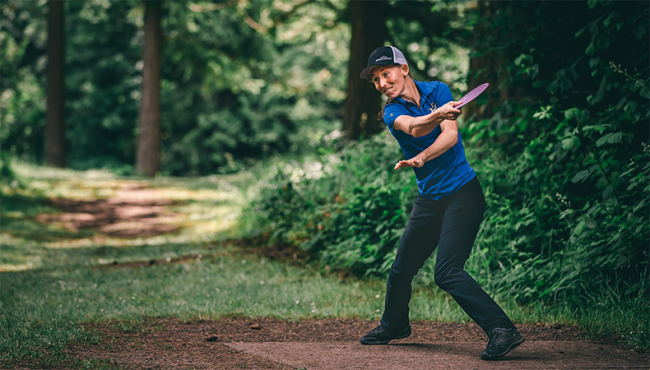 ESTACADA, Ore. -- In her only career Beaver State Fling win, back in 2017, Paige Pierce never relented on the way to a 16-shot margin of victory.
After day one of the 2019 Fling, she's already halfway to that same mark.
Pierce unloaded a 995-rated morning round at Milo McIver State Park's East Course before following up with a 1010-rated 4-under par showing during an afternoon stroll through the West Course, good for a 5-under par 117 total and an eight-shot cushion on the field. Vanessa Van Dyken is in second place with a two-round 3-over par 125 total, while Jennifer Allen's 2-under par round two performance moved her into a tie for third place with Catrina Allen at 4-over. Paige Bjerkaas rounds out the top five at 6-over par.
Pierce has now logged seven rounds rated 1000 or better in 2019, and she attributed her performance to a renewed focus on accuracy.
"I was expecting to be leading if I was hitting my release point," Pierce said. "That's something I've been struggling with, but I was very adamant about not having that issue at tall this weekend. I just put a lot of time in on my release point and timing, so it felt good all week and it translated during the actual tournament."
While Pierce's 47% fairway hit rate was down from her season average of 67%, she was more precise on the approach: The four-time PDGA World Champion is pacing the 24-player field in circle 1 (31%) and circle 2 in regulation success (42%). She also connected on two of those circle 2 attempts Friday, including a 66-footer for deuce on the West Course's 285-foot 3rd.
"I was kinda far away, so it was one of those ones that would be a bonus," Pierce said. "I'm not expecting to hit 66-footers, but it's easier to run them without weighing too much of the risk factor. Yeah, it was fun."
Van Dyken made her way to second place by hitting 50% of her fairways. The San Diego native has been battling a shoulder injury off and on for more than a year, and she called on Catrina Allen to help her improve her form. They analyzed some slow-motion video, and Allen helped Van Dyken realize that she was opening her hips too early on her drives and putting more stress on her upper body.
"We worked on that, and ever since that it's -- I mean I haven't gotten any more distance, I would say," Van Dyken said. "But I'm not feeling anything in my shoulder, which is good."
Jennifer Allen jumped all the way up from eighth place with her 993-rated afternoon, while Catrina Allen hit a difficult stretch on holes 10 through 12 that saw her lose three strokes off the lead.
Now, Pierce is just hoping to clean up from close range. She two-putted six times during Friday's double-dip at Milo, and she knows improving on her 68% circle 1 putting rate will only make life easier. In fact, she was using that weak spot on the stat sheet -- and a lot more -- as motivation in the face of a comfortable lead.
"I will never take my foot off the gas, ever," Pierce asserted. "It's not about this next round of the Beaver State Fling for me. It's about preparation for Worlds. I'm trying to better myself every day and prepare for Worlds this year, Worlds next year, overall get into the Hall of Fame. I have my sights set pretty high, so every single shot is important to me."