Queen Finishes Strong; Buhr, Keith, Clemons Also Advance
Queen Finishes Strong; Buhr, Keith, Clemons Also Advance
2021 DGPT Championship - Round 1 Recap
Thursday, October 14, 2021 - 21:53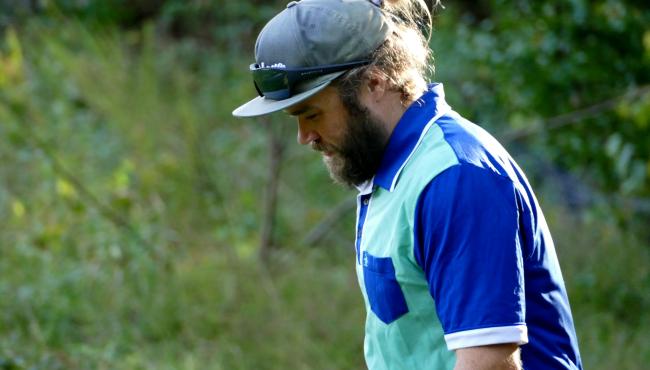 A single stroke is important on any leader board, but especially in the do-or-die format of the Disc Golf Pro Tour Championship presented by Guaranteed Rate.
Nathan Queen knew it.
After a stellar day on the putting green already, Queen cashed in a 90-foot throw-in to turn in the hot round of the day on Thursday during Round 1 of the DGPT Championships at Hornet's Nest Park in Charlotte, North Carolina.
"That last putt really felt good to get that six down," Queen told the Disc Golf Network's Jamie Thomas as several other cards were still on the course. "I've been working on that shot ... and finally connected on one. That was a great feeling."
Queen set the pace early in the day and held on during an up-and-down back nine. Finishing early, he had to wait for the rest of the field to finish to see his fate.
But his score stood as the hot round and Queen advanced to the quarterfinal round along with Chris Clemons, Gannon Buhr and Emerson Keith.
Twelve players saw their Elite Series season end on Thursday.
Queen averaged 24 feet on his putts and went 71% from Circle 2 with three puts just inside 40 feet, a 49-footer on hole 9, a 60-foot connection on 10 and then, to close it out, the 90-foot floater on 18.
While Queen went five-down through the first nine holes, it was a bounce-back day for Clemons, Buhr and Keith, who all overcame early bogies to advance.
Clemons had a bogey on hole 2 and then went five-down from there. Buhr opened with back-to-back bogies before turning in a clean sheet. Keith's round ended with three birdies on the final five holes for a three-under round with Buhr. The duo advanced over Raven Newsom with their higher seeds as the tiebreaker.
The foursome will be carded together in the 2 p.m. ET slot. Drew Gibson, Andrew Marwede, Matt Orum and Garrett Guthrie get going at 2:34 p.m. and the feature card, by virtue of seeding, of Nikko Locastro, Chris Dickerson, Ezra Aderhold and Joel Freeman begin at 3 p.m.
Getting Day 2 in Charlotte going is the FPO quarterfinal action, which begins at 9 a.m. ET with Juliana Korver, Kat Mertsch, Madison Walker and Holly Finley.
Heather Young, Deann Carey, Rebecca Cox and Ohn Scoggins tee off at 9:30 a.m. ET with the top seeds of the quarterfinal round of Hailey King, Jessica Weese, Kona Panis and Lisa Fajkus start at 10 a.m.
Again, the top four scores advance to Saturday's semifinal round.
Live coverage of the FPO action begins at 9:30 a.m. ET on the Disc Golf Network. The MPO broadcast starts at 2:30 p.m. ET.