Pierce on Top, Korver in the Mix After Five Hour Opener
Pierce on Top, Korver in the Mix After Five Hour Opener
National Tour - Masters Cup FPO Day 1 Recap
Saturday, May 29, 2021 - 11:43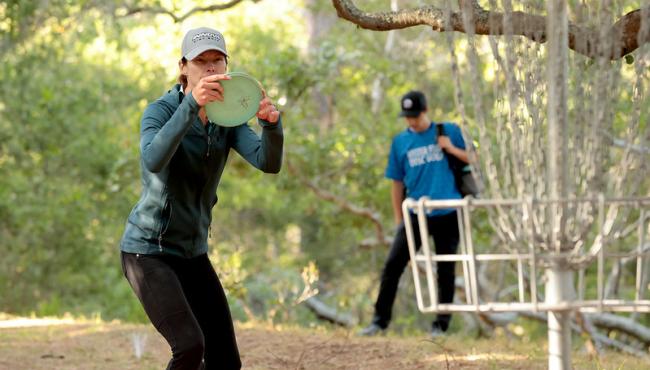 SANTA CRUZ, California – Round one of the 2021 Santa Cruz Masters Cup is in the books and after five hours of grueling competition, DeLa rolls and two-meter penalties, there was a lot for players to think about as they headed down the hill and off the famed Santa Cruz track.
Paige Pierce showed signs of frustration throughout as she fought her way to a 3-under 72 to take a one-stroke lead. The five-time PDGA World Champion got off to a slow start, pulling her drive into the rough for a bogey on hole 2 and then dropping another stroke on hole 5 when her 10-foot par putt hit dead center but bounced off the pole and out of the basket.
Peirce's angst may have peaked, however, when after throwing a picture-perfect drive on hole 8 her Nuke got stuck up in the trees, resulting in a two-meter penalty. It would be her last bogey of the day.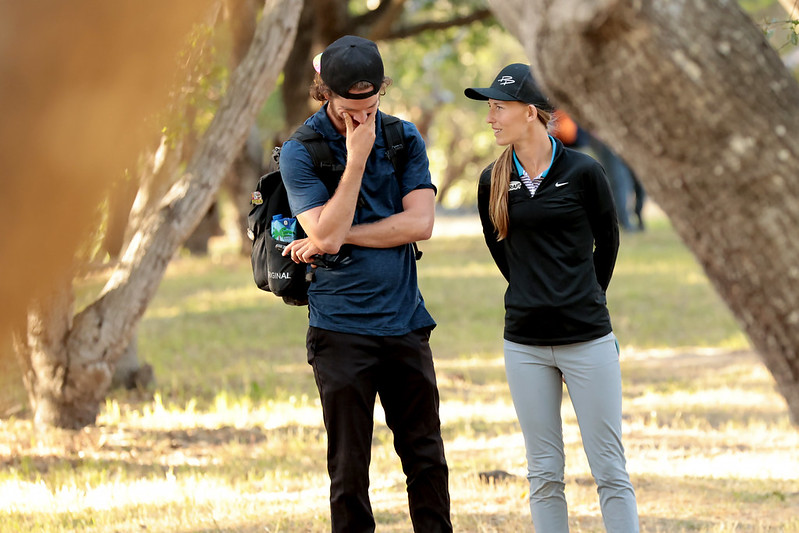 Turning frustration into fuel, Pierce elevated her game and stormed through the final 16 holes, carding 5 birdies along the way including a vintage 60-foot jumper on hole 17 that drew roars from the gallery.
Sitting one back of the lead with a two-under 73, defending champion Catrina Allen matched Pierce with six birdies on the day and led the proceedings for much of the day until a bogey on 14 and a double on 16 saw her drop four strokes in a three-hole stretch.
Allen had a chance to even things back up on the final hole after putting her drive within 20ft of the pin, but pulled her putt wide right and had to settle for par.
"I'm not happy with my finish," Allen said afterwards. "I tried to make the best of the backups, but I just felt cold. I think it was hole 21 – Dani (Kleidon) had an unfortunate rollaway and by the time I got up to putt, my putters just felt different. The temperature had dropped and even on the last putt, it just felt cold.
"I felt like I was really consistent today. I think it's a solid round – a good start. Under par at DeLa is always great."
One back of Allen and two off the lead is 2021 PDGA National Tour points leader, Hailey King, who rode a flawless performance from C1X to finish at 1-under par.
"I actually started to think about it on the last hole – I'm like, 'Oh, I haven't missed a circle 1 putt yet, that's pretty cool,'" King said. "But generally, I try not to think of it during the round because the more you think of it, the more chances you have to miss. So, I just try to keep the head clear and keep going."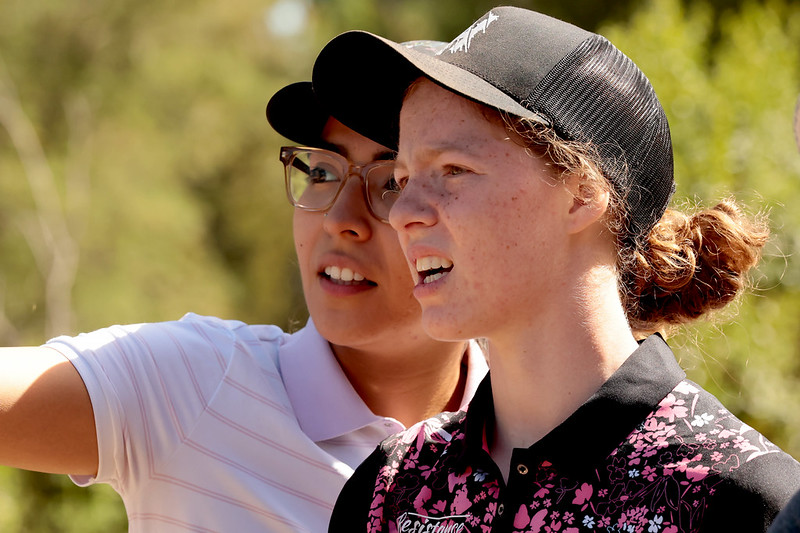 King is playing her first event at DeLaveaga, and had not gotten in even a full practice round before the start of the Masters Cup on Friday. But the lack of familiarity didn't stop her from enjoying her time on the storied course.
"It honestly felt like I didn't play disc golf today – it just felt like I went on a hike," she said. "I love this course. In my opinion, this is what disc golf is. Being from Wisconsin, coming here and being able to see this in California, it feels really good. I love it, and I really hope they don't change anything. I hope we get to keep this property forever."
Rounding out Saturday's FPO lead card will be another five-time PDGA World Champion in Juliana Korver, who finished tied with Kona Panis at an even-par 75.
Korver had largely retired from competitive disc golf for years before returning to action at last week's U.S. Women's Disc Golf Championship, where she won the FP40 division for her seventh professional Major title. It was a watershed moment that helped prompt her to move into the larger and far more competitive FPO field for the Masters Cup.
And while she finds herself in position to potentially capture what would be a history-making victory, Korver is being careful to temper her own expectations and play within her game.
"My hope was top 10," she said after keeping pace with the top players in the world. "For my own personal wellbeing, I really need to keep my focus on top 10. I'm not the player that I was in the early 2000's and I need to make sure that I don't flip to thinking that I am, because that is inevitable disappointment. So, I just need to be happy with what I'm doing right now, and so far, so good."
Round 2 of the 2021 Santa Cruz Masters Cup kicks off on Saturday, with next-day FPO lead card coverage by Central Coast Disc Golf.