Pierce Maintains Lead at WNC Heading Into Moving Day
Pierce Maintains Lead at WNC Heading Into Moving Day
2020 Women's National Championship Day 2 Recap
Friday, October 9, 2020 - 00:45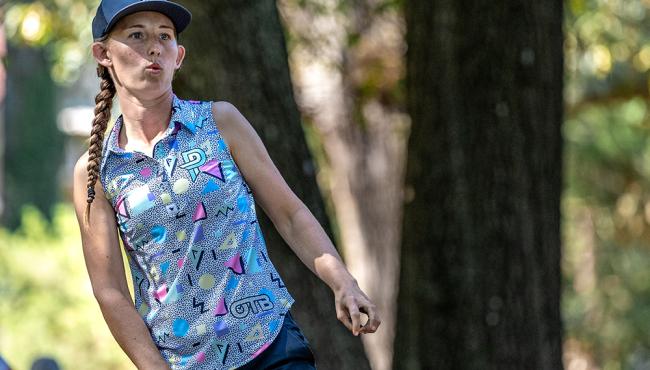 There was a four-stroke swing on Hole 18 and Paige Pierce still leads the Women's National Championship by six strokes.
Although it looked a little different than her scorcher to open action at Winthrop, Pierce still matched the hottest round of the day to build the large margin of lead.
After firing off a 10-under round on Wednesday, Pierce carded a 5-under 65, joining Ohn Scoggins, making her East Coast return, and Ellen Widboom with the hottest round of the day.
Catrina Allen roared to a strong finish, notching an eagle three on the 18th while Pierce carded a double-bogey seven. Allen, who had four-straight birdies over the midsection of the course, is the closest competitor to Pierce, six back at 9-under through the event heading into moving day.
The the four-stroke-swing finish showed how quickly things can turn at Winthop.
Heather Young maintained her third-place spot with a 2-under 68.
Scoggins, making her longest trip disc golf-wise since the 2015 Ledgestone, stuck to her game plan for a 5-under 65, eight sticks better than her opening day round, to round out the lead card with a 2-under total.
The game plan was simple as Scoggins returns to the scene after a three-year hiatus.
"I had a plan of what I was going to do and I just stuck with the plan," Scoggins told Terry Miller and Jamie Thomas on the DGPT's Inside the Winthop Arena show. "Throw overstable discs to stay away from the OB."
Solid play at Winthrop.
Scoggins had three OB strokes on the day, good for third-best in the field. Widboom went OB-free and improved her second round by eight strokes. Jessica Weese had two OBs and Young finished with two.
"Excited to come back," Scoggins told Miller and Thomas of her return to action. "I took almost three years off. I went to school and have a full-time job but my life has been steady now. I was just ok, I want to come back because I love this game so much, I miss all of the ladies out here and I want to compete.
"I said, just come back and play and let's see how my game is going to be. So far, it's not that bad."
That's a true statement as is the adage that anything can happen at Winthrop.
Round 3 action of the Women's National Championship kicks off at 8 a.m. on UDisc Live and the lead card tees off at 9:45 a.m. live on USDGC.com.