Mental Game: Five Tips For Your First Tournament
Mental Game: Five Tips For Your First Tournament
Having the right mindset can make all the difference on the course.
Wednesday, August 19, 2020 - 08:24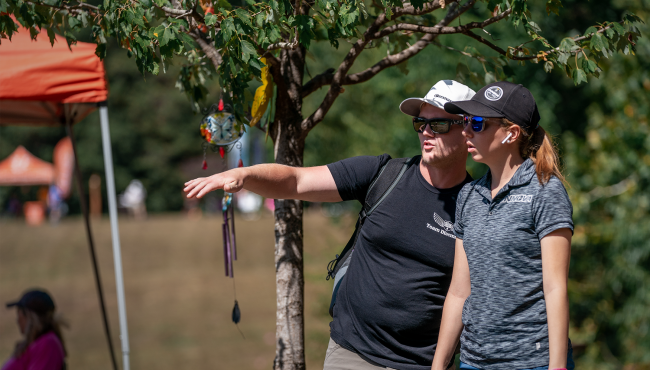 Disc golf is, at its core, a mental game. No matter how fit you are physically or how far you can throw the disc, your mindset plays a major role in determining how well you will perform.
And when it comes time for your first tournament, your mental game is tested on a whole new level. New nerves, new stress, and, of course, new ways to screw up. This can all take a toll and can lead to a pretty poor performance in your first tournament.
That's where this post comes in. I've prepared five quick tips for taking control of your mental game. Hopefully they can help you get off to the right start and crush it in your first tournament.
1. Build Confidence
Confidence on the course is a must. If you don't have confidence in yourself and your abilities, you'll fall short every time.
But confidence is hard to achieve in disc golf. Why? Well, the learning curve is steep and you usually start out pretty bad. Once you get better, though, you start to build a little bit of that confidence. Your game improves and you might think you're pretty good.
That is... until you go to play your first tournament. Now you're playing against other competitive disc golfers who all want to win as badly as you do, and on top of that, you might not be used to playing in front of a bunch of other people. 
Here are a couple of things you can do to build your confidence up:
Be prepared: Make sure you've played a couple of rounds in the weeks leading up to the tournament. Also, make sure that you've played the actual course that the tournament is going to be played on. That way you know the course and are ready to rock and roll.
Get knowledgeable: Make sure you understand the rules of play completely so that you don't make any unnecessary mistakes during the tournament. Check out the PDGA's Official Rules of Disc Golf.
Nervous or scared?: You're going to be a little bit nervous in the first tournament. That's okay. Just play as well as you possibly can and try not to act like you're a nervous wreck. Remember the old saying: "Fake it 'till you make it."
2. Keep a Positive Mindset
Let's be honest: your first tournament is really just to gain some experience in competition and tournament play. You may end up doing really well, but chances are you probably won't play as well as you think. Up to this point, though, you've kept your thinking positive. That's good but you'll really need that positivity when you start playing poorly.
If your rounds starts to go downhill, or you have a really bad throw, take a minute. Breath, relax, and look to the next throw. Tell yourself that the round is going to get better and continue staying positive. This is really the only way to turn things around when you hit a rough patch.
3. Be Patient
Patience is another skill that is extremely hard to develop, but if you can develop it, you'll have the ability to become a great competitive disc golfer. Patience comes in two forms: short-term patience and long-term patience.
Short-term patience refers to each shot and each hole. You need to be patient with every single shot. Being patient gives you the opportunity to see every shot possibility and every angle during your first tournament round. This allows others who don't have enough patience to make mistakes that can benefit you. The way to build your patience is to never ever rush yourself.
Long-term patience refers more to your overall skills and long term goals as a disc golfer. Many players quit competing in tournaments because they get discouraged. It's really tough to play against a lot of good disc golfers and come out on top. So you need to have the patience to drudge through your first tournament, continue to build your skills, and continue playing competitively. That will give you a long-term plan to success in tournament play.
4. Keep Focus
In disc golf, your ability to focus on each and every shot can potentially be the deciding factor on winning or losing that round. "I will crush this drive," or "I'm going to nail this putt," should be what you tell yourself whenever you seek to find the point of concentration for each shot.
But if you're not a focused player, or you have trouble with this, don't get upset. It takes a lot of time to perfect. Continue to play and practice, keeping yourself on one task: focusing on the shot. You can do that with something simple like telling yourself, "concentrate on the shot," or "focus." Your ability to get better at this will expand over time, especially if you work on it.
5. Be Goal-Oriented
If you want to achieve anything in life, you should have goals. They are fundamental to measuring your success and allow you to keep track of where you are and where you're going. So you should definitely have goals if you're thinking about trying to become more competitive in disc golf.
If you've already decided to get competitive and you're going to enter your first tournament, you should start setting two kinds of goals: long term and short term.
Your long term disc golf goals will be a road map of what you want to achieve over a period of time - say 6 to 12 months - in the sport. An example would be: I want to play in 4 tournaments this year and at least try to win 1 or 2 of them. Very achievable, realistic, and specific.
Your short term disc golf goals should be a couple of specific things you want to achieve in your first tournament. An example would be: I want to at least make par on every hole and try to place in the top 5 or 10 players. Again, achievable, realistic, and specific. That's what you want. That's how you win.
---
Christopher "Red" Bittner is the owner and editor of DiscgolfNOW.com, a website dedicated to helping beginner to intermediate disc golfers learn the sport, improve their disc golf game, and find the right equipment for the course. Red is also the author of "The Disc Golf Player's Manual," a book that's helping beginning disc golfers of all ages understand and start to master disc golf.