Local Limelight: Delaware
Local Limelight: Delaware
Defending Challenge Champion Andrew Fish is also a champion for gender equity in disc sports
Friday, September 14, 2018 - 01:02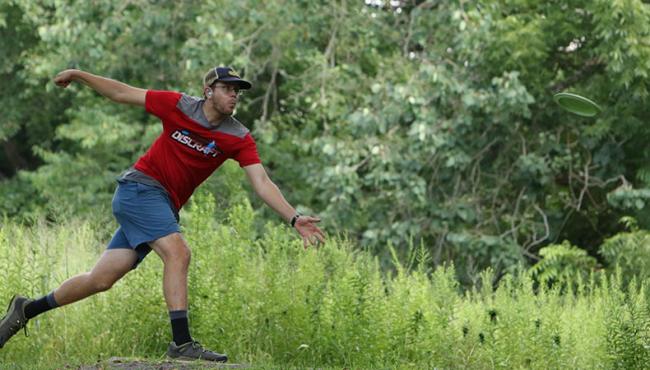 There are a lot of disc golfers like Andrew Fish, regional players who carve up their local scenes, who might make it on the occasional late-release video coverage or rattle off B- and C-Tier winning streaks. For one reason or another, though, they don't join the caravan of season-long touring professionals, so they never really break into the national disc golf consciousness.
At the same time, there's no one quite like Andrew Fish.
An engineer. A crossover ultimate Frisbee player. And, most importantly, an outspoken advocate for gender equity and more opportunities for racial minorities in disc sports.
Plus, he's the defending champion of the Delaware Disc Golf Challenge, which just so happens to be breaking into the national disc golf consciousness this weekend as the fifth stop on this season's PDGA National Tour. Appearing on the opening round feature card Friday, that means Fish will have the platform to show off his physical skills on the par-72 Iron Hill Disc Golf Course.
But it's his intellect that really demands your attention.
Boasting a 1023-player rating and 33 career wins – "It's easy when you stay local," he deadpans – Fish didn't get his start in disc golf until college. Even then, he was a late adopter of the sport, first drawn to the high pace of college ultimate.
"I'd dink around on some courses with a beat up DX Shark or an Ultrastar," the Discraft-sponsored Baltimore resident says. "But I had never really played disc golf."
When he ran out of ultimate eligibility late during his tenure at Georgia Tech – he went on to graduate with a Masters of Science in Environmental/Environmental Health Engineering – Fish happened upon the disc golf club. That led to a trip to the 2012 Southeastern Collegiate Open and the 2013 National Collegiate Disc Golf Championships, where he tied for ninth in the individual competition as an unrated amateur. He went pro shortly thereafter, notching his first Open victory in a 15-player field at the B-Tier Upstate Foothills Open in South Carolina.
Fish said his transition to disc golf was made smoother by employing straight midranges and putters. "I threw a lot when I was in college. It was at least an hour a day, every day, for five years," he says. "So with an Ultrastar, it's like driving a school bus: It doesn't go very fast and it's hard to make mistakes with it. It doesn't handle wind very well. If you get a really fast disc, it's like a speedboat: one little error…"
That mentality is characterized in his approach to Iron Hill, where he's played in the Delaware Disc Golf Challenge since a third-place debut in 2014. He eschews big distance – the Ulibarri method, he called it, in honor of Paul Ulibarri's record-setting assault on the course in 2016, a 13-under par 59 – in favor of a more controlled game plan that favors placement over power and is akin to how Bradley Williams matched Ulibarri's mark the same year for a comeback win.
More than a conservative style, though, Fish comes into Delaware's inaugural NT appearance with an extra advantage in his back pocket: experience. He has 13 tournament rounds at Iron Hill and averaged 1026-rated golf during his four-shot victory at last year's Challenge, and Tournament Director Jimi McIlvain said Fish's proximity to the venue – he's roughly an hour and 20 minutes away, so not technically a local, but no stranger, either – is a difference-maker.
"I think he really analyzed the course, really deeply, and that may have helped him a lot," McIlvain says. "Some of those touring pros may not have that opportunity. He's got a great game for this style of course. It's long and very technical."
While his technique was honed on the ultimate fields, that's not all Fish brought with him from one of disc golf's cousins. Indeed, his worldview was shaped greatly by the ultimate community, where gender equity – that is, providing women the same opportunities as men when it comes to competition, media coverage, and other decisions that drive the sport's growth – has been a topic of conversation since he was playing at Georgia Tech. Combined with an acute self-awareness – and the power of Twitter, where he often workshops ideas and offers suggestions to various stakeholders in disc sports – it's made him an active voice in a sport where many players don't dip their toes into sociopolitical waters.
"It's really easy to overlook privilege when you don't recognize that you have it," Fish says. "I'm a young, white male – I can go into lots of scenarios and be welcomed with open arms. I'll talk to my girlfriend, I'll talk to my sister, I'll talk to friends I have who are racial minorities. They always feel a little bit of an outsider.
"There's been a lot of efforts among the ultimate community to just be aware of that, to be inclusive, to kind of rise above where society as a whole is," he continues. "There's definitely some pushback – pro ultimate leagues are still are not fully gender inclusive, and that's – in some ways, that kind of is where disc golf is. It's a self-fulfilling prophecy to look at every other sport…and say, 'Well, people don't watch the women.' That's because the women aren't on coverage…It's just a defeating cycle."
Just as Fish says it's easy to overlook privilege, it's also easy to talk about a problem without working to fix it. To that end, he's been an instrumental force for women's disc golf in Central Maryland and the surrounding locales via the Women's Open of Maryland Edition Number 1 and 2 (the title creates an acronym for women, for those keeping score at home), the women's-only tournament he has directed for the last two years in conjunction with Virginia pro Allie Stone.
In 2017, 53 women attended, followed by 48 this year. In both editions, roughly half the field has been comprised of competitors in the recreational division or lower. "There's not 50 players who are women in Maryland," Fish says. "We've gotten a lot of first-time tournament players. We've drawn from other states. We've gotten some folks who are expired [PDGA members]."
Media coverage has been a key component of each event. Both years have been filmed for YouTube channels, as Fish and Stone aim to create an environment where video of women disc golfers becomes the norm.
"In disc golf, we're still young. It's really important that right now we establish that everyone can be welcome playing this game," Fish says. "Watching a disc fly is really fun. It doesn't matter who you are. Rather than follow the footsteps of what every sport has done…take the hit for a bit in views, in advertising money, where we can have a much larger community that doesn't alienate parts of the population."
Stone, herself a Delaware Disc Golf Challenge veteran, is grateful to have Fish as an ally. "Really, I think it's a very special thing having Fish advocate for gender equity in our sport," she says. "He's a highly respected member of the disc golf community, he's a well-known professional player on the East Coast. I think it speaks volumes when someone of his stature makes a statement on the change they would like to see, especially when it doesn't impact them."
This weekend Fish is looking to make a statement on the course. Though he admitted he didn't get the practice he wanted this week – a product of picking up a cold last week while in Vermont for the PDGA Professional Disc Golf World Championships, where he tied for 16th place in the 228-player Open field – he was undaunted when it came time to discuss his title defense.
"How many of those dudes above me have won at this course?" Fish asks. "[Dave] Feldberg, Ricky [Wysocki], [Steve] Brinster. For me, I have to just play my game and use what I think is probably superior course knowledge to put myself in spots where I can succeed…I'm not worried about what those other guys are doing. They can come in and be worried about a hurricane. They can be prepared about the course…I've got more tournament rounds on that course than anybody except Mike Moser, and he's not in the field."
It sounds like he's experiencing some championship-level confidence.
"No, I'm not," Fish says with a laugh. "I think, in order to be great at anything, there needs to be a certain amount of lying to yourself, or tactical delusion."
Not when it comes to advocating for a better disc golf world, though. That's genuine.