Jones, Conrad Close The Gap Before USDGC Final
Jones, Conrad Close The Gap Before USDGC Final
McBeth holds five-shot advantage after playing through illness
Saturday, October 6, 2018 - 07:03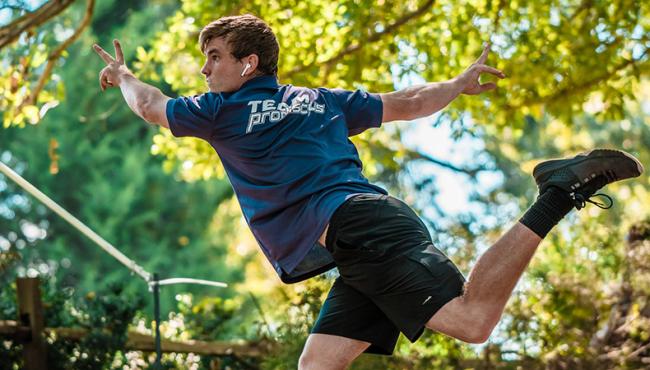 ROCK HILL, S.C. – It's been 367 days since Kevin Jones broke out with an opening round stunner and landed on the lead card for round two of the 2017 United States Disc Golf Championship, as he unleashed an aerial assault that put the disc golf world on notice.
Now, after an 11-under par 56 Friday at the 2018 iteration of this PDGA Major, he's back in familiar territory with a chance to deliver on the promise he displayed last October. Only this time, he'll be on the lead card for the final round trying to chase down this era's most decorated champion.
Jones' performance coincided with Paul McBeth coming back to earth as he battled illness, with the four-time PDGA World Champion and 2015 U.S. Champion logging a 4-under par 63 to bring his three-day total here to a 29-under par 172. That's still good for a five-shot advantage over both Jones and James Conrad, who share second place with 24-under par 177s after the latter of the duo held tough on the leaderboard with another 7-under par 60 Friday. Nate Sexton's 8-under par 59 kept him on the lead group heading into Saturday's final at 21-under, while Paul Ulibarri's ace-fueled 5-under par 62 dropped him to fifth place with a 19-under par 182 total.
Jones' 1073-rated showing marked a personal career high at the Winthrop University Gold course and was his third-best performance of the 2018 season. The 22-year-old former college football player was elated at the prospect of having a fighting chance at his first U.S. title entering the final day.
"It feels awesome," Jones said. "I'm really happy with how I played today. It was just being good off the tee and cashing in when I'm close to the basket. I didn't miss that many putts today, so it was really smooth and it felt good."
And it mostly came due to a furious – but not fast – second half of the round: Despite long back-ups on hole 13, the track's 1,111-foot monster, the Arkansan kept his focus, earbuds blasting as he tried his best to remain patient. He carded eight birdies on the back nine, his lone blemish coming when he missed left on hole 15's triple mandatory.
"It was definitely back nine snack time," Jones said.
Part of the feast came in the form of a three-shot correction on the 391-foot 16th, where Jones misfired into the hazard during round two and walked away with a spitout-induced bogey. On Friday, though, he was perfect, throwing a slight turnover inside the tree line that settled in around seven feet from the pin for an easy deuce. Jones has parked 22 percent of his shots this week to pace the field.
"I didn't even throw it that hard, but I hit the angle perfect and it just cruised right toward the basket like it did on the first day," he said. "I was just focusing on the angle…just hit it flat. That's all you gotta do."
Jones again played valet by putting a forehand tee shot 15 feet from hole 17's island pin, then added another stroke to his tally with a perfectly executed approach on 18's sloping green to close the round with a turkey.
Jones was hardly alone in handling 18 with ease, as both McBeth and Conrad closed with birdies on the demanding par 4 that played as Winthrop's second most difficult during the round. For Conrad, his approach was accompanied by a huge sigh of relief as he walked down the fairway, content with a strong finish to remain on the lead.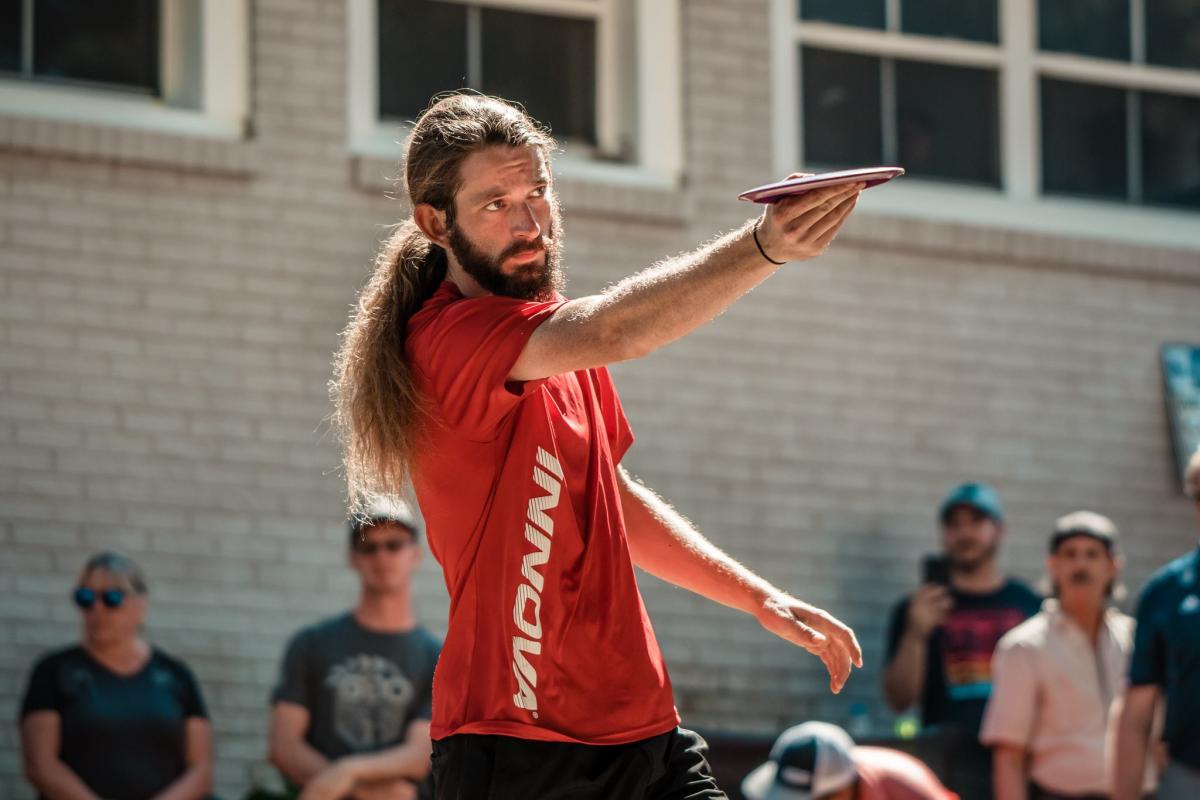 "That's a nerve-racking shot," Conrad said. "It felt like I let it go perfect. It's a long round to try to maintain focus for four hours out in the sun and the heat and all the people watching and everything, so it was nice to know I'm in bounds up there close and can be done for the day."
Still, there were miscues Conrad needs to clean up to make a run during Saturday's final. He underpowered his Aviar drive on the downhill, 389-foot 3rd, resulting in a trip to the left-side hazard and an early bogey. He was out of position on 12, he said, and he hadn't practiced from that lie, so he pitched up his second and third shots to take his first par there all weekend. His tee shot on 13 came out too low and didn't have time to fade back into the fairway, which meant another missed opportunity to gain ground on McBeth.
"Not quite the round I was hoping for today," Conrad said. "It wasn't bad by any means – another 60, which is a respectable score out here. You've just gotta play so clean out here to play a great round, and I still had a couple blunders on shots where I shouldn't be making blunders."
McBeth, whose voice went from a nasal-congested tone before the round to nearly non-existent after, experienced his first real adversity of the event after consecutive sterling performances to open the week. He struggled to corral his power off the tee, sneaking out the back side of the hazard on 3 before sending his drive on 5 long and into a pinched position behind a lonely tree. He saved birdie with a towering flex shot to the green on the 1,083-footer, then followed with a deuce on 6.
Still, the round was inconsistent. On hole 8, a skinny, 697-foot par 4, he went OB off the tee and smacked a late tree on his inbounds attempt. That left him cleaning up another bogey before gathering another shot over par with an errant drive on the 734-foot 11th.
McBeth, who took time to sign autographs after the round as he used a pink towel as a makeshift handkerchief, was visibly exhausted after the performance. Another day of 90-plus-degree heat certainly didn't make matters easier.
"Not feeling good," he said. "I played as good as I could today. It was weird, because I wasn't feeling well and [the shots] were just going further. I couldn't control the distance. Every mistake was a lot longer…
"I felt a lot worse today than I did yesterday, that's for sure."
McBeth logged the worst showing on the lead card, as Sexton was able to chip away four shots from his former touring partner's lead with textbook execution. His roller off the tee on the 629-foot 2nd put him in line for an easy birdie, and a gorgeous backhand put him under the pin on 6's beachside green. Even when he was out of position he was able to recover, with a forehand skip shot on 8 jumping high into the air before coming to rest about 20 feet from the pin.
"I'm glad I'm still on the lead card," the reigning U.S. Champion said. "I don't know the scores, but I will be going as hard as I can, for sure."
Ulibarri scrapped during his round, misfiring on back-to-back drives on 6 and 7 to cede precious strokes off the lead. He was able to make them back on 17, though, with a Prodigy H1 ace that he called on the way to the tee.
"I was walking up and, you know, I was visualizing it, visualizing it, visualizing it," Ulibarri said. "And I was walking up with a few people…and I was like, 'I'm just gonna put it in.' Yeah, I knew I was gonna make it. For sure, for sure. One hundred percent."
Still, Ulibarri had mixed emotions after a day in which he only gained one stroke on the lead and dropped two places on the leaderboard.
"I feel not that great," he admitted. "I'm far back of where I want to be, but I fought hard today. I stayed within my game plan and within myself the whole entire round, and honestly a really good back nine to even keep me where I am. I said before the round started I can't control anybody else, so I'll just do my thing, and I did really good at it today. So that's what I'm gonna do tomorrow."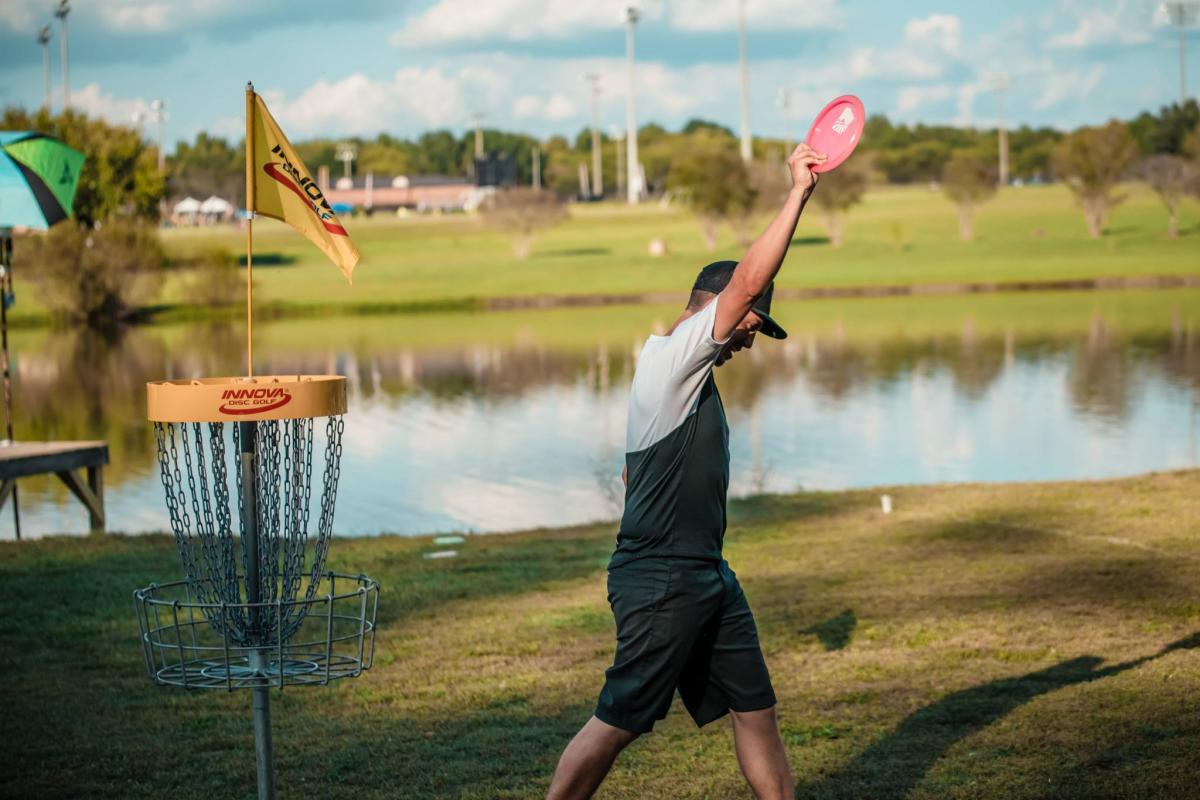 Elsewhere at Winthrop, Eagle McMahon helped moving day live up to its name with a 9-under par 58 that brought him up six spots and into a sixth-place tie with Ricky Wysocki at 18-under. PDGA World Champion Gregg Barsby rode a six-for-six start to jump up four places and into eighth place alongside Josh Anthon at 17-down, while Garrett Gurthie and Chris Dickerson climbed seven and five slots, respectively, to share 10th place with 15-under par totals.
With only five shots separating first place from second, and Winthrop's reputation for wreaking havoc on the scoreboard, McBeth's lead isn't as safe as it was before round three. Still, he was confident that, after slogging through another day of feeling poorly, health-wise, that he'd be better prepared to endure any suffering on Saturday. And, more importantly, that his lead was sufficient.
"I think any strokes are enough," McBeth said. "It's just go out and play well tomorrow. If I play good, then I don't – I could be behind, and that'd be enough."
Conrad estimated he or Jones would need to shoot 13-under, at least, to have a chance at the win.
"I'm sure [McBeth] will bounce back," Conrad said. "I'm sure he'll do better than that tomorrow, but hopefully I'll do a lot better than that tomorrow."
Jones, meanwhile, planned the same routine that has gotten him within striking distance: a breakfast at Cracker Barrel, an hour of warmups, and a musical journey through what are quickly becoming his signature Apple AirPods. He said after Thursday's second round that if he was within five shots of the lead on Saturday that he would get "really aggressive" during the final, and he didn't shy away from that prediction Friday.
"Probably starting on hole 5 would be the first possible decision to make," Jones said. "If I'm close enough to that water, I likely tomorrow will be going for [eagle] depending on the situation. If I'm four-for-four, no way – I'm gonna take another birdie and go on. If I'm needing to do something, Paul's making a move, I want to win. I want to win. I'm not really interested in top 10, top 5 kinda thing. If it costs me that, that's fine."
Indeed, Jones exuded confidence about his prospects at taking home his first Major title. And he truly meant taking it.
"I don't think it depends on somebody else messing up," he said. "It depends on me executing, and if I execute I can win. So I'm excited."