Jenkins Unlocks DeLa's Secrets To Take Masters Cup Lead
Jenkins Unlocks DeLa's Secrets To Take Masters Cup Lead
Pierce, Allen lurk one shot back
Saturday, May 19, 2018 - 02:57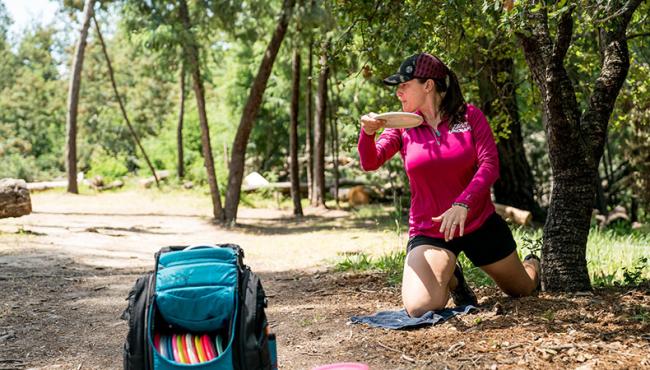 SANTA CRUZ, Calif. – Now in her fourteenth year playing the Masters Cup, it's safe to say four-time PDGA World Champion Valarie Jenkins has learned a thing or two about how to tame DeLaveaga Park. So even if she isn't the touring stalwart she once was, it should come as no surprise to see her atop the standings after day one at the iconic venue.
Jenkins' 5-over par 77 Friday afternoon featured near-perfect putting and an impressive scramble rate as she navigated her way to number one, while defending champion Paige Pierce and Catrina Allen tossed matching 6-over par 78s to fall just off the lead. A five-player logjam fills out fourth place at 8-over, with Lesli Todd getting the nod for lead card duties Saturday.
For Jenkins, the performance was all about unlocking the DeLaveaga secrets she's learned throughout her illustrious career. Some veteran savvy and humility didn't hurt, either.
"I think it's knowing when to give in and when to lay up," Jenkins said. "There's many times where I could have went for a putt, but playing out here so much, you know better. You know that you can easily turn that putt into two more shots or however the roll might be."
Case in point: Jenkins indeed did just that, getting "DeLa'd" in fantastic fashion when attempting a bid for three on hole 26's uphill placement. The rollaway found her pitching up and taking a double bogey, but she hadn't missed a putt inside the circle since hole 12 during her 92 percent performance. That late swing on the scorecard, didn't do the mental damage that it could have.
"My putt was feeling good," Jenkins said. "It's scary when you have those putts at the beginning of the round and you go for it and you roll down the hill and you're just thinking about your putt for the rest of the round. So it just depends on when you're gonna take the risk and when you're gonna lay up.
Unless you're Pierce. The top-rated player in the Open Women's field brought her signature aggression to the Santa Cruz playground and was rewarded for it with a birdie on the 318-foot 5th as her towering hyzer cleared the late oaks that guard the pin and left her with a tap-in two, the only one in the division. She snagged three more birdies and led the field in hitting circle 2 in regulation, but she also paid: Her three out-of-bounds strokes were the most of anyone in the top 10, with one coming from a re-tee and the others coming via violations of the two-meter rule.
"Just keep it low," Pierce said. "I had two shots, both of which I thought were decent, and they were both two-meter rules. You kind of have to risk it to get certain holes knowing that, if it's a little off, it's probably gonna be two-meters because these trees are really grabby."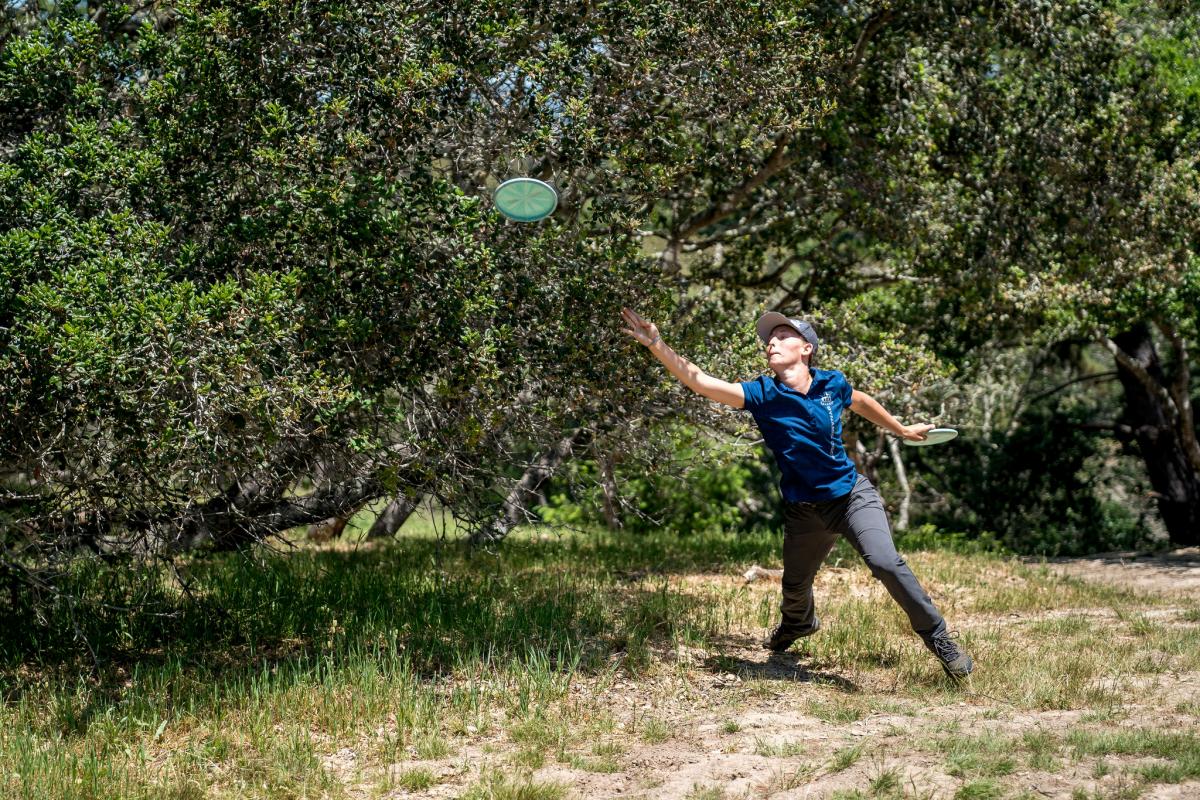 The rest of Saturday's lead card brings an interesting mix of experience to the table. Allen won the Masters Cup in 2016, the first year the event's final round moved to the golf course, but she is coming off a fourth-place finish at the Nick Hyde Memorial that saw her play all three rounds below her rating. Todd, meanwhile, is only playing in her third Masters Cup despite an Open Women's career that started in 1997. Her 947-rated showing Friday ranked 36 points higher than her player mark, but her performances have been trending that way all season.
Other standout performances on the day came from Lisa Fajkus, who is currently tied for fourth after landing the field's only birdie on the 276-foot 18th with a 40-foot death putt, and Madison Walker, who led the division in both circle 1 (96 percent) and circle 2 putting (25 percent). Despite those marks, though, the Florida pro struggled to stay on the fairway (4 percent) and ended up in 15th place.
With another day at DeLa on tap, Pierce planned no changes to her approach as she aimed to put herself in position for Sunday.
"I try to play aggressive here but with slower discs and just try to use the fairway lines," Pierce said. "…I've been working on my putt for the last week, so I feel more conf on the putting green. Still running at putts I maybe shouldn't but I'll def play quite aggressive on the final day at the golf course."
Jenkins, meanwhile, wasn't feeling the strain of protecting a lead, as her and Nate Doss' recent shift to a career in the craft beer industry has found her playing with a refreshed mindset.
"I think it takes a little bit of pressure off knowing this hasn't been our 100 percent focus the whole time," Jenkins said. "That's not all we're passionate about. We have other things going on, so it makes things a little eaiser, a little more stress-free. It's enjoyable out here.
"For the last couple years we've said we're making our way out of the sport, you know, 'We're on to brewing world,'" she continued. "So every chance we're out here on courses like this, you have to take it like it could be your last time playing. So you've gotta make sure you enjoy it."
Jenkins and the rest of the lead card take the course for the final tee time of the afternoon at 2:30 p.m. PST, with real-time scoring and statistics available at UDisc Live.