'It's Just A Battle:' Allen Rebounds For Masters Cup Lead
'It's Just A Battle:' Allen Rebounds For Masters Cup Lead
2015 collegiate champion Skweir surprises in second place
Saturday, May 18, 2019 - 11:58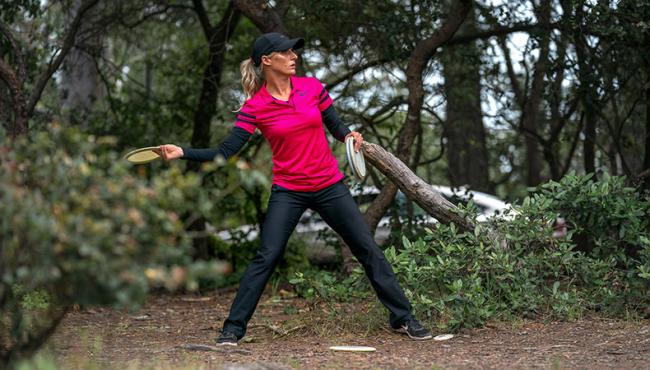 SANTA CRUZ, Calif. -- As a three-time Santa Cruz Masters Cup champion, Catrina Allen is well versed in the ups and downs of the DeLaveaga Disc Golf Course. So when disc golf's hottest women's player started with a double bogey on the second hole Friday morning to kick off this PDGA National Tour event, she didn't panic.
Instead, she let it roll away like a low putt off the cage.
"It's just a battle," Allen said after a 1-over par 74 gave her an early Masters Cup lead. "You can 4 it, you can 2 it on almost every hole -- or 5 it -- and I feel like forgetting is the key, just going to the next teepad and resetting.
"If you aren't in a good mental place," she continued, "I feel like this place will eat you alive."
Instead, Allen feasted on pars -- widely viewed as a good marker at DeLa -- as she looked for her third consecutive victory this season. Sarah Hokom finished the day in second place at 2-over, and it was the player who shares that spot with Hokom who stood out most: 2015 National Collegiate Disc Golf Champion Camille Skweir also tossed a 2-over to make the lead card, which is rounded out by 2018 PDGA World Champion Paige Bjerkaas at 3-over.
As Allen maintained an even keel throughout the round, she still mixed in some highlights: She was one of only four competitors in the 26-player field to birdie the 550-foot 13th, aka "I-5," executing a clean tee shot and a backhand skip approach off the coastal hardpan to put her in tap-in range. On hole 6, which closes the course this year, Allen was sitting at circle's edge with a chance to take the solo lead, and she connected for the deuce.
Allen landed 90 percent of her circle 1 attempts during the round, and that confidence on the green has spilled over to the rest of her game.
"It kinda takes that pressure off of not having to put it five feet on your upshots," Allen said. "That's one less thing in your head."
Skweir, a 28-year-old who hails from Northern California's Redwood Curtain region, struggled to hit the fairways (13 percent per UDisc Live scoring) but scrambled with an 82 percent success rate. Paired with a near-perfect putting performance -- she admitted she missed one, even though it wasn't reflected on the stat sheet -- and it helped her meet her expectations.
"I knew I could shoot close to par, and par was kinda the ideal," Skweir said. "I'm pretty happy being a few strokes away from that."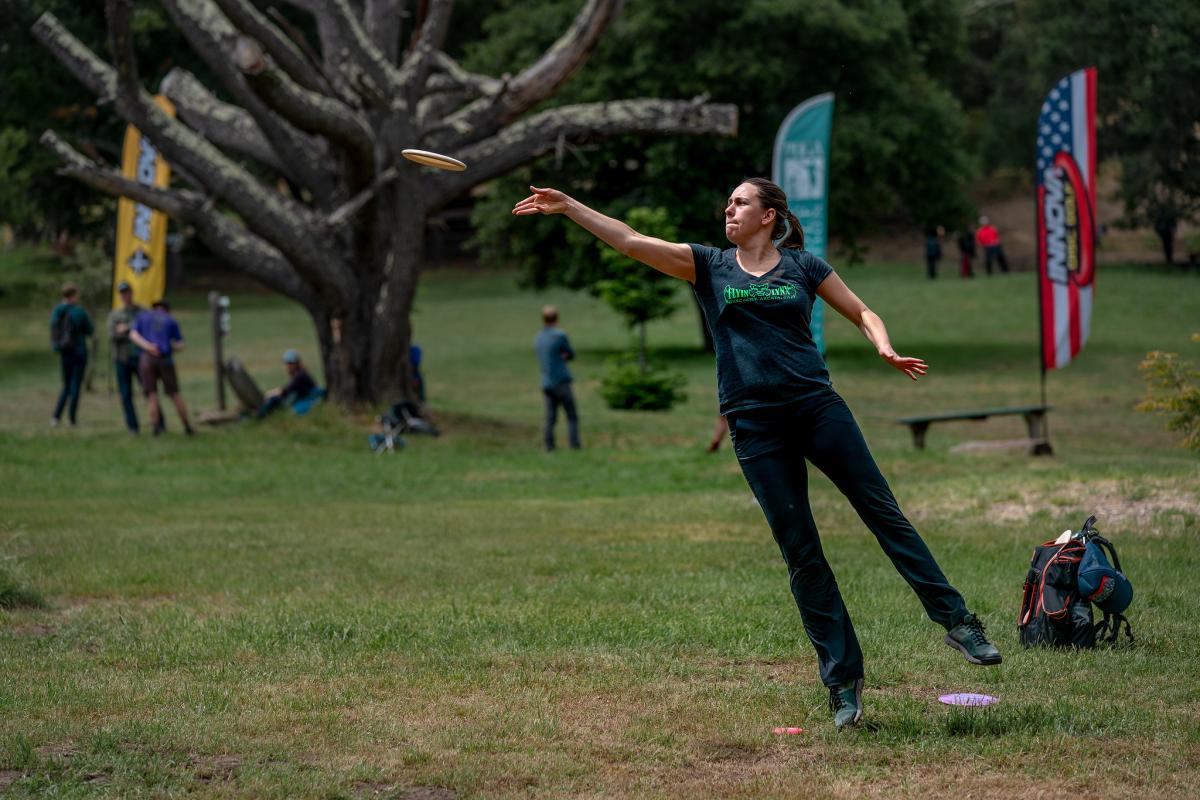 Though her home courses are known for being wooded, they didn't prepare her for DeLaveaga as much as one might expect.
"Really, DeLa is so different than the Curtain," Skweir said. "The curtain, you get soft landing places and not as many roots. But I think it does help manage expectations and knowing that par is good and you don't have to do anything real amazing to get a good score."
Indeed, expectations were on everyone's mind. For Bjerkaas, her 3-over par performance far surpassed the numbers she anticipated popping up on scorecards.
"In years past I just remember 8-over is lead card. This year is way different," Bjerkaas said. "Eight mistakes -- it sounds like a lot, but it's not bad for this course. I just wanted to tell myself, like, anywhere between 4- and 8-over I'll be OK with, and I did better than that."
Five-time PDGA World Champion Elaine King sits in fifth place at 4-over, while three players -- including defending Masters Cup champ Paige Pierce -- are in sixth place with 6-over par 79s.
Quote of the Day
Bjerkaas, putting DeLa succinctly: "This course is hard!"
Quote of the Day, Part 2
When asked how her round went, Madison Walker didn't say anything. She just made a flatulent sound with her mouth.
Side Story of the Day
Allen hit the cage off the tee on hole 3, a 354-foot par 3, on the way to a birdie. After her round, she connected with her boyfriend, Austin Hannum, who was still on the course and had just aced -- wait for it -- hole 3.
Naturally, Allen was anticipating her night becoming a bragging rights battle.
"I'm gonna have a lovely evening of hearing about how he aced the hole I didn't ace, because I haven't aced for five years," Allen said with a sigh. "So. Cool."
What's Next
The Open Women's field takes on DeLa for a second round Saturday morning, with the lead card teeing off at 11:20 a.m. Scores and stats will be available via UDisc Live, wit next-day video coming from Central Coast Disc Golf.