'I'm Ready:' Gurthie Aims For First National Tour Title
'I'm Ready:' Gurthie Aims For First National Tour Title
Florida pro takes two-stroke lead into Santa Cruz Masters Cup final
Sunday, May 19, 2019 - 14:24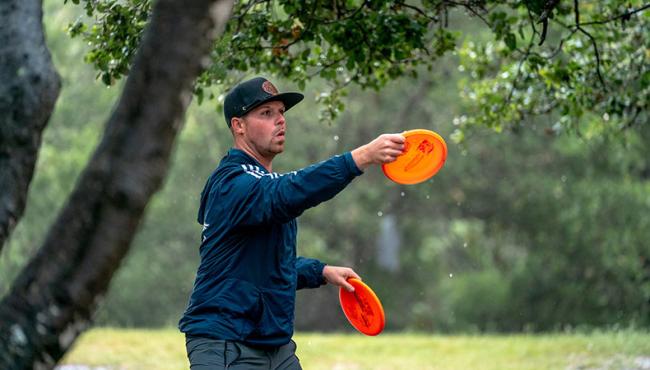 Garrett Gurthie is seeking his first career PDGA National Tour victory. Photo: Alyssa Van Lanen
SANTA CRUZ, Calif. -- Garrett Gurthie first turned pro in 2004, and has since played in 248 tournaments, including 35 on the PDGA National Tour circuit. Sixteen seasons into his career the Florida pro has yet to notch a victory on that elite stage, with his best finish coming in 2013, when he came in second place at the Discraft Great Lakes Open.
Still, he's knocked on the door. He has three top 5s in his National Tour career, and when he came back onto the professional touring scene in 2018 after a roughly three-year hiatus, he finished in third place at the Beaver State Fling.
He's been building up to this moment, and now he has a chance to seize that elusive first NT win as he takes a two-shot lead into Sunday's final round of the Santa Cruz Masters Cup.
"I'm ready to win my first big one -- it's been forever," Gurthie said. "I haven't won a big NT before, so I'm excited to have the chance and be on top going into the last day."
He got there after a 7-under par 66 at DeLaveaga Disc Golf Course helped him to an 18-under par 128 total through 48 holes on the west coast. Matt Bell again connected from long range to stay in second place at 17-under, while Simon Lizotte and Eagle McMahon are tied for third place with 16-under par 130s.
Rain inundated the Santa Cruz Mountains Saturday, causing players to scramble not only on the course, but for extra towels. Gurthie, though, didn't seem to mind the conditions. And the precipitation cleared just in time for a solid 40-foot birdie connection on hole 6 to finish the round and give him sole possession of the lead.
"Toughed it out, you know?" Gurthie said. "We all gotta play in this weather, so it's who can play the best, stay the driest, be the warmest. I did pretty good prepping myself this morning...We survived the round and we did OK today."
Lizotte, on the other hand, found the precipitation washing away a strong start. He carded three straight birdies early in the round, but as mercury dipped he found himself faltering.
"I was not as prepared as I wish I was -- especially for the temperature too," the German pro said. "It got cold and super wet. I think I'm literally drenched to my underwear. It was a battle. I don't think I've ever been this wet during a round."
Lizotte connected from 60 feet for a birdie on the 354-foot hole 3, and he was solid around the circle all afternoon. There was only one problem:
"Every other long putt was to save par," Lizotte, who dubbed himself the "scrambled eggs master," said. "I was shanking off the drive. My hands were just shivering and cold and wet, so it was just scramble town, and I made like three outside-the-circle putts in a row, I felt like, for par. So that was really cool."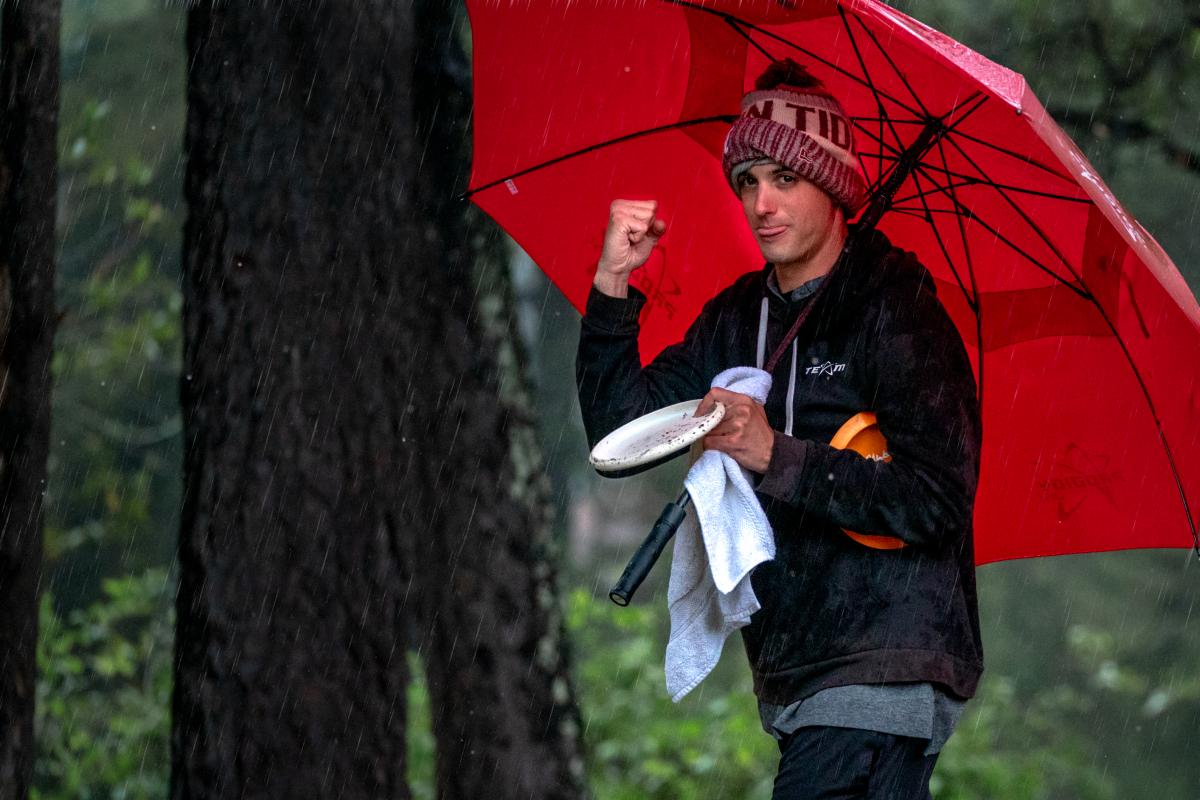 McMahon took the rare step of employing a caddie during the round, and having the extra support paid off by helping to keep him in striking distance.
"I dont normally have caddies, but the rain was coming down so hard that I just said, 'Screw it. I need some help out here,'" McMahon said. "And that helped a lot."
As McMahon and Bell thwarted the conditions to hang on the final round lead card, defending champion Ricky Wysocki and four-time Masters Cup champion Paul McBeth both struggled in the slog. Wysocki's even-par performance dropped him into a tie for sixth place at 14-under overall, while McBeth plummeted from second to a tie for 10th at 11-down.
Those weren't the only moving day shakeups: Alabama native Matt Orum jumped 14 places on the leaderboard with a 1063-rated, 8-under par hot round. He attributed the showing to some extra pants his Prodigy teammates gave him -- he only packed one set in his wardrobe in anticipation of more mild west coast weather -- and a return to his former putting form. He hit 92% from circle 1 and 40% from circle 2, up from 67% and 17%, respectively, during round one.
"I went back to my old school putt since I haven't used it in like 10 years," Orum said. "Yesterday I missed so many short ones I'm like, 'Alright, I'm going old school.'  Went back to that, started working and I was like, 'Let's go.'"
Seen on Sunday
Gurthie was already out walking the DeLaveaga Golf Course around 9:30 Sunday morning. He admitted Saturday that there would be jitters coming into the final round as he recognized the history of this 34-year-old event.
"This tournament's always got some nerves behind it just because of how big it is and what it means to us to win this tournament," Gurthie said. "Regardless, it's gonna be a tough win tomorrow, so we're gonna give it all I got. I'm pretty excited."
Quote of the Day
Orum, on his post-round activities: "They don't have no Popeyes, so I'm probably gonna step it up a little bit more, eat some good food."
Quote of the Day Part 2
Orum, exiting his post-round interview: "Saban!"
What's Next
The Open lead card tees off at 2:40 p.m. at the DeLaveaga Golf Course. Keep an eye out for instant scoring on UDiscLive.com, and watch for next-day video from JomezPro.