Gannon Emerges on Top After Wild Day at Winthrop
Gannon Emerges on Top After Wild Day at Winthrop
Throw Pink Women's Disc Golf Championship - Day 3 Recap
Saturday, October 9, 2021 - 00:10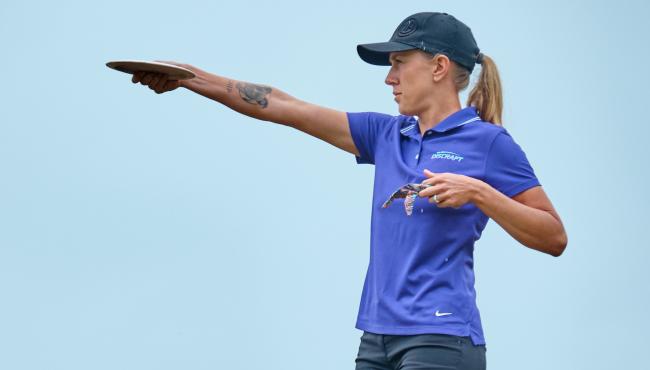 The weather and the leaderboard turned on a dime on Friday at the Winthrop Arena.
It was a wild day that sets up what promises to be an even wilder finish to the Throw Pink Women's Disc Golf Championship in Rock Hill, South Carolina.
In the end, Missy Gannon emerged from the chaos with a one-stroke lead over Hailey King and Valerie Mandujano, the lone player left on the lead card from Friday, heading to Championship Saturday.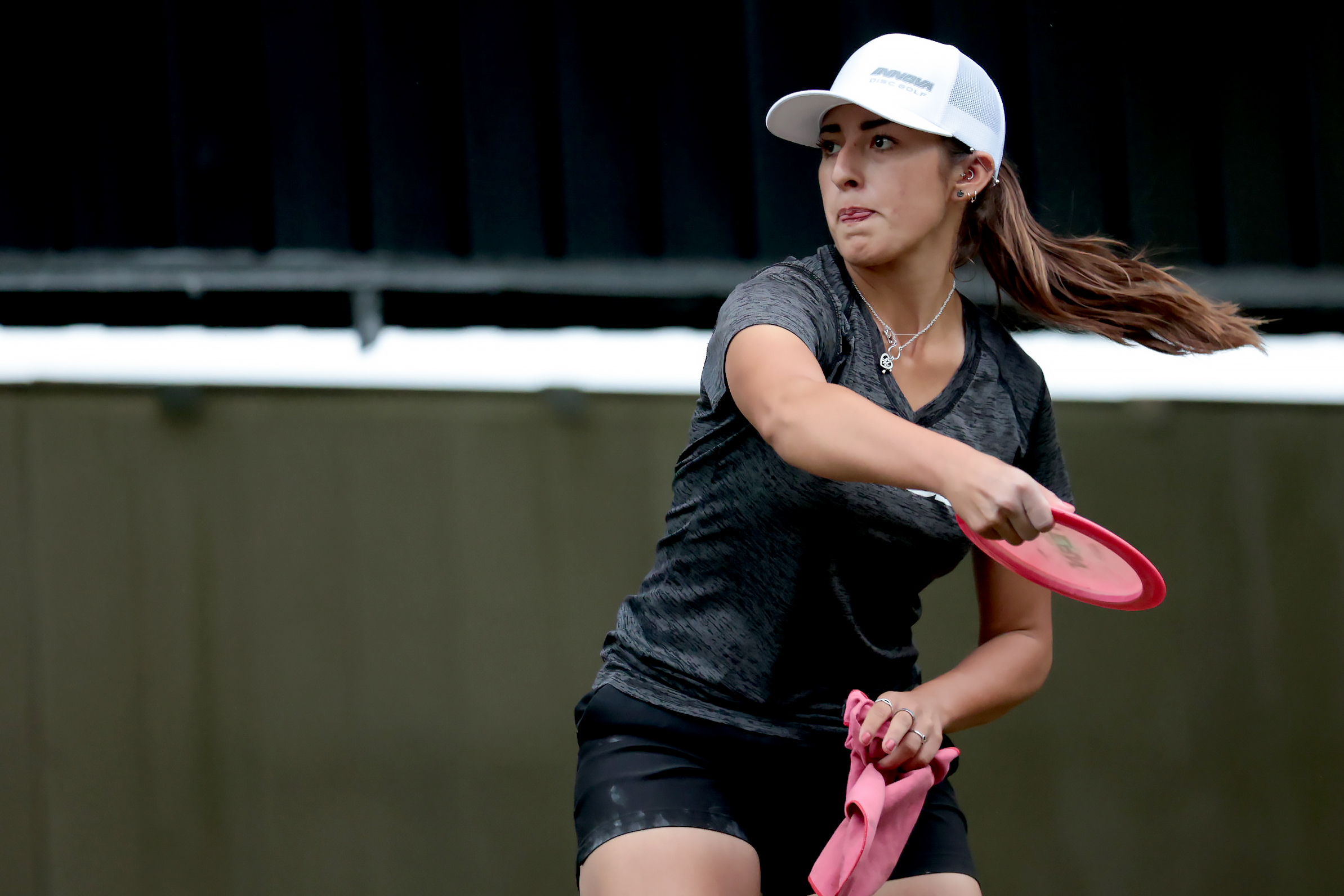 Paige Pierce, who entered the third round with a five-stroke lead over Mandujano, stumbled early and never righted the ship as a steady rain added to the already-tough conditions at Winthrop.
Gannon, meanwhile, turned in her strongest 18 of the tournament, finishing with a 4-under 64 in a bogey-free round to jump five spots to the solo lead. Gannon finished 89% from C1X and had a 95% mark in fairway hits, according to UDisc.
"I didn't have expectations to be in the lead, but I know there can be huge scoring swings on this course," Gannon, who sits at 2-under par, told Terry Miller. "I put together a round I was proud of and knew I could do."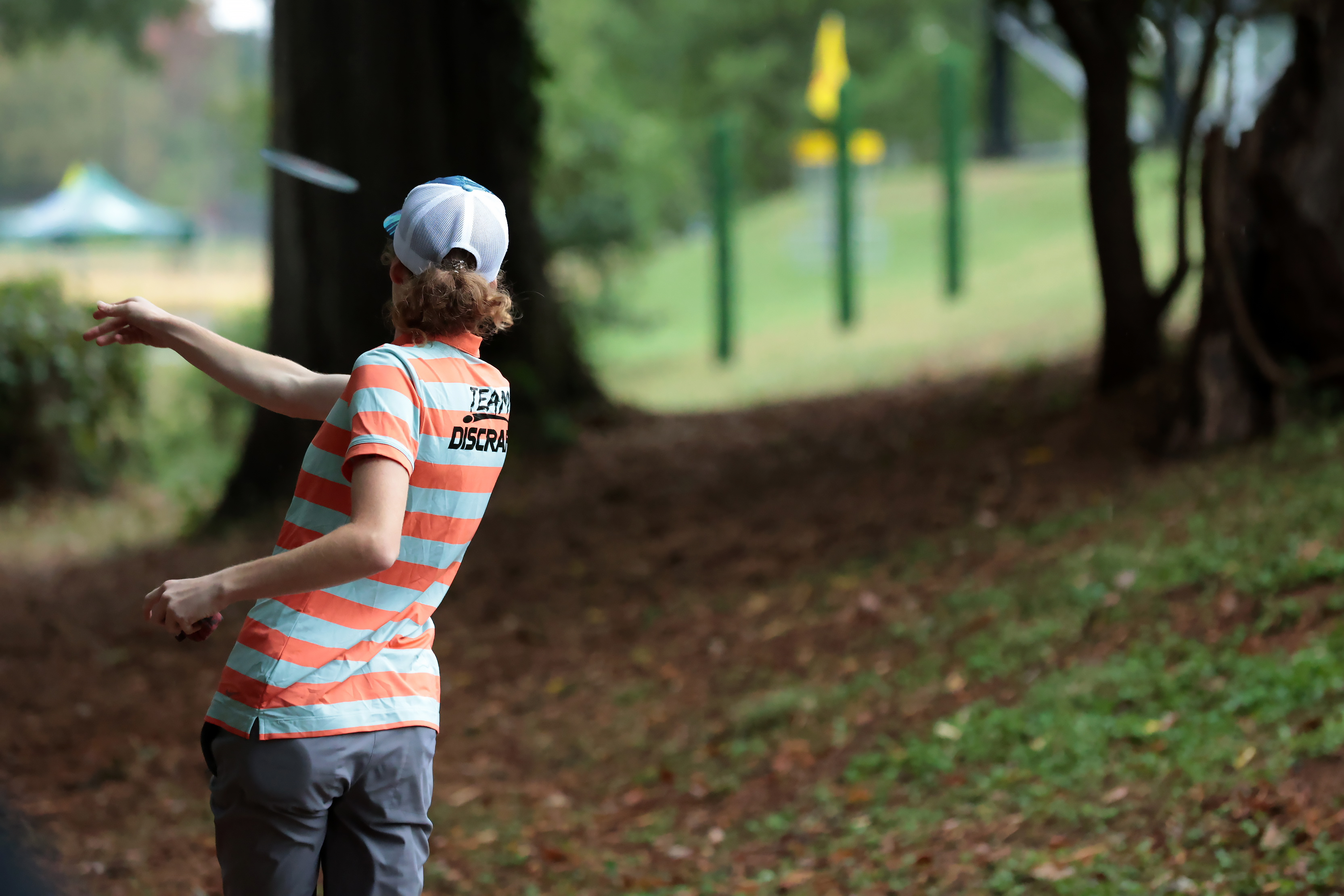 Ohn Scoggins rounds out Sunday's lead card with an even par round and is within two strokes. Friday's hot round belonged to Macie Velediaz, who pulled to within three strokes with a seven-spot jump to lead the chase card. Kona Star Panis and Deann Carey are five stokes out at plus-3.
Pierce went five over through the first three holes while Mandujano birdied five of the first six to grab the outright lead. Mandujano slipped up as conditions worsened on the back nine and a double bogey on the 18th gave Gannon the outright lead.
"I was just thinking, give myself a chance," Mandujano said. "I know that on any hole, there is a big possibility for a lot of strokes so all I focused on was to stay clean and don't do what I've done the first two days, which was to start off good and blow it in the middle."
There are 18 holes left to determine who takes the title with one last romp through Winthrop and, if Friday is any indication, Championship Saturday is set for a thrilling finish.
"Let's get it," Gannon closed with a big smile.
Live coverage of the TPWDGC kicks off at 9:30 a.m. ET on the Disc Golf Network.