Friday Funday: McBeth Finishes Rough Week With Utah Open Lead
Friday Funday: McBeth Finishes Rough Week With Utah Open Lead
Wysocki, Bitney within two shots after opening round
Saturday, June 23, 2018 - 12:16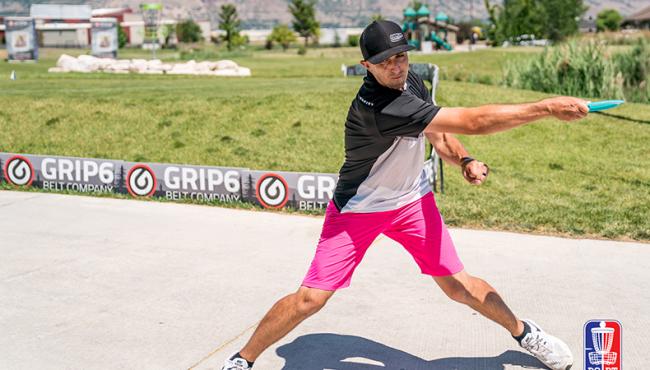 Paul McBeth didn't have the easiest week.
Disc golf's highest rated player needed as many rescheduled flights as he has PDGA World Championship titles – four – to finally make it to Salt Lake City ahead of the Utah Open. Once he finally boarded a plane, he snagged a spot in the emergency exit row – bonus leg room! – only to find that the seat was broken and allowed him zero comfort. He arrived in the Beehive State with an hour and a half of sleep to his name, then had to hitch a last-minute ride to Ogden after he tried to re-book his rental car – the original was canceled due to the travel delays – and a local conference made prices soar. Back home in Virginia, meanwhile, a storm caused a tree to fall in his driveway, meaning his visiting in-laws were (temporarily) housebound.
Suffice to say, he needed a Friday just as bad as your average nine-to-five worker. And when it finally got here, he hit the arcade with Anthony Barela, then took to Mulligan's Creekside Disc Golf Course and launched a 1076-rated opening round.
McBeth's 10-under par 48 was marked by clean drives and crisp putting, as the Southern California native made the most of his Utah Open debut to jump to an early lead. Defending tournament champion Ricky Wysocki is one off the pace after a 9-under par 49, while Lewis Bitney tossed an 8-under par 50 to land in third place. Arizona pro Preston Thompson and Colorado upstart Joel Freeman are tied for fourth place after 7-under par 51s, with Thompson getting the nod for Saturday's lead card.
Despite the travel woes, McBeth was still able to get three and a half practice rounds in at the 7,929-foot track. He said he was surprised at the course's relative lack of distance – it's the shortest the Elite Series has seen since March's Memorial Championship, and McBeth said it reminded him of Fountain Hills, but with more variety. Even though he had plenty of excuses to lay down a stinker on Friday, he was determined to do the opposite after going through all of the trouble to get there.
"After all that, I better play well," he deadpanned.
He came out of the gates hot, carding birdies on the first three holes after dropping putts from 30 and 40 feet. McBeth has been battling inconsistent putting for the past couple seasons, but there appeared to be an increase in his velocity on the green on Friday. He said he didn't feel any different than usual, but that Ogden's location at 4,300 feet above sea level might have made his putting look sharper.
"Elevation," he said. "They don't move left or right at elevation. I've always known how to play at elevation and putt at elevation…Who knows? Maybe it's a good thing."
It was, as he nailed all of his attempts inside circle 1 to keep with his recent upward trend: Since hitting only 89 percent from that range at the Glass Blown Open, he has steadily improved at every event. At the Nick Hyde Memorial that number was up to 91 percent, and at Masters Cup it was 92. His winning effort at the San Francisco Open brought a 94 percent clip, and even though he finished tied for 11th at the Beaver State Fling he was good on 97 percent of his attempts from close range.
Though that showing in Oregon was a disappointment – it was McBeth's third double-digit finish of 2018 after he logged none in 2017 – he said he moved on from it by the time he got back to his rental after the tournament finished. Even with his victories there in 2011 and 2015, plus Milo McIver's inclusion in his 2014 world title, McBeth said he and the hallowed track have rarely meshed.
"That's just somewhere that it's that way for me, it's that way for a lot of people," McBeth said. "…I never feel like I play well there."
Bitney, a Northern California native known for his floppy hat and bright red Supras, is on the first extended run of touring in his career, and the move to the road has paid off. He leads the Utah field in parked shots (22 percent), but it was his putting that was most instrumental during his 1055-rated opener, as he hit four from circle's edge and missed only once from inside 10 meters. He said he was focused on staying "present" during the round, and he knew he did it when he lost track of his own tally despite being in charge of live scoring for his card. "That's how I know for sure I did stay in the present, because I wasn't getting ahead of myself," Bitney said.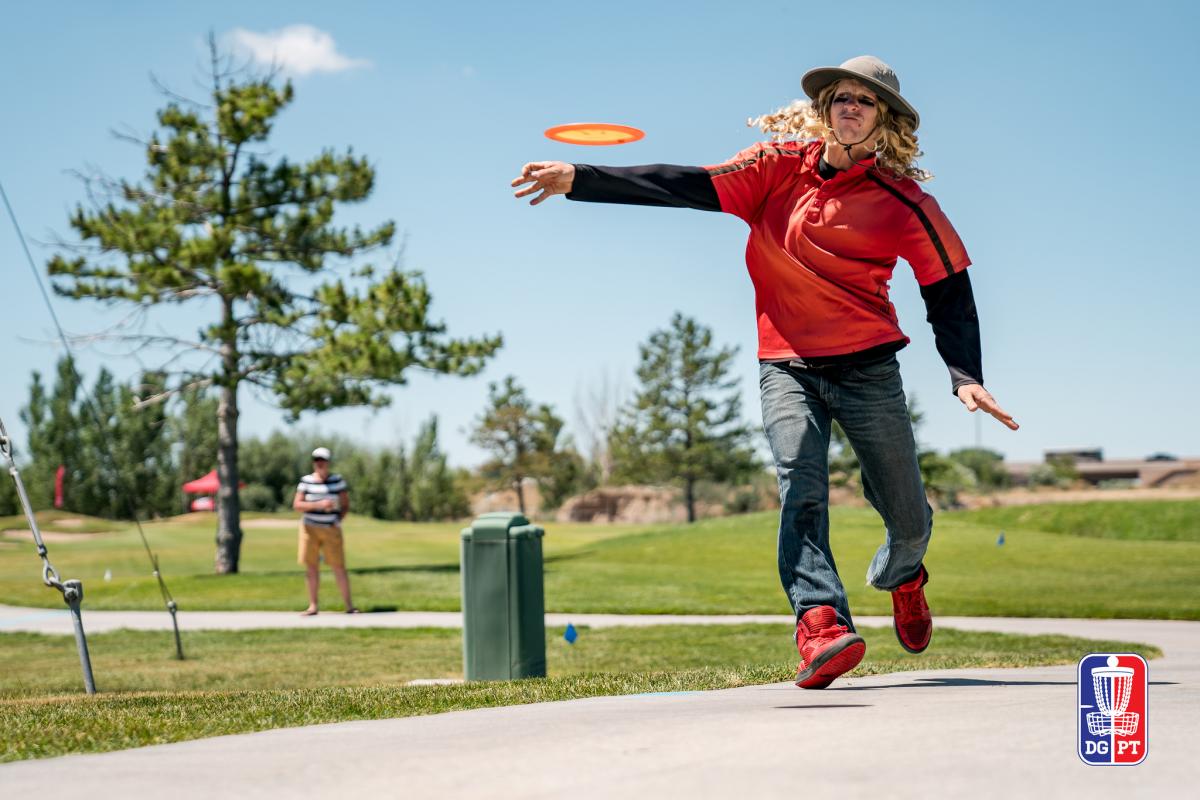 Though he's garnered plenty of victories in a vibrant Northern California scene and has made a handful of post-production video appearances throughout his career, the 30-year-old is still a relatively unknown commodity on the national level. He's also older than a majority of his touring counterparts, but he pointed to players like Patrick Brown and JohnE McCray as competitors who have proven that age doesn't really matter if you have a strong skill set.
"These guys are still competing in Open at 45, almost 50 years old," Bitney said. "…I would've loved to have found the sport at 15 and been touring when I was 20, but I didn't find the sport until I was 21 or 22."
Still, lack of experience could be a factor through the rest of the weekend: Saturday will be his first time playing alongside Wysocki, but he said he wouldn't be daunted by the two-time PDGA World Champion's outstanding résumé.
"This year he's looked more human on film than he has ever before," Bitney said. "The last couple years on film he has not looked human."
Bitney was alluding to Wysocki's penchant for long putts, and indeed his rate there (31 percent) is down slightly compared to years past. He made up for it on Friday by leading the field in hitting circle 1 in regulation (67 percent) and matching Bitney's parked rate. Wysocki did can one putt from circle 2, but the 60-footer was only a par save after he sailed OB left on hole 7.
With 36 more holes to play at Mulligan's, McBeth's one spot for improvement can come from keeping it between the lines. His three penalty shots were the most of anyone in the top 5, and in his SFO victory he only went OB twice each round.
That won't be the only area he is looking to mimic his time in the city by the bay, though. Just like he did in San Francisco, he is taking Uber to and from the course each day. Could the popular ride-sharing app be the true key to his success?
"If I win this one I'm gonna have to go Ubers for the rest of the year," McBeth said with a laugh. "Ubers for the win. Maybe that'll be my next sponsor."
McBeth and the rest of the lead card tee off at 3:15 p.m. local time, with a live broadcast available on the Disc Golf Pro Tour's YouTube channel.