Feldberg's Road To Recovery Makes Detour At Top Of Great Lakes Leaderboard
Feldberg's Road To Recovery Makes Detour At Top Of Great Lakes Leaderboard
McBeth, Jones tied for lead after hot rounds
Saturday, July 7, 2018 - 11:27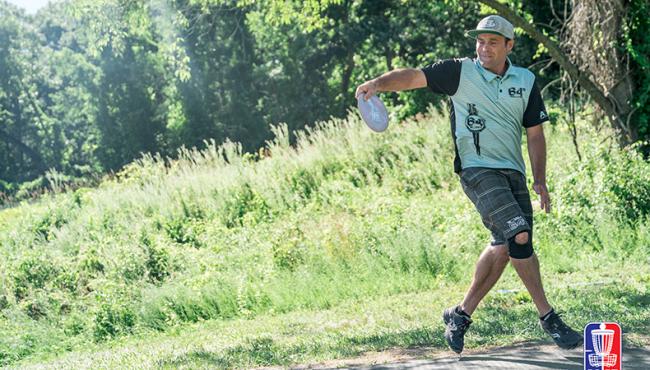 The last time Dave Feldberg recalls playing the Great Lakes Open, he broke his hand.
It was 2007 – the year before his PDGA World Championship title – and he struck his throwing hand on a tree as he followed through on a shot. The malady left him with a "sixth knuckle," he joked, and, despite the razzing from fellow players who didn't believe that he had truly broken it, one man came to his aid: Discraft honcho Jim Kenner, who brought aspirin and an icepack up the hill.
Feldberg still managed a third-place finish.
Eleven years later, Feldberg is again on the road to recovery – this time from a 2016 spinal fusion surgery that has impacted both his stamina and his form. One week removed from a Masters division victory in Alaska, the longtime pro is hanging tough with the youngsters in the Open division, as his 11-under par 52 Friday at the 2018 Great Lakes Open tied Paul McBeth and Kevin Jones for the hot round to kick off the three-day tournament.
Feldberg birdied five of the last six holes and peppered in three putts from outside the 10-meter circle during his 1059-rated, bogey-free affair to put him on the lead card at an Elite Series event for the first time this year; McBeth was flawless until a hole 18 bogey; and Jones relied on his prowess off the tee as each tamed the 9,355-foot Toboggan course. There was a common thread between their performances, as well as that of Nikko Locastro, who at 10-under is tied for fourth place with Cale Leiviska and gets the nod for Saturday's lead card: All four were perfect on the putting green.
Though Feldberg's return to the top of the Open field has been dotted with layovers alongside his 40-plus-year-old brethren, the former Michigan resident has been pleased with his progress. He said he spent most of 2017 trying to regain his release point, and it's started to feel more familiar in 2018.
"Usually most athletes retire [after spinal surgery]," Feldberg said. "I'm starting to get back closer to form."
Feldberg summed up his success at the Toboggan by bringing up a recent conversation with Disc Golf Hall of Famer Chuck Kennedy, who asserted that Feldberg is a shot shaper, not a shot lander. This track lends itself to shot shaping, Feldberg said, as opposed to many of the courses on the pro circuit's early stretch that focus on placement. He also said the Toboggan was like a shorter version of the Hilltop Ski Area course he won on at last week's King of the Hill in Anchorage, so he was already warmed up.
"Overall, I just think that if I keep throwing, trying to shape shots – and if I can make some putts – I can do well," Feldberg said.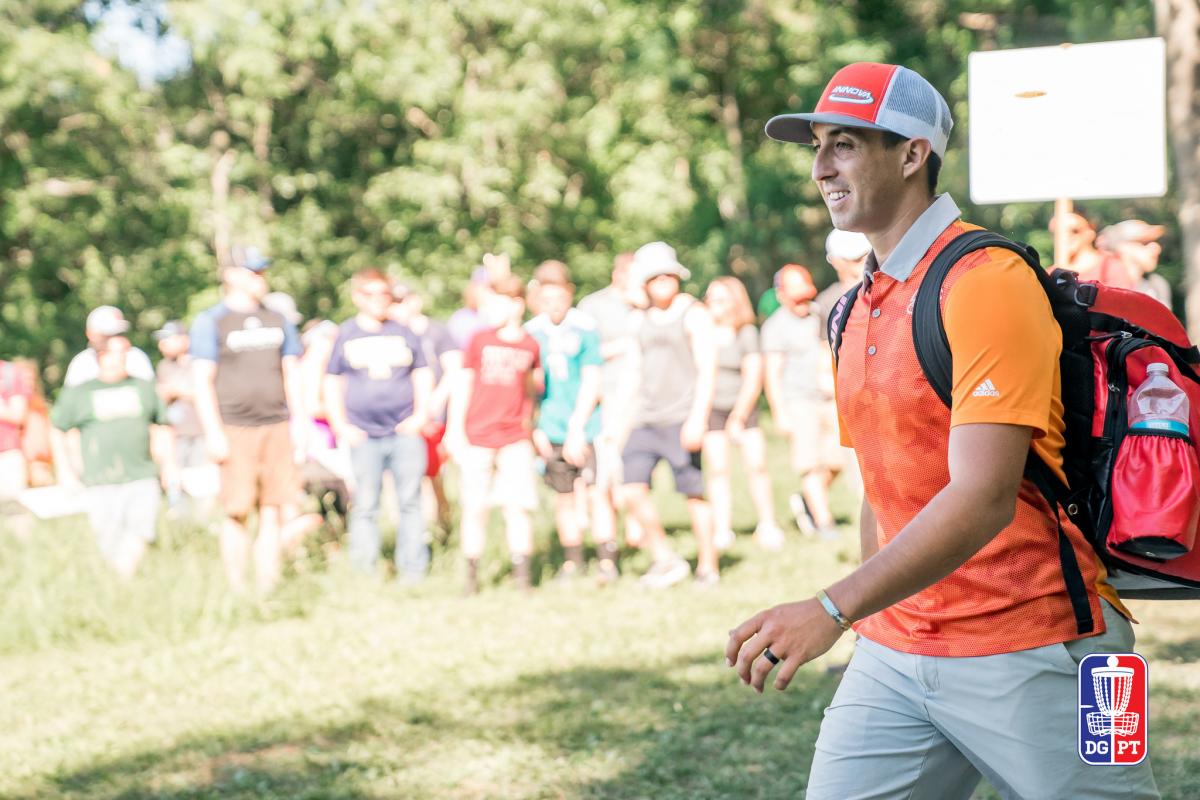 For McBeth, it's the second tournament in a row where he's jumped out to the lead, as he drove with pinpoint accuracy for 17 holes and displayed the same high-velocity putting he employed in Utah. He was on track to join the rest of the top 5 in bogey-free territory, but a bad wind read on the 315-foot 18th was his undoing.
"It's not a Paul McBeth round unless there's an OB," he deadpanned. "I thought it was a left-to-right, so I went with a more understable Destroyer. I was just throwing a sidearm to be safe, and it just blew it straight." He nearly hit his inbounds par save from 70 feet, as it just glanced off the top of the basket.
Jones, meanwhile, continues to enjoy a breakout campaign. Fresh off his first career A-Tier victory at last weekend's St. Louis Open, the Arkansas native quickly kept the momentum going with an eagle on the 726-foot 2nd, using a midrange to park his second-shot for a tap-in 3. From there, it was off to the races, as he carded three straight birdies in a row and found himself in circle 2 in regulation on 56 percent of his opportunities. Though he didn't convert on any of those longer bids, he connected on two from just inside the circle's edge.
Now the junior player on a lead card overflowing with experience, Jones was undaunted heading into the second round. "I feel like it's an opportunity for me to really make a breakthrough," he said. "I'm just gonna take it one birdie at a time, and hopefully I get enough birdies. I'm really confident, honestly. I think if I just execute enough I'll be able to hold onto it and keep scoring well, so I'm excited."
Feldberg was also excited to play alongside the young up-and-comer for the first time. But it was his own shot at reclaiming glory that he was looking forward to most.
"I haven't had a chance to be in this position in a while," Feldberg said. "So I'm ready to get back up there and see what I can do."
The lead card tees off at 3:15 p.m. EST and will be streamed live on the Disc Golf Pro Tour's YouTube channel. Real-time scoring and statistics for all cards can be accessed via UDisc Live.