Feldberg Sets Record as Battles Begin in Missouri
Feldberg Sets Record as Battles Begin in Missouri
2021 Tim Selinske U.S. Masters - Day 1 Recap
Friday, September 10, 2021 - 00:51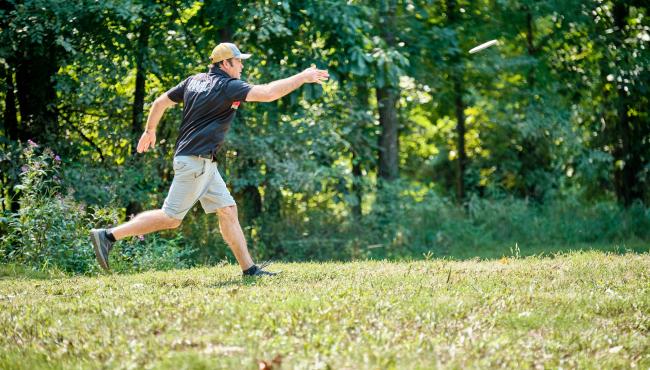 Things got off to a hot start on Thursday in Columbia, Missouri.
David Feldberg set a course record at Harmony Bends to highlight a day where the leaders established themselves early as the 2021 PDGA Tim Selinske U.S. Masters Championships presented by Innova got underway.
But even with the strong starts throughout the 358-player, 22-division tournament, the battles for a PDGA Major title are super tight.
Seventeen of the 22 divisions are separated by three strokes or less.
Complete coverage of the Tim Selinske U.S. Masters Championships »
Taking on the blue tees at the crown jewel of the four courses in play in the CoMo area, Feldberg made easy work of the demanding and daunting track, firing off a 10-under 58 to set a new course record for the blue tees at Harmony Bends. The round, which checks in with an unofficial 1051 rating, propelled Feldberg to a three-under lead to start the 11th annual Selinske event with the only bogey-free round in MP40.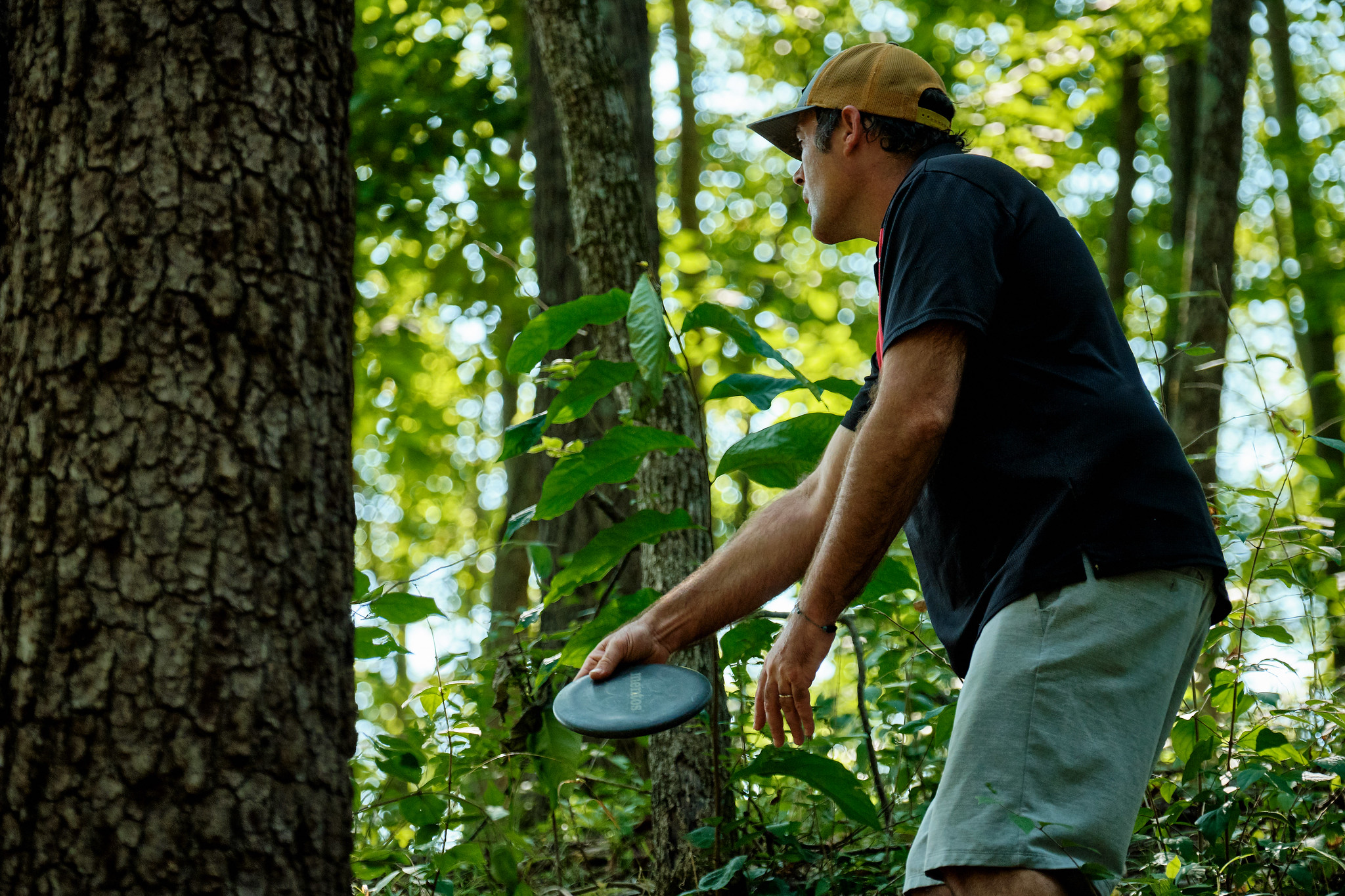 "I've never played here in a competition round and played one practice round so I didn't know what to expect," Feldberg said. "But I started with a 100-foot throw-in then made an 80-footer on the third hole and a 50-footer on the fifth. Things started to go good. I slowed down at the end and protected it because I saw that it was a good score."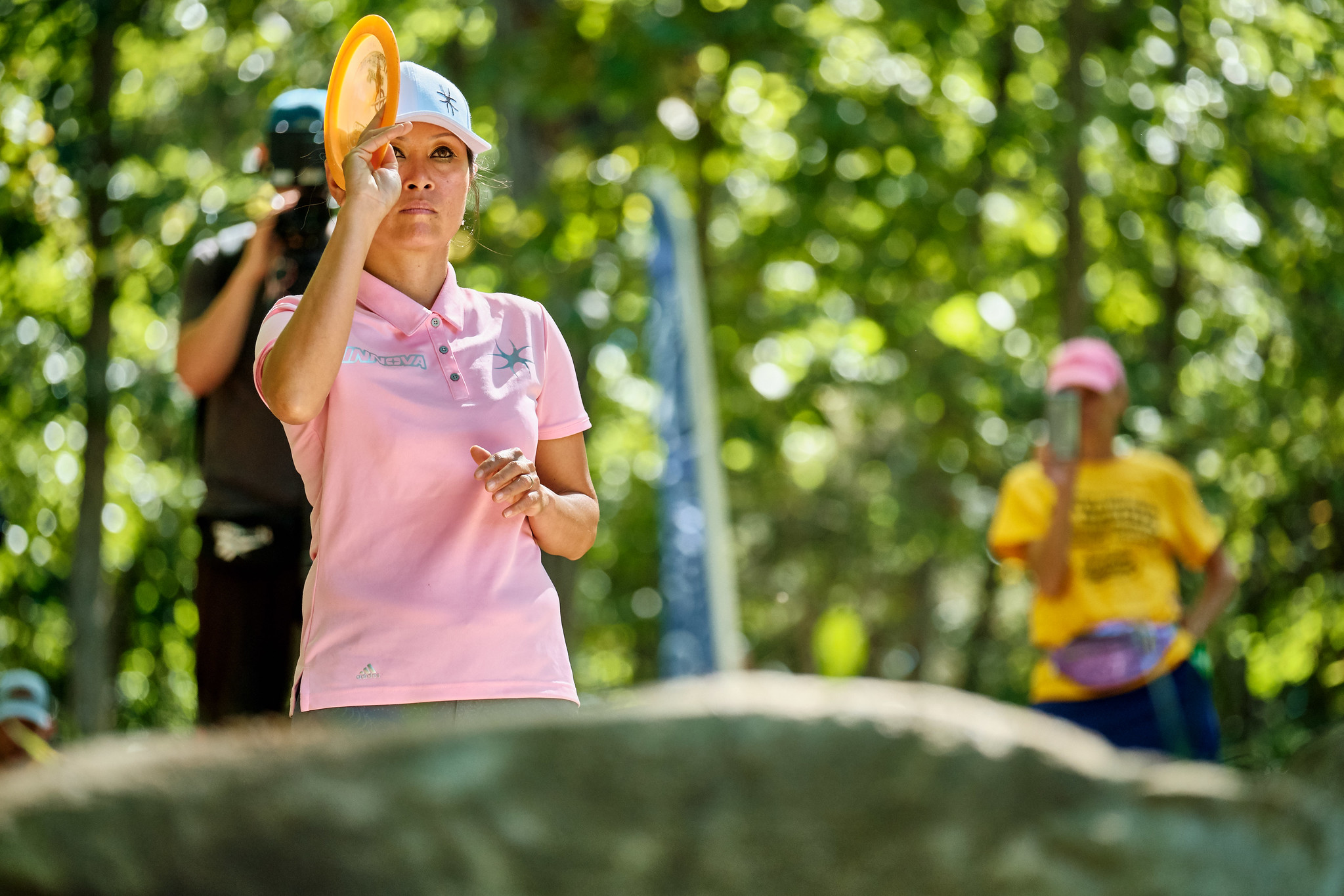 In the FP40 field, the top four players went low from the red tees at Harmony Bends, led by a 9-under round from Ohn Scoggins. Three players – Jennifer Allen, Des Reading and Melinda Ring – followed one stroke back with 8-under rounds of 60.
Patrick Brown kept stacking them up at The Dam Course in Jefferson City, finishing with a 12-under 51 to open a three-stroke lead in MP50. Brown capped off his bogey-free trek in the capital city with an eagle three on the 789-foot 18th.
"I'm happy with my start," Brown said. "I felt good about what I picked to throw. There are some spots where you can get in a lot of trouble and I saw that happen with other people so I'm glad that I kept it mellow, kept it unscathed and got an eagle at the end."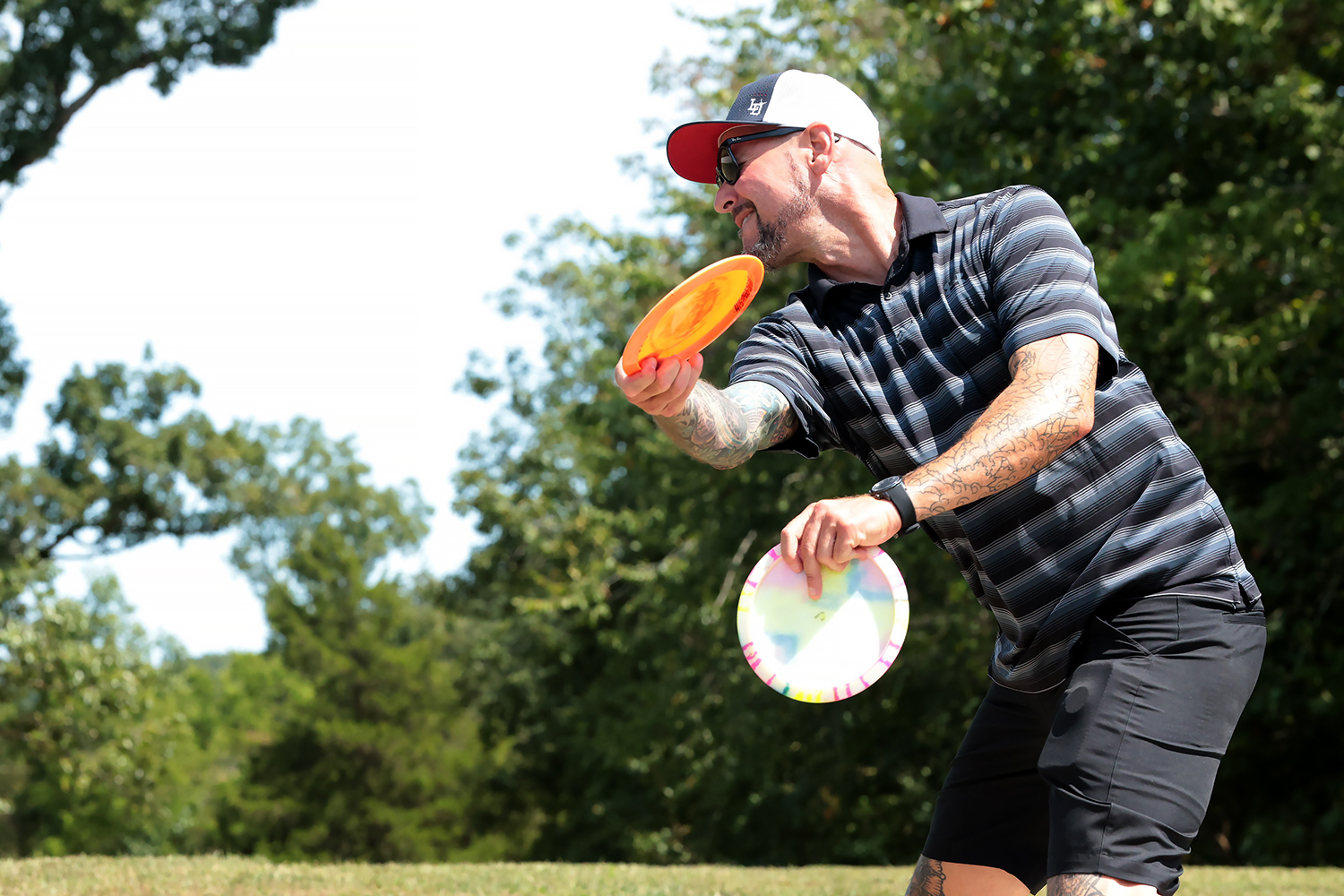 In FP50, Nova Politte kept it clean on the back nine to grab a one-stroke lead with a 4-under 64.
Here's a look at what went down in Columbia on Thursday:
Feldberg protected his three-stroke lead down the stretch over Brad Schick, Geoff Bennett and Dutch Napier, who sit at 7-under.
Scoggins led the field with 12 birdies on Thursday with two bogies. Allen, one shot back, was seven under before carding a bogey six on hole 18. Reading started 4-for-4 and went five-down over the final eight holes. Ring closed with a turkey with the only birdie on 18 in the field.
Brown's eagle on 18 lifted him to a three-stroke lead over Jeff Bauman. Jeff Harper and Blake Needles are 8-under.
Politte went one-under on the front nine and kept it clean on the back nine to grab a one-stroke lead over Tavish Carduff in FP50.
In MP55, Roger Reyes leads Jerry Goff by one stroke and Dean Tannock and Hank Kirwan by two strokes.
Bill Rohe overcame an early bogey and finished with seven birdies for a one-stroke lead over LaRon Harris in MP60. Gregg Hosfeld, Jeff Fielder and Eric Rainey are two strokes out of the lead at 4-under.
Geoff Hungerford leads Randy Beers by one stroke in MP65. The two were the only two players under par in the field at The Dam Course.
Dr. Rick Voakes turned in an under-par round and leads Mark Horn – PDGA No. 67 – by one stroke in MP70.
Rounding out the pro field is an absolute battle. Pete May and Carlos Rigby are 12-over and lead Barry Fischer by one stroke.
Other leaders after one round include: Daniel Whitlock (MA40) by three strokes; Meg Sapp (FA40) by three strokes; Sam Dodd (MA50) by two strokes; Debbie Polkinghorne (MA50) by three strokes; Jerry Dobbins (MA55) by two strokes; Mark Hauser and Joe Jaegers are knotted at the top at 4-under in MA60; Don Altmyer and Dan Thompson (MA65) have a one-stroke lead over Bob Ellis; and Donald Parker leads Gene Kouba by one in MA70.
Check out the schedule for the second round of the 2021 PDGA Tim Selinske U.S. Masters Championships »