'Feeling Dangerous:' McBeth Goes 18-Under Again
'Feeling Dangerous:' McBeth Goes 18-Under Again
Four-time world champ jumps into second place with one round to play in Waco
Friday, March 15, 2019 - 22:35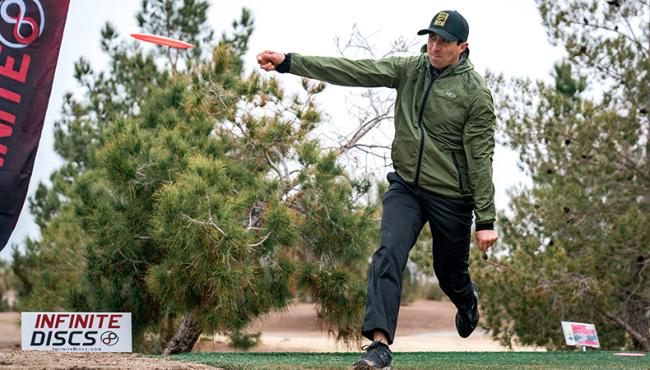 He's done it again.
Four-time PDGA World Champion Paul McBeth shot 18-under par during tournament play for the second time in nine months, as the California native fired off a single-par 49 Friday at Brazos East Park during round two of the Waco Annual Charity Open in Waco, Texas.
The 1101-rated performance vaulted McBeth into second place with a 28-under par 106 total heading into Saturday's final. He trails Ricky Wysocki, whose own 16-under par 51 may have been overshadowed but still brought him to a 30-under par 104 through 36 holes. Paul Ulibarri moved into third place with a 13-under par 54 that put his total at 25-down, while Emerson Keith and Jeremy Koling are tied for fourth place at 23-under.
McBeth's historic showing comes on the heels of another historic showing, as he scored an 18-under par during the second round of last July's Great Lakes Open in Milford, Michigan. That performance clocked in at 1108 and spawned debate about the sport's best all-time performances. McBeth has now crested 1100 seven times in his 13-year pro career.
"I was in my hotel room and I was just feeling ready," McBeth said. "I was thinking like [Cleveland Browns quarterback] Baker Mayfield did last year. He said, 'I woke up feeling dangerous.' I was feeling good. Today's gonna be a good day."
Indeed it was, as McBeth parked four of Brazos' first five holes, peppering in a circle's edge connection on the 294-foot 3rd for good measure. When he canned the day's second par-4 – the 441-foot 4th, which played as the second most difficult on the course – he knew he was off to the races.
"I don't think any of the holes are too difficult to get early on," McBeth said. "If you make a mistake you should still be able to have a putt to get a birdie. You have to throw a bad shot early to get into some trouble…Hole 4 is a tough one to get, so if you can get that one and you got the first three, you're rolling."
McBeth experienced a similar start during round two of the 2018 Waco Annual Charity Open, when he went 10-under par through the first nine holes after eagling the par-5 9th. Though he scored a birdie on that hole this year, he was able to draw upon his experience from last season – he cooled off significantly on the back nine en route to a 12-under par total – to keep the scoring consistent.
"I learned from last year, once I got to the open holes and even hole 11, I knew don't take my shot here, don't force it, just lay it up," McBeth said. "You still have more eagle opportunities if the chance comes [to shoot 18-under]."
He put himself in position with a 40-foot putt for birdie on 14, then by perfectly executing the doglegged, par-4 17th. That left McBeth at 16-under with only hole 18, a daunting 492-footer with a significant water carry and out-of-bounds behind, standing between him and another page in the history books.
Luckily, he already knew he could go for 2 there, as he'd nailed it during round one.
"I knew I had to throw it just as far and I could go a little bit tighter at the basket, and with the way the wind was out there it would slow down but also penetrate a little bit forward," McBeth said. "As soon as I saw it stop I was like, 'That's 18. That's 18.'"
McBeth tapped in for the eagle, stuck out his tongue, and smiled at his cardmates and the gallery. It was a far cry from the triumphant fist pump and 50-footer that accompanied his Great Lakes Open showing, and McBeth compared the two performances to what he imagined was the contrast between becoming a first-time parent and having your second child.
"It was a different feeling than the first one because…you're so nervous on the first one," McBeth said. "But on the second you're ready and know what to expect."
There is also a more significant disparity between the two performances. In 2018, 18-under gave McBeth an eight-shot lead, allowing him to virtually coast to the victory. In 2019, it moved him up five spots on the leaderboard but still left him short of his longtime rival with 18 holes to play. So there wasn't going to be any celebrating, no great puffing out of his chest. Instead, it was just some dinner and a good night's rest, because there is still a title to be settled.
"I'm not winning this tournament [right now], so I'm not partying about it or going, 'I'm the greatest,'" McBeth said.
"I still have to go out and win the tournament tomorrow."