Crowd Hero Barsby Jumps Into First At Pro Worlds
Crowd Hero Barsby Jumps Into First At Pro Worlds
Anthon's hot round puts him on the lead card as McBeth slips up late
Saturday, September 8, 2018 - 10:41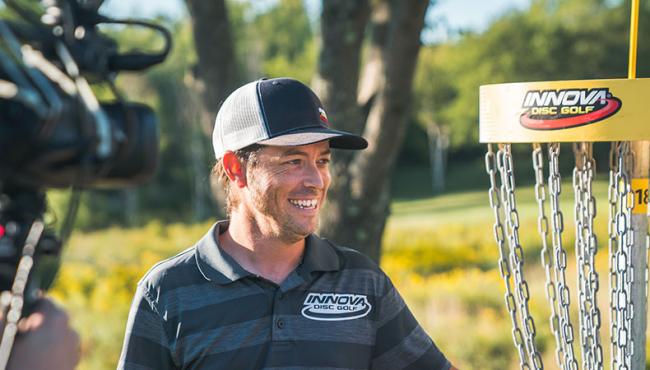 JEFFERSONVILLE, Vt. – A Happy Gilmore-esque exuberance flowed from the crowd that was perched on the ridge just above hole 11 at Fox Run Meadows, a product of the liquid sunshine that drenched the Green Mountains during round three of the PDGA Professional Disc Golf World Championships. And most of that energy was pointed in one direction.
"We love you, Barsby!"
A shake of the head and a chuckle followed, as Gregg Barsby simply soaked it in.
Seven holes later, another cacophony. As the California native connected for birdie on hole 18, the "Barsbarians" – one of a few clever nicknames he has for his supporters – had plenty of reason to celebrate: Their hero's 9-under par 54 moved him into sole possession of first place through 54 holes in Vermont with a 28-under par 159.
"This is killer," Barsby said. "There are more and more people that are into the game and follow it. It's so nice to have friends in the crowd that genuinely want to see you do well. They'll root for you if you do well or not, but it's nice to play a really good round in front of those guys."
Barsby wasn't the only one to thrive during the tournament's middle round: Paul Ulibarri found a hot putter down the stretch to maintain second place at 27-under par, and another Northern California pro, Josh Anthon, moved up to third place with a 10-under par 53 that put his three-day total at 26-under. Nikko Locastro carded eight birdies on the back nine to find his way back to the lead card with a 24-under par 163 total, a place he shares with Paul McBeth after the four-time world champion slogged his way to the finish line.
Barsby's round didn't start like he was going to be on top at the end of the day. One day after calling Pro Worlds his Kryptonite, he made like Superman with a bogey-birdie-bogey opening that sapped any early momentum. A bad roll out-of-bounds on his hole 4 tee shot made it two penalties out of the gates, and enough was enough.
"At that point I knew that's about as much bad luck as I can get, and I'm only four holes into the round," Barsby said. "So calm down."
Showing veteran poise, he took his own advice and rattled off six birdies in the next eight holes, crashing the chains with ease from both the edge of the circle and 10 feet beyond. Barsby was clean for the rest of the round, and his turkey to close play ended up providing a turning point.
Entering hole 18 – a 775-foot, downhill gem that is one of Fox Run's signature shots – Barsby, Ulibarri, and McBeth were knotted up at 27-under. Ulibarri was first to tee, and his hyzer failed to dig into the earth and skittered just out-of-bounds. Barsby flipped a line drive over the left side boundary and landed clean, and McBeth followed with a heater that flared and skipped into the OB road.
That gave Barsby the upper hand. A clean pitch up left him at 25 feet. After waiting to read the win, he connected for the birdie 3, while Ulibarri saved par with an impeccable approach. McBeth, meanwhile, folded: He whiffed from 40 feet, and his putter rolled out of bounds on the backside of the green. He then missed the comeback bid and carded a triple-bogey 7 to slip to the chase card.
McBeth blamed his late putting woes – he missed three from inside the circle on the back nine – on some degraded plastic on his putters. He switched them out for a fresh pair in the evening and was working pantomiming his stroke back at his condo while he took in some of the event's post-produced coverage.
Ulibarri, meanwhile, found success on the green. He connected on six from 30 feet and two from 40 feet, pumping his fist as his momentum built. It was a tremendous performance on his 30th birthday, and with his age came wisdom. He never once teetered in his mental game, even when carded a 7 on hole 7 – "It didn't bother me, man" – and was able to appreciate that he had some good fortune on 18 to offset his penalty stroke.
"It's the Worlds, man. Anything can happen," Ulibarri said. "People get all crazy out there and I've gotta stay within myself."
On the chase card, Anthon rode a strong day off the tee to an easy one on the green. His bogey-free round only found him hitting circle 1 in regulation with a 61 percent success rate, meaning the putter he is so known for was rarely in the equation.
Anthon trekked back to Brewster Ridge for some practice after everyone else cleared the courses, with the primary goal of assessing the tricky footing that can derail a hot round at the track. "I'm not gonna sit at the hotel and just relax," he said. "If I'm gonna come all this way and leave my family, I'm gonna be out here practicing."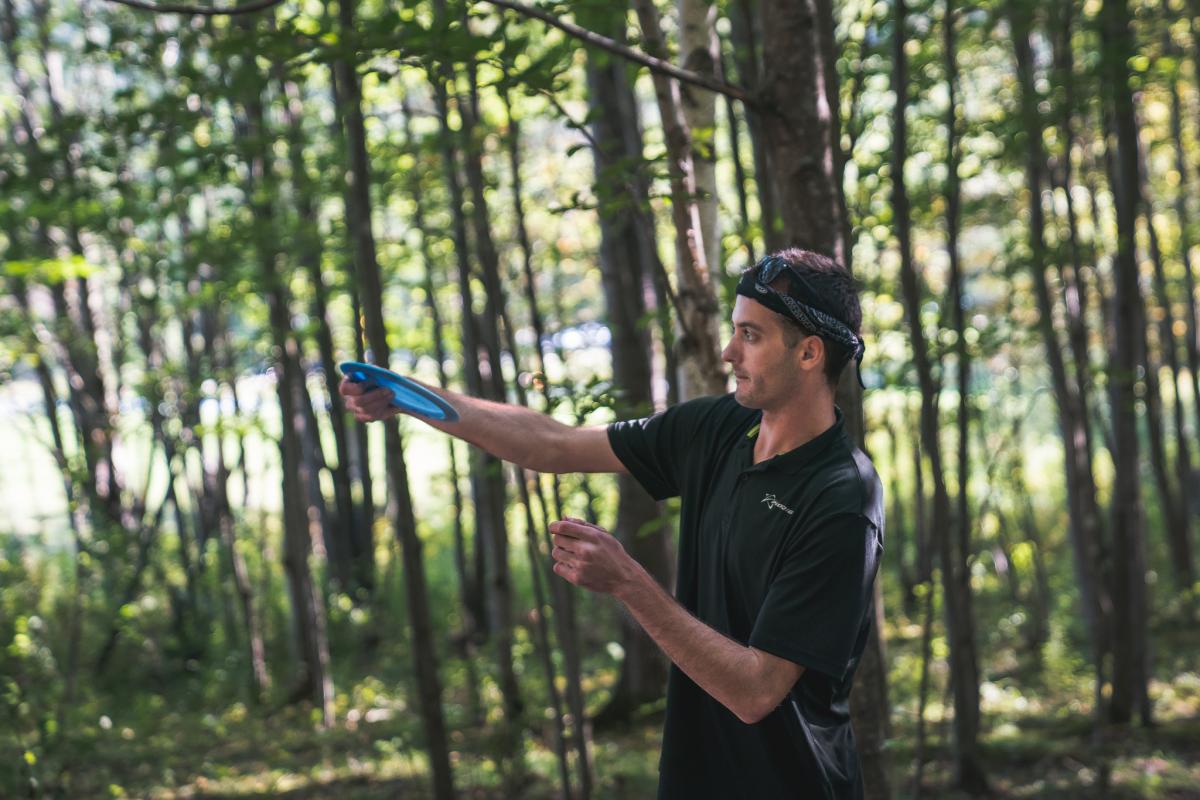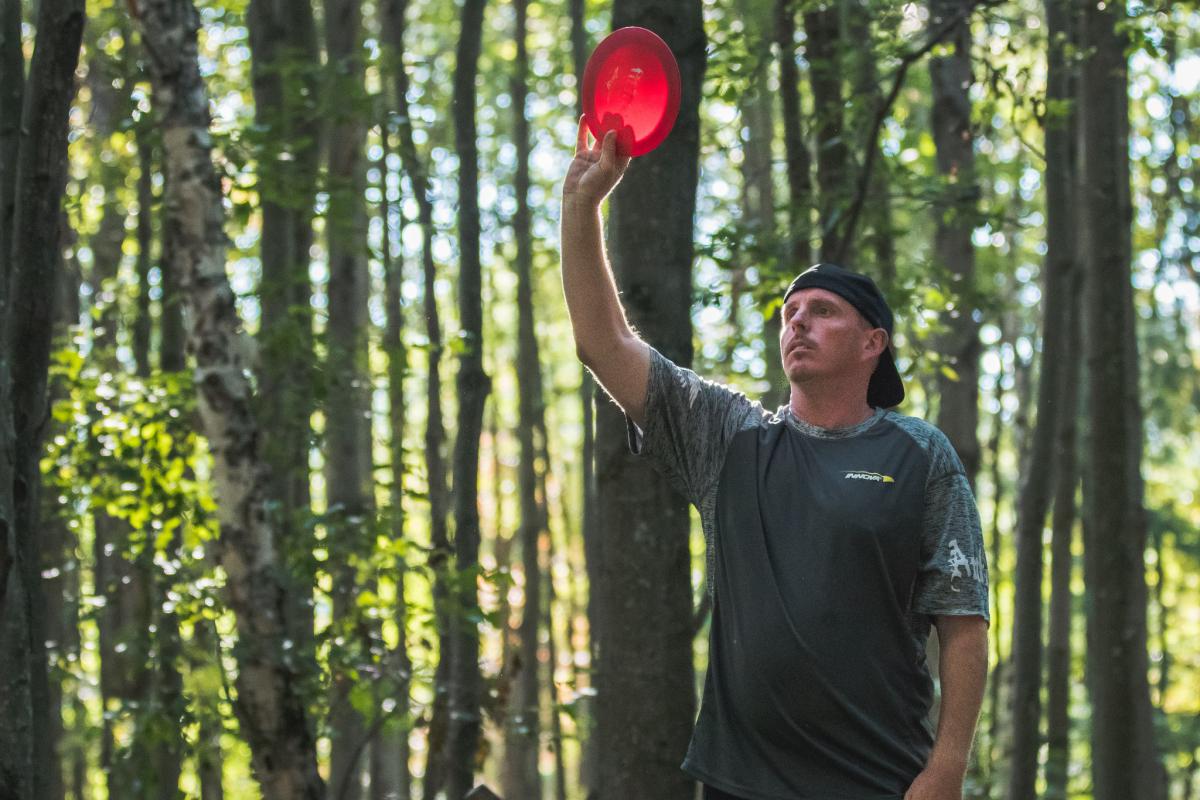 Anthon wasn't the only one to go 10-under for the day: Southern star Matt Orum canned a 75-footer and only carded one bogey as he climbed 11 places on the leaderboard and into a tie for sixth place with James Conrad, who scuffled a bit on the lead. Other strong showings came from Zach Melton, who jumped up 19 places and into a tie for 19th with an 8-under par effort, and Casey White, whose 9-under blasted him 27 spots up the standings.
It wasn't all good news in the meadows, though: Nate Sexton's even-par showing dropped him to a 21st place tie, while early tournament favorite Eagle McMahon continued his weeklong slump and logged a 3-under par 60 to fall to a 29th place tie at 13-under. Simon Lizotte, the tournament's fourth highest-rated player, is looking up from 41st.
Barsby now heads back to his preferred style of course, as the wooded confines of Brewster Ridge tend to better suit his game. As a result, he was simply looking to maintain his head – "calm down" was a mantra in his post-round interview – in his quest to maintain the lead.
"I had a couple weasley shots out there two days ago, so maybe just hit the fairways a little bit cleaner," Barsby said. "But I got very fortunate on that course, so not much change. Just make the close putts, make the shots I should make, and let everything else take care of itself."
The Open Lead card tees off at 2:30 p.m. ET. Watch it live via SamshBoxxTV.