Clemons in control at USDGC halfway mark
Clemons in control at USDGC halfway mark
Locastro makes like 2009 to move to lead card
Thursday, October 3, 2019 - 23:01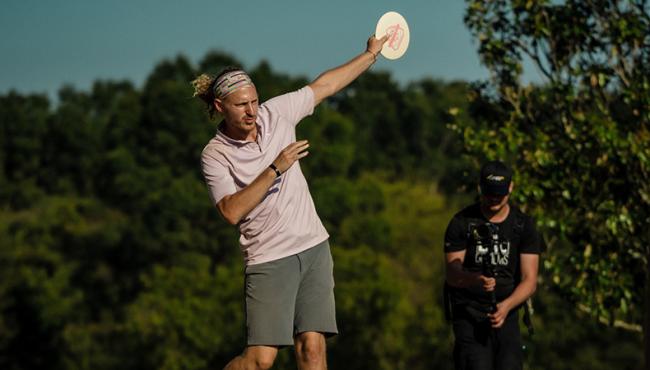 ROCK HILL, S.C. -- It would have been easy for Chris Clemons to wilt under the pressure that comes with the United States Disc Golf Championship. This is only his third career appearance at Winthrop Gold, after all, and his first time leading a PDGA Major. 
But despite triple-digit temperatures and a face drenched in sweat, Clemons was a cool customer yet again on Thursday, and the 31-year-old preserved his spot at the top of the standings heading into a pivotal third round.
Clemons' second straight day of 8-under par golf brought his 36-hole total at the USDGC to a 16-under par 118, which is good for a one-shot advantage over fellow untested lefty Nathan Queen, whose own 8-under has him in second place with a 15-under par 119. 2009 United States Disc Golf Champion Nikko Locastro logged a throwback performance as he seeks to make a 10-year anniversary bid at the title with a 10-under par 57 that moved him into third place at 14-down, while Eagle McMahon climbed up to fourth place after a 7-under par day brought him to 13-under at the tournament's midway point. James Conrad and Drew Gibson round out the top five with 12-under par 122s.
Clemons and Queen stood in stark contrast to lead card compatriots Gibson and Simon Lizotte not just because of their relative lack of experience on this stage, or their handedness, but also for their style of play. The lefties both hit more than 80% of their fairways and combined for a mere three out-of-bounds strokes Thursday, while their big-armed counterparts landed outside the stakes a total of 13 times.
"I think Winthrop is a course that rewards staying in the fairway, and Drew and Simon--they throw super far, of course, but they did have a couple errant shots here and there and so that cost them a couple strokes," Clemons said. "Me and Nathan mostly kept it in the fairway. That's really what you want to do out here: Keep it in the fairway and make putts. Distance doesn't matter as much as on other courses."
Indeed, Clemons' performance thus far has been akin to that of 2017 U.S. Champion Nate Sexton, who has long had a reputation for precision over power.
"I kind of want to be like a left-handed Sexton," Clemons said. "I want to be very consistent, throw some big shots when I need to, but just be super consistent. And I think, on Winthrop especially, consistency pays off."
While Clemons has been honed in on the stat sheet -- he leads the field in fairway hits (88%), scramble (91%) and OB rate (.083) -- he did take a different route to 8-under than he did Wednesday. Round two featured a strong back nine, but the Kansas City pro picked up strokes earlier during round two, parking hole 1 for a tap-in birdie and dissecting the 697-foot 8th for a two-shot swing compared to Wednesday. 
"The two rounds were different," Clemons said "...I thought it might go that way because the front nine usually tends to play easier, but I want to get more birdies tomorrow."
Queen, a North Carolina native who decided to tour full-time this season after a breakout performance at last year's USDGC left him in 11th place, felt the love from the local crowd during his performance. He missed two putts inside the circle early, but had a clean sheet until he sprayed his drive on 14 OB. 
It was an error that he needed, as it pushed him to close out the round with a turkey.
"The bogey that I took on 14 is kinda what got me ready to get going and have a strong finish," Queen said. "I got that good save on 15 which pumped me up even more, and I didn't feel like I was gonna mess up after that."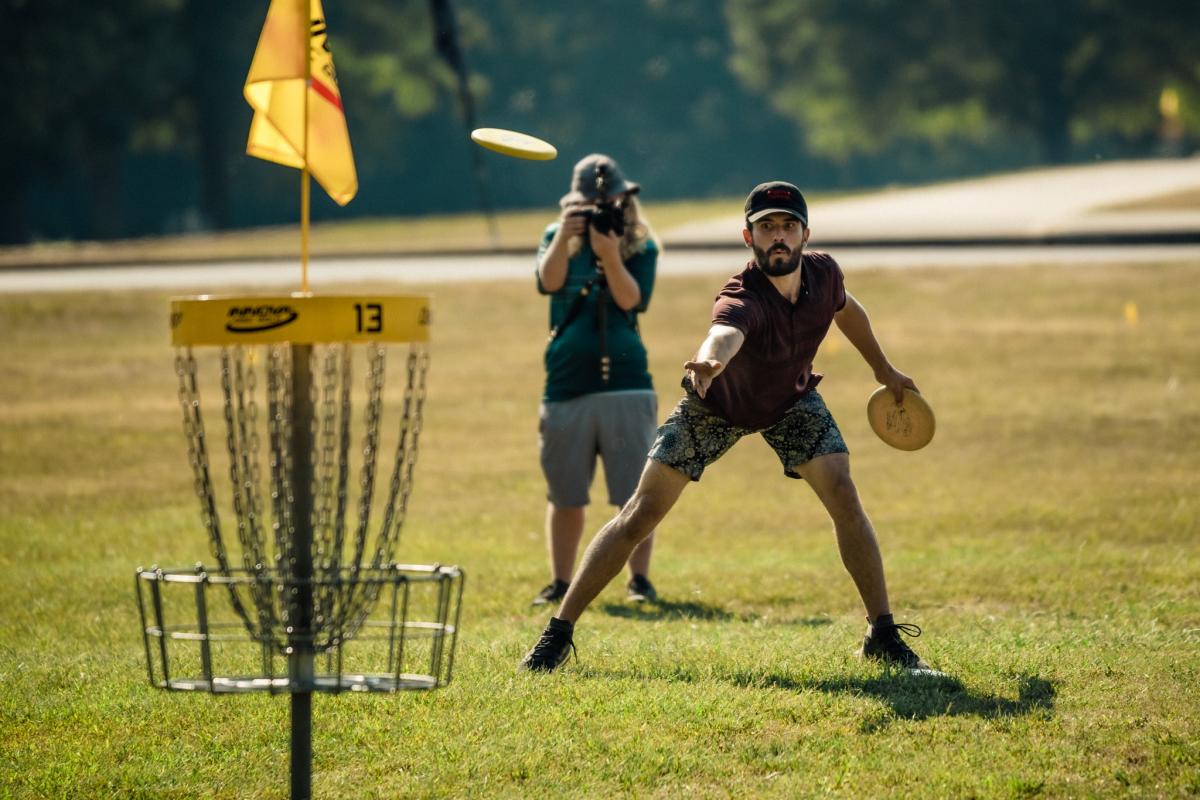 In addition to his triumph here 10 years ago, Locastro also boasts two runner-up finishes and a fifth-place showing in 10 career runs through Winthrop. He displayed veteran poise in canning his par save from the drop zone after throwing out-of-bounds on the 371-foot 6th and veteran nerves in successfully running for the eagle on the par-4 10th.
The 1074-rated performance was his best since the 2018 MVP Open at Maple Hill.
"I knew going into today, before I even started playing, that I was gonna play better than yesterday," Locastro said. "That was my mindset going into it. I hit the basket for ace on hole number 1, and from there I was very confident that I was going to come out with a good score today."
Locastro noted that his preparation for recent tournaments has been better than in recent memory, and a repeated a mantra of "moving forward."
In that vein, he didn't shy away from considering the best-case scenario: an anniversary victory.
"I think it would mean the world to me and my family and my girlfriend and my friends, all the people who've supported me for years," Locastro said. "It'd be a very special, satisfying feeling to come out on top after this weekend, especially with the talent pool getting better and better every year. 
"There's a lot of players that are very capable of winning this tournament," he continued, "but I don't know if there's another player more determined than me."
McMahon rounds out the moving day lead card, and the 21-year-old said after the round that he was pleased with his "steady pace" through 36 holes. He also said he is trying to find the fine line between conservative and aggressive play and pointed to his performance at Winthrop in 2018: Despite carding a mere four bogeys in the final three rounds, he was only able to muster sixth place. He's looking to increase his birdie rate, which currently sits second in the field at 50%.
Locastro's jump wasn't the only big move in the standings Thursday, as Conrad's performance found him climbing 14 places on the leaderboard. 2018 PDGA World Champion Gregg Barsby rocketed up 24 places and into a tie for 8th with Garrett Gurthie and Alex Russell, the latter of whom screamed 31 spots up the list.
So, What Does Stress Clemons Out?
We've already made a point to note how calm and collected Clemons has been this week, and that goes for off the course, too. He was hustled around to a handful of media obligations before and after competition Thursday, but he took all of the attention in stride.
"It's something as a disc golfer, especially a professional disc golfer--you want this," Clemons said. "I strive and I've worked really hard over the last couple years to be in this position. So I'm definitely relishing, it but I'm trying to stay in the moment and not get ahead of myself and get birdies when I can and play my game."
That begs the question, then: What does stress him out?
"Probably like normal adult things," he said. "Paying bills, and taxes. Things like that."
Chris Clemons is all of us.
Orum Withdraws
Matt Orum withdrew from the tournament today after suffering a neck injury during round one. He gutted through the issue Wednesday to battle to an even-par showing, but Cameron Colglazier reported that Orum could barely get out of bed Thursday morning. Here's to a quick recovery.
Cash Watch
The number of top tier names currently below the cash line is, to be honest, pretty staggering. A quick look at who to keep an eye on during round three to see if they can crack the top 50:
| Player | Current Standing |
| --- | --- |
| Steve Brinster | T47 |
| Kevin Jones | T52 |
| Austin Hannum | T56 |
| Paul McBeth | T60 |
| Zach Melton | T60 |
| JohnE McCray | T73 |
| Brian Earhart | T85 |
| Paige Pierce | T93 |
Comments
I am rooting for Clemons to finish strong and win this tournament! Thanks for the daily summary post all