Barela Starts Las Vegas Challenge With Career-Best Performance
Barela Starts Las Vegas Challenge With Career-Best Performance
Shotwell also hits milestone to land in second
Friday, February 22, 2019 - 12:03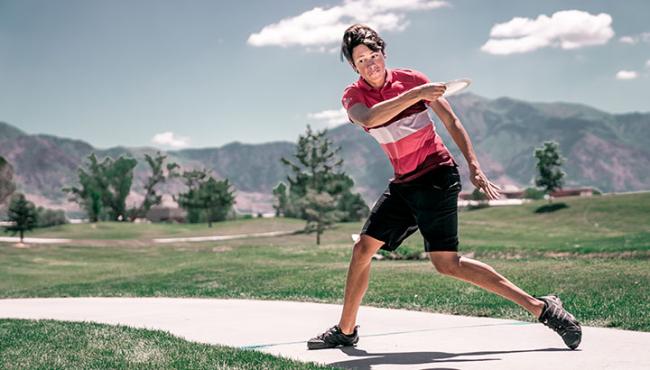 HENDERSON, Nev. – At just 19 years old, Anthony Barela packs immense potential into a tall, lanky frame. And he delivered on that potential here at Wildhorse Golf Course Thursday morning, launching the 2019 PDGA National Tour season with a 15-under par 44 to take an early lead at the Las Vegas Challenge.
The 1078-rated effort was the best statistical round of Barela's young career.
Chris Shotwell came out of the gates with a 14-under par 46 to land in second place on the leaderboard, while six players – Simon Lizotte, Garrett Gurthie, Josh Anthon, Philo Brathwaite, Corey Ellis, and Calvin Heimburg – are locked up at 13-down. In all, 21 players shot rounds of 10-under par or better on the day.
"I felt pretty good, pretty much executed all my shots," Barela said. "I used a hand warmer a lot – that definitely helped out. Made all my putts, so pretty happy with how I played."
Barela started strong, carding an eagle on the gettable par-4 3rd. He followed up with three more shots under par, but it was the back nine where he did the most damage. Seven consecutive birdies helped him to the top of the standings, and he racked up some gaudy stats:
Fairway Hits: 94 percent (1st)
Parked Shots: 50 percent (1st)
Circle 2 in Regulation: 94 percent (1st)
Scramble: 100 percent (1st)
Circle 1 Putting: 100 percent (1st)
"Over the offseason I worked a lot on my game, my putter upshots with the Nova and putting," Barela said. "It definitely showed at the start of the season. I had a rough week last week [at the Wintertime Open] with the tough conditions, but this week, hopefully, I'll jump back into my routine."
California pro Shotwell lived up to his name with his own career-high round, clocking in at 1069. He eagled the 555-foot 8th with a toss from 135 feet, and he added two connections from 40 feet in his bogey-free round.
Playing on one of three filmed feature cards today, Lizotte overcame a fluke toe injury from Wednesday night en route his 13-under. The German star said he was simply goofing around and kicked a couch with his bare foot, he said, and was surprised at the pain. He powered though it and canned an 60-footer from a knee on hole 7, then connected from 40 to close the round. At one point, he snagged eight birdies in a row.
"It looked like a hot start on the paper, but it didn't feel that hot," Lizotte said. "All the holes are so gettable, and my first putt [I missed], I think it was nerves, like a 20-footer on hole 1. Besides that, I was so happy, especially the way the putter felt and the confidence I felt with my putts. It's been like that all offseason – every round I've played, I felt so prepared for playing in these colder conditions. With no wind it's like birdiefest out there."
Indeed, Lizotte said the increase in the quality of competition at elite events is palpable. 
"This sport is changing and growing so fast. You see so many more ties on top now, kind of like ball golf is," Lizotte said. "It's really cool to see that if you shoot a hot round like this round – three or four years ago I would have been in the lead, or at least with a good distance between a lot of the field. Now I see there's seven or eight people at 13-under and 14- or 15-under – it's so hard to finish in the top 10. I really enjoy this."
Hello, My Name Is…
Thomas Gilbert. The Canadian pro was an early clubhouse leader Thursday, and although his 12-under par 47 didn't hold up to give him the lead, the 992-rated 19-year-old said his performance was a "best case scenario." He hit from 50 and 60 feet, and was one missed putt on 18 away from a par-free round. At one point, he strung together a run of seven birdies.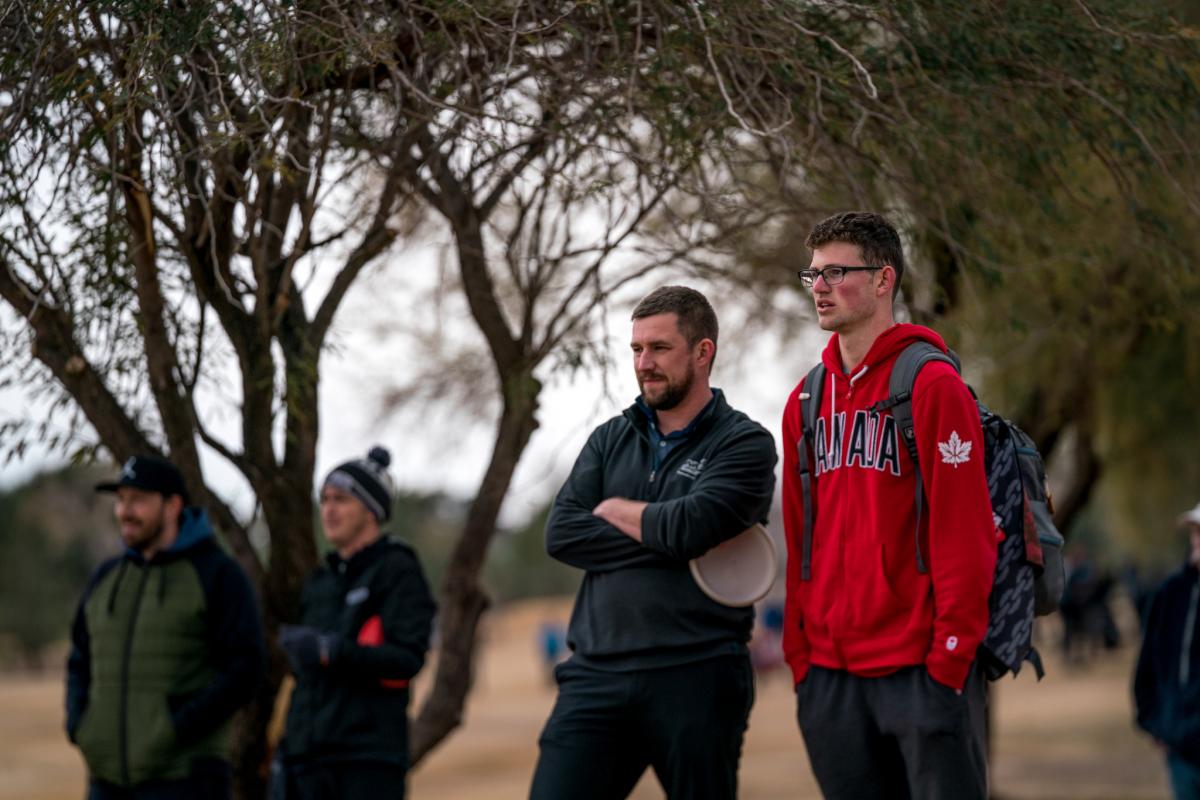 Gilbert has power aplenty, but he's trying to rein in his game a little bit in 2019.
"I was going out there and knowing I could throw these shots – just stick to my game plan and play smart," Gilbert said. "I've been practicing with [Nate] Sexton a little bit, and I've been trying to play a bit smarter this year. I kinda went for everything last year and didn't quite do as well as this year."
The Hole Story
The Las Vegas Challenge's infamous triple island hole, the 294-foot, par 4 6th, played as the third most difficult Thursday, but came in with an average score of 0.08 strokes under par. A couple players at the top of the field, including Corey Ellis and Tim Barham, ran the risk of landing on the far island and were rewarded with drop-in eagles, while a few players at the low end of the field used the venue as an opportunity to build snowmen – not the actual kind with snow, that is; two players out of the 154-competitor field carded 8s.
You Should Have Been Here For…
…James Conrad's drive on the 327-foot 16th. Instead of opting for the wide hyzer route like most of his cardmates, the Virginia native ran straight for the pin with a Discmania MD4 and hit the cage, giving the nearby gallery a needed dose of adrenaline as the temperatures dropped.
"I liked it out of the hand, and as it was getting closer I was like, 'Man, that's actually going in I think!'" Conrad said. "It didn't quite, unfortunately. At least I made the putt."
Stat of the Day
Four players in the top 10 – Barela, Shotwell, Gilbert, and Corey Ellis – shot 50 points or more over their player rating.
What's Next
Open division play shifts to its first of two rounds at Wildhorse' Innova Course, which is both longer, and features more out-of-bounds, than Thursday's Infinite track. Don't expect scores to be quite as scorching.
Barela, to his credit, didn't seem nervous about the spotlight.
"I honestly think playing on those cards makes you play better, just because the vibes it gives out with all the people watching," he said. "It's just more fun to play in front of a crowd of people, you know?"