Allen, Hokom, Pierce All Hit 1010 At Masters Cup
Allen, Hokom, Pierce All Hit 1010 At Masters Cup
Undaunted by rain, Allen maintains lead
Sunday, May 19, 2019 - 10:32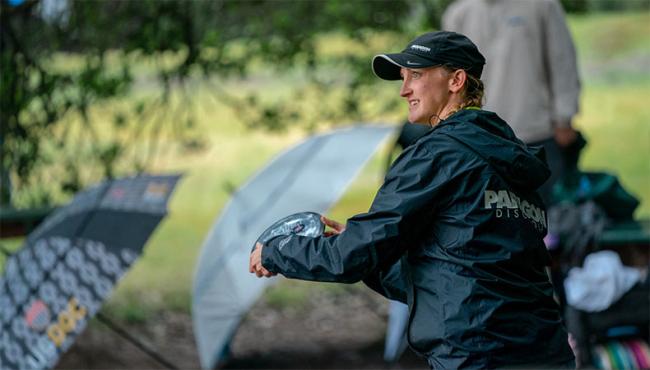 SANTA CRUZ, Calif. -- At a course like DeLaveaga, where a player's fortunes can switch from birdie to bogey seemingly on a whim, par is a good score.
On Saturday during the Santa Cruz Masters Cup, par was exceptional.
Catrina Allen, Sarah Hokom, and Paige Pierce endured a late Spring storm here in Northern California and were rewarded with 1010-rated even-par results. It's the first time this season that three Open Women's players have surpassed four digits in the same round, but it hardly upset the status quo on the leaderboard: Allen (+1) and Hokom (+2) are still in first and second place, while Pierce used the effort to move up to third place with a 6-over par total heading into Sunday's final round down the hill at the DeLaveaga Disc Golf Course.
Allen has now shot 1000 or better seven times in 2019. And while conditions worsened throughout the field's morning round, it was a change in temperature that caught her more off guard as she tackled DeLa's 24 holes.
"I was more cold than worried about the rain, as weird as that is," Allen said. "We were lucky it's not just downpouring on us -- just kind of a light rain. With all these big trees not a lot of the fairways were as muddy as I thought they would be...Really didn't come down on us until about [hole] 5 or 6 into it, so the rain wasn't too bad, I think."
That relaxed tone stood in contrast to that of both Hokom and Pierce, who simply grinded out the round in survival mode.
"I feel just very relieved for this to be over and that I can get out of the rain and dry off and that it didn't cost me a bunch of strokes out there because of the rain," Hokom said. "I didn't really get DeLa'd, per se, so that was good."
"Everything was wet at the midway point through the round, and it was kind of -- it was kinda worrisome, honestly," Pierce said. I was drenched and everything in my belongings were wet, as well."
Still, the four-time PDGA World Champion and four-time Masters Cup winner didn't let the conditions hold her back. Instead, she snapped back to focus at a track where she said the layout -- which finds players often on adjacent fairways or playing alongside Upper Park Road -- was not "ideal" for a tournament. That renewed mental effort resulted in a six-stroke improvment over her round one performance.
"There's people everywhere. You look left, right, yelling 'fore!' -- it's chaos out there," Pierce said. "Cars driving by. It takes a lot to stay in the zone on this course, and I didn't channel that at all yesterday. Today I did a little bit better."
Hokom is third in the division this weekend in circle 2 putting (26%), and it was that long-range accuracy that kickstarted her round: She threw-in from 60 feet to birdie hole 26a, and later added a 40-footer on 13, the famed I-5 hole that she has birdied both rounds. She's the only competitor in the 26-person field to achieve that feat.
"I was laughing as I made my way up to my lie because I had this huge spider tree in front of me, and I was like, 'Eww, this is gonna be interesting,'" Hokom said. "But then right when I stepped up it was like center cut. I had enough of a distance to get there and kinda snuck it in, just slow anhyzer the whole way and it snuck in there."
Allen hasn't trailed at the end of a tournament round for more than a month dating back to the Jonesboro Open. Much like on Friday, she mentioned that her ability to recover from bad stretches without letting the day get away from her -- she carded back-to-back bogeys on holes 15 and 16 -- was a key to her success.
"I just wanted to fight back to even," she said. "I figured in the conditions that would be alright."
It was, and now it puts her in the driver's seat with an opportunity for her third straight win at an elite tier event. And that's all she could ask for after enduring two days at DeLa.
"Going through this course I know anything can happen, so I just wanted to be in contention going into Sunday," Allen said. "So I did that, and I'm happy, for sure."
Hokom, who isn't known for having the same distance off the tee as Allen and Pierce, still saw plenty of chances to come away with the victory at the 7,475-foot golf course layout.
"I feel confident with most of the shots out there, and the tees are set up to the point where I think I can score on quite a few of the holes," Hokom said. "I'm just gonna try to, again, try to pretend like it's the first round, not worry about the scores too much, play shot for shot and see how it works out."
Pierce might need to make a more aggressive effort to chase down five shots, and much of that would need to come on the green, where she's slumped to a 67% success rate this weekend. She was eyeballing a 1015-rated round as the magic number that could help her come back to defend last year's title.
"Throw it far and keep it in bounds -- I think I'll have a lot more looks than the rest of the girls, so I just gotta connect on those putts."
Paige Bjerkaas dropped to fourth place with a 9-over par total, while five-time PDGA World Champion Elaine King remained in fifth place at 10-over. Saturday's biggest move went to Rebecca Cox, who jumped up six spots on the leaderboard and into a tie for seventh place.
Forecast
Parts of the Santa Cruz Mountain region have received more than an inch of rain in the past 24 hours, and thunder and lightning have already been observed in the area Sunday morning. A chance of thunderstorms is forecasted to persist through the morning.
What's Next
The Open Women's lead card tees off at 10:30 a.m. at the DeLaveaga Golf Course. Scores and stats will be available via UDisc Live, with next-day video coming from Central Coast Disc Golf.