Allen Feasts On Back Nine To Take Hall Of Fame Classic Lead
Allen Feasts On Back Nine To Take Hall Of Fame Classic Lead
Pierce feeds off momentum to land in second place
Friday, October 12, 2018 - 20:18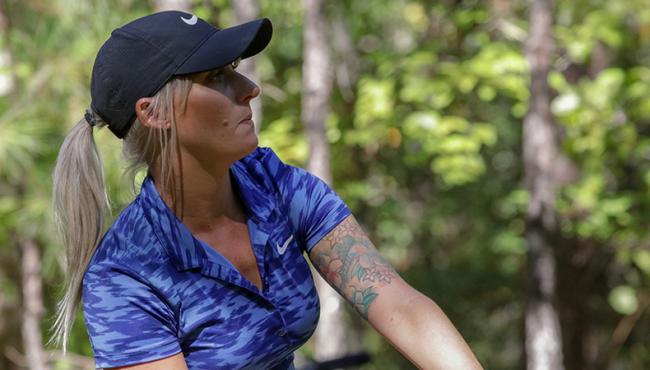 APPLING, Ga. – Sometimes scoring can be infectious.
Case in point: Paige Pierce's bogey-double bogey-bogey stretch on holes 5 through 7 Friday afternoon during the opening round of the Ed Headrick Disc Golf Hall of Fame Classic blended (im)perfectly into Catrina Allen's consecutive run of three holes that resulted in four shots over par. The lull found the duo closing out the front nine at the International Disc Golf Center's W.R. Jackson Memorial Course at 2-over par and 4-over par, respectively, as large numbers sought to derail their performances.
Birdies, though, can just as easily become endemic. So when Pierce connected from 60 feet for a stroke on 8 and Allen parked the 606-foot, par-4 10th for a drop-in 3, it signaled not the start of a new contagion, but instead the beginning of their recovery.
Allen owned the back half of the course, as her five late birdies brought her opening day total to a 1-under par 66 to give her an early lead at the PDGA National Tour finale. Pierce did her best to keep pace, ultimately finishing with a 2-over par 69 to start the three-round tournament in second place, while Disc Golf Hall of Famer Elaine King headlines a four-way tie for third place after her 4-over par 71. Lisa Fajkus snagged the last spot on the lead card by matching King's score, while Sarah Hokom and Jessica Weese head up the chase from that same position on the leaderboard.
After starting the day with a scramble for par on the 660-foot 1st, Allen found some putting woes on holes 2 and 3, missing back-to-back shots from inside the circle. The putter went awry again on hole 7, a 624-foot par-4 that plays down a valley before climbing back uphill. She missed first off the chains, and then off the cage, both times suffering roll-aways that could have put her on tilt. Though she followed that sequence with two more bogeys, she said she was happy that she kept her head on straight.
"In warm-ups I was jump putting and it felt amazing, so I was like, 'OK, I'm gonna go for it,'" Allen said. "I thought I made it…After that I was just like trying really hard not to let this affect me. Other than that – and then I missed a 10-footer on hole 2 – I think it was a good round."
Allen is one of the women's division's most talented pure throwers, and the Jackson course's wide fairways reward that in spades. She leads the Open Women's field in all four of UDisc Live's accuracy measures, and she cashed in on her 56 percent circle 2 in regulation clip with 40-foot birdie connections on holes 13 and 15. Even on the few times she was off the fairway, such as on the 726-foot, par-5 18th, she scrambled with relative ease. And that's all part of a game plan she jokingly labeled "aggressive as crap."
 "I don't really lay up," Allen said. "I'm not like, 'Oh, I'm just gonna throw a putter here.' I feel like that can go just as wrong as being aggressive."
Perhaps that's why Pierce had no problem following her groove. The notoriously gunslinging four-time world champion wasn't always the cleanest off the tee, as her 60 percent fairway hit rate sits as the eighth best in the 21-player field. But she was content to stop the bleeding, as she had worked a few shots over par into her mental approach.
"I didn't really feel like I threw many bad shots, they just weren't on the fairway and that's definitely gonna happen out here," Pierce said. "So if I can keep it to single bogey or better, I think it's fine. To get that birdie to recover from the double bogey, I thought that was pretty crucial -- especially when I know how hot Cat's shooting on the back nine…Her back nine was bogey-free with a lot of birdies. I wasn't looking at the scores, but I knew she was coming in hot, so just trying to match her the best I could."
King, meanwhile, took the opposite approach to her contemporaries on the feature card. Though Jackson and its 9,543 feet rank as one of the longer courses on tour, she simply chipped away with clean landing zones and a 75 percent scramble rate.
"A birdie is kinda hard to get [here]," King said. "You have to do something pretty special to get a birdie. It's really about minimizing the mistakes, and I feel like I had three bad shots out of the entire day, so I'm extremely pleased."
Fajkus was also effective at saving par Friday, as her 79 percent scramble rate was tops in the field. Hokom was perfect inside the circle but struggled off the tee late in the round, while Weese was on track to match Pierce through 16 holes before going into the out-of-bounds creek off 18's tee. Elsewhere on the course, PDGA World Champion Paige Bjerkaas bounced back from a treacherous front nine that featured two triple-bogeys to shoot an even-par back half and land in a tie for 13th place.
With three of the feature card's four competitors making it onto Saturday's lead card, the scoring could again come in bunches if the top of the card continues to feed off one another.
"I think when you play with better players and you kinda know what the scores are at you propel each other to shoot a little bit better," Pierce said.
The Open Women's lead card tees off at 8:50 a.m. EDT, with instant scoring and statistics available via UDisc Live.