2021 PDGA Majors, Elite Series, Euro Tour Schedules Announced
2021 PDGA Majors, Elite Series, Euro Tour Schedules Announced
Offers glimpse of a return to normalcy and lots of big-time disc golf events.
Monday, September 21, 2020 - 09:59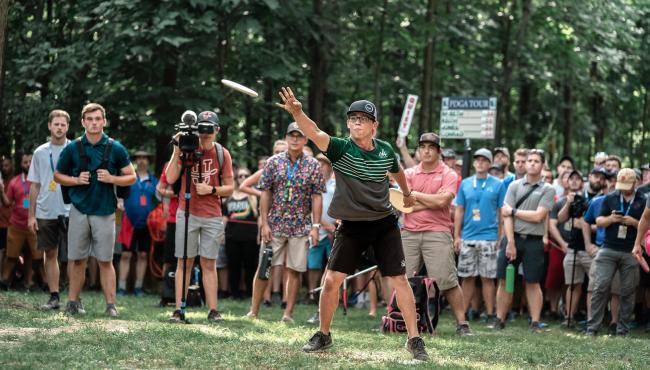 When the disc golf history books are written, 2020 may be looked back upon as the lost year; at least—that is—at the very highest levels of the sport.
Yes, there have been incredible moments. The Disc Golf Pro Tour stepped-up and carried professional disc golf through its dark period, forging ahead with a tour that—when all is said and done—will have produced eleven world-class events under the most difficult of circumstances. And 2020's lone PDGA Major will actually be two major events packed into one as the United States Disc Golf Championships combines with the Women's National Championship for an epic end of the year blowout at Winthrop, Oct. 7-10.
But it can be easy to lose sight of all that was lost. During the spring, as everyone's lives—along with the disc golf tour—were grinding to a halt, there was still hope for the return of the season that had been planned. Those hopes were slowly dashed over the course of several excruciating weeks as more events announced postponements and cancellations until early June, when the entire PDGA National Tour and all PDGA World Championships were officially postponed until 2021.
The 2021 PDGA Elite Series, Euro Tour and Majors schedule offers a glimpse of a return to normalcy as the list of big-time events stretches from one end of the calendar to the other, beginning with the DGPT – Las Vegas Challenge, Feb. 25-28 in Las Vegas, Nevada, and ending with the DGPT Championship, Oct. 14-17, in Charlotte, North Carolina. In-between lie six National Tour events, another ten DGPT Elite Series tour events, seven Euro Tour events and ten PDGA Majors headlined by four World Championships.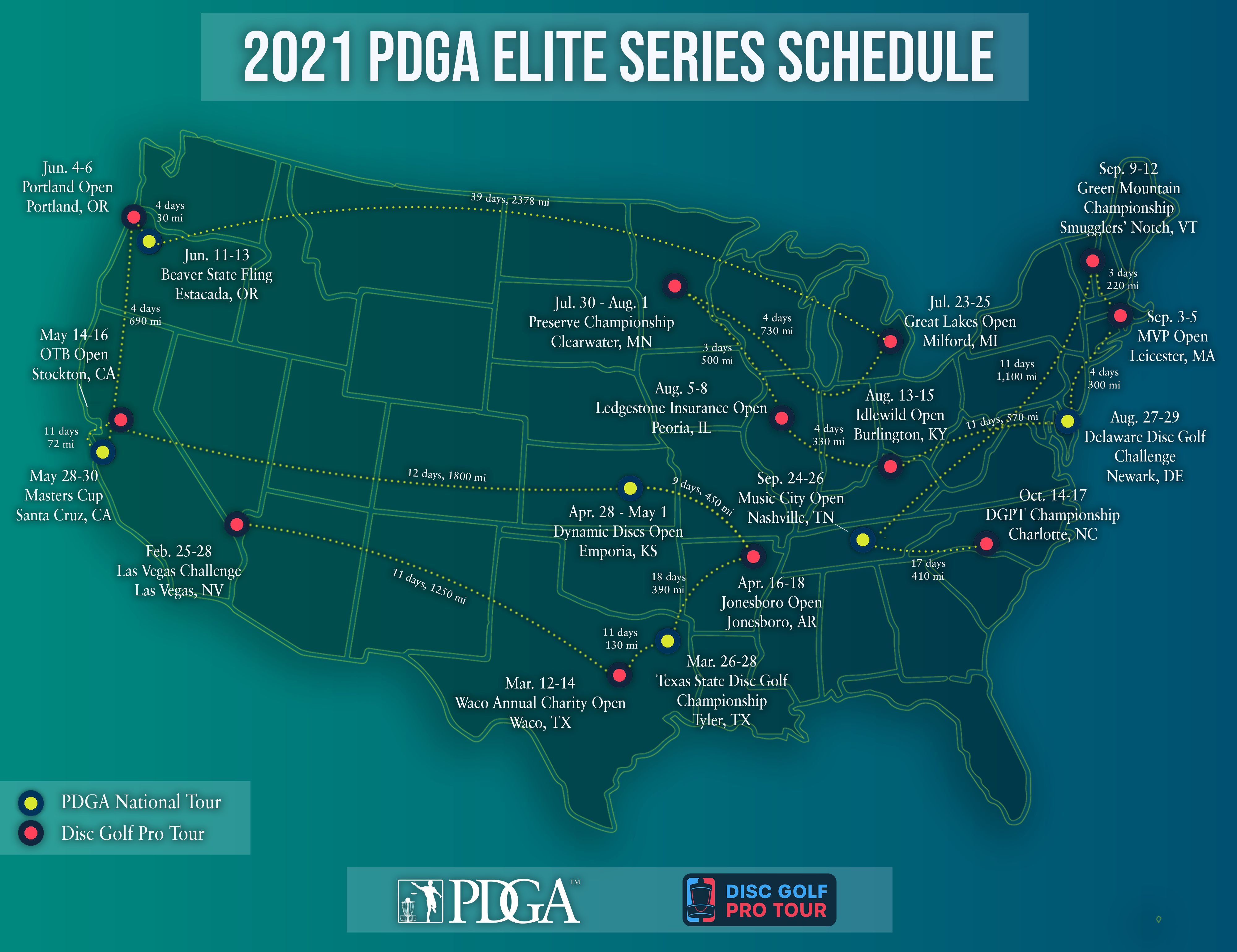 Here is the complete schedule as it currently stands. Several events are in the process of finalizing their sanctioning agreements and may be added to the schedule over the next few weeks:
| Date | Type | Class | Tournament | Location |
| --- | --- | --- | --- | --- |
| Feb. 25-28 | DGPT | Pro | Las Vegas Challenge | Las Vegas, NV |
| Mar. 12-14  | DGPT | Pro | Waco Annual Charity Open | Waco, TX |
| Mar. 26-28 | NT | Pro | Texas State Disc Golf Championships | Tyler, TX |
| Apr. 7-10 | Major | Pro/Am | College Disc Golf National Championship | Rock Hill, SC |
| Apr. 16-18 | DGPT | Pro | Jonesboro Open | Jonesboro, AR |
| Apr. 28 - May 1 | NT | Pro | Dynamic Discs Open | Emporia, KS |
| Apr. 30 - May 2 | Euro | Pro/Am | Kokkedal Open | Kokkedal, Denmark |
| May 7-9 | Euro | Pro/Am | Alutaguse Open | Alutaguse, Estonia |
| May 14-16 | DGPT | Pro | DGPT OTB Open | Stockton, CA |
| May 21-23 | Major | Pro/Am | United States Women's Disc Golf Championships | Orangevale, Rocklin, Auburn, CA |
| May 28-30 | NT | Pro | Masters Cup | Santa Cruz, CA |
| May 28-30 | Euro | Pro/Am | Petzen Open | Petzen, Austria |
| Jun. 4-6 | Major | Am | United States Amateur Disc Golf Championship | Milford, MI |
| Jun. 4-6 | DGPT | Pro | Portland Open | Portland, OR |
| Jun. 4-6 | Euro | Pro/Am | Pro Forester | Varaždin, Croatia |
| Jun. 11-13 | NT | Pro | Beaver State Fling | Estacada, OR |
| Jun. 22-26 | Major | Pro | 2021 PDGA Pro Disc Golf World Championships | Ogden, UT |
| Jul. 1-3 | Euro | Pro/Am | Tyyni | Sipoo, Finland |
| Jul. 7-10 | Major | Am | 2021 PDGA Junior Disc Golf World Championships | Emporia, KS |
| Jul. 7-10 | DGPT | Pro | PCS Sula Open | Langevag, Norway |
| Jul. 14-18 | Major | Pro | 2021 European Open | Nokia, Finland |
| Jul. 23-25 | DGPT | Pro | Discraft Great Lakes Open | Milford, MI  |
| Jul. 23-25 | Euro | Pro | Estonian Open | Aegviidu, Estonia |
| Jul. 30 - Aug. 1 | DGPT | Pro | The Preserve Championship | Clearwater, MN |
| Aug. 3-7 | Major | Pro | 2021 PDGA Masters World Championships | Johnson City, TN |
| Aug. 5-8 | DGPT | Pro | Ledgestone Insurance Open | Peoria, IL |
| Aug. 9-15 | EDGF | Pro/Am | European Disc Golf Championships | Konopiste, Czech Republic |
| Aug. 13-15 | DGPT | Pro | Idlewild Open | Burlington, KY |
| Aug. 17-21 | Major | Am | 2021 PDGA Amateur Disc Golf World Championships | Orlando, FL |
| Aug. 27-29 | NT | Pro | Delaware Disc Golf Challenge | Newark, DE |
| Sep. 3-5  | DGPT | Pro | MVP Open at Maple Hill | Leicester, MA |
| Sep. 9-12 | DGPT | Pro | Green Mountain Championship | Smugglers' Notch, VT |
| Sep. 9-12 | Major | Pro/Am | Tim Selinske US Masters Disc Golf Championship | Columbia, MO |
| Sep. 24-26 | NT | Pro | Music City Open | Nashville, TN |
| Oct. 6-9 | Major | Pro | United States Disc Golf Championship | Rock Hill, SC |
| Oct. 14-17 | DGPT | Pro | DGPT Championship | Charlotte, NC |