2020 PDGA National Tour Bookended by Two New Venues
2020 PDGA National Tour Bookended by Two New Venues
Annual circuit runs from March through September; DGPT schedule also announced
Tuesday, October 8, 2019 - 11:57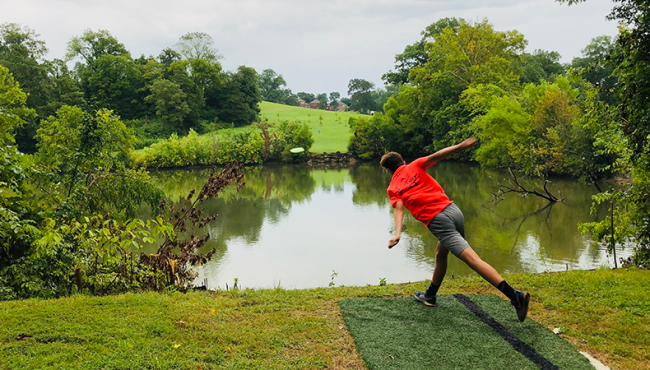 It's never too early to plan ahead.
Even as the world's top disc golfers are on the home stretch of the 2019 season, they can now take an opportunity to fix their gaze on 2020, as the PDGA National Tour is set for its 18th running. Six of the United States' best events once again comprise the bedrock of the PDGA Elite Series, with the circuit starting in March and running through September.
A new decade on the calendar also brings two new venues, as the season opens and closes at first-time National Tour stops. With that fresh look—plus four annual staples that feature huge galleries, classic courses, and grueling layouts—competition will be king as players battle in the year-long points race for a crack at some bonus cash.
Let's take a look at the schedule.
Texas State Disc Golf Championships presented by Latitude 64 | Tyler, TX
Date: March 27-29
Course: Dogwood Gold at Lindsey Park | Video
Tournament Director: Steven Storrie
The Texas State Disc Golf Championship was last on the PDGA National Tour slate in 2014, when Ricky Wysocki took down a windy affair at the mostly open Old Settlers' track in Round Rock.
It's safe to say that next year's iteration of the event will look a little different when it kicks off the National Tour.
Tyler will play host to the 2020 Texas State Disc Golf Championship, as the annual affair moves to a city of nearly 105,000 that is the backdrop for the annual Piney Woods Open. The National Tour field will tackle Lindsey Park's Dogwood Gold track, which features a 7,629-foot, par 64 layout that is more wooded than any opener in the circuit's almost 20-year history. 
"In Texas itself, Dogwood is probably a bucket list course for a lot of avid tournament and causal, competitive-type players," Tournament Director Steven Storrie said. "It's got a sign on hole one that says it's a very difficult course, if you're not a skilled player you shouldn't play here. That, in and of itself, is kind of a double-dog dare to players that entices them to come."
Storrie has a long history of running quality events in the Lone Star State and was the PDGA's 2018 Brent Hambrick Tournament Director of the Year. Now he's excited about the opportunity to put his home state back on the National Tour stage and in front of fans everywhere.
"It's the state with the most courses and most members and most PDGA-sanctioned events," Storrie said. "That is a reason we should have something like this coming through every year."
Dynamic Discs Glass Blown Open | Emporia, KS
Date: April 29-May 2
Courses: Emporia Country Club & Jones Park Gold  
Tournament Director: Doug Bjerkaas
Disc golf's most highly attended tournament returns to anchor the Midwest run of the National Tour, as the Dynamic Discs Glass Blown Open takes over Central Kansas.
Never content to stay the course from one season to the next, GBO staff is already plotting changes from an incredibly successful 2019 event that saw the MPO and FPO fields spend their four days attacking the Emporia Country Club. Tournament Director Doug Bjerkaas surveyed the 184 NT competitors about their preferences for the event, posing the options of staying the course with all days at the Country Club; remaining at the Country Club, but with pin position variations throughout the tournament; or implementing two days at Jones Gold, a combined layout of Emporia's Jones East and Jones West tracks.
Of the 49 responses he received, Bjerkaas said 80% wanted a crack at Jones Gold. As a result, the 2020 Glass Blown Open will be played Wednesday and Thursday at that extended course before competition moves to the Country Club for Friday and Saturday.
Jones Gold will feature a 10,840-foot, par-70 layout for the Open field, and the Open Women's division will play a 9,895-foot, par-71 variant.
"While many people are immediately going to think that when you combine two courses into one it makes it longer—and that is true—it is absolutely is a technical course—far more so than the Country Club," Bjerkaas said. "You really have to do some thinking on the par 4s and par 5s. We're really excited to see how that's gonna work out."
In order to keep the attendance at record levels, the tournament will introduce Kanza View, a course in nearby Council Grove, for the A-Tier field. Bjerkaas also said moving to Jones Gold will allow more divisions to experience the Country Club.
This will be the GBO's sixth run as a National Tour event, and Bjerkaas said he and his team are always grateful to have disc golf's best competitors come put on a show.
"I think, number one, it's always good to have all the top pros come to Emporia and play, and we know with the NT status we have the best opportunity to draw those folks to town," he said.
Santa Cruz Masters Cup | Santa Cruz, CA
Date: May 15-17
Courses: DeLaveaga Park & DeLaveaga Golf Course
Tournament Director: Matt Beatty
It wouldn't be the West Coast swing without the Santa Cruz Masters Cup. Celebrating its 35th year of existence, the event again returns to "DeLa" for two days of classic, old school disc golf and a final round at the nearby DeLaveaga Golf Course, which has offered an enhanced spectator experience at the tournament since 2016. 
While some NT events feature changes to the course or other components of the format, the Masters Cup will see a change in leadership in 2020, as Matt Beatty takes the reins from former TD Braden Coolidge. As a result, Beatty isn't looking to employ any drastic shifts to DeLa (especially after that just happened last season) or deviate from what has made the event a success over the years.He's just trying to keep things running smoothly.
"I would say consistency [is key] right now," Beatty said. "Being that it's gonna be my first year as the tournament director without Braden being in the wake, I'm really gonna try not to change much of anything. The tournament as a whole this year was a success. Both positive and negative feedback I'm gonna take and run with…but as it stands probably not going to change much of anything so we can keep all the moving parts as easy as possible."
That said, the golf course will see some improvements, as the nearly three-year project to renovate its clubhouse and restaurant is expected to be completed in time for the NT to roll into town. Beatty said that will bring the final round back to the vision Coolidge had when first moving it there, as fans can use the observation deck at the restaurant to congregate and watch several holes from one vantage point.
The festive atmosphere is one Beatty said he and the rest of his clubmates feel every year when getting the Masters Cup ready for the spotlight.
"The DeLaveaga Disc Golf Club is always extremely proud and honored to be hosting a National Tour event," Beatty said. "We love bringing our community together to rally behind this tournament."
Beaver State Fling | Estacada, OR
Date: June 26-28
Courses: Milo McIver State Park East & West
Tournament Director: Jeff Mittl
Where better for top players to recuperate from Pro Worlds than alongside the Clackamas River?
The Beaver State Fling returns for its 14th appearance on the National Tour stage, with the magical disc golf playground that is Milo McIver State Park welcoming players to one of the circuit's most beloved events. Normally a three-day, four-round affair, the 2020 Fling will see a significant change to its format, as it drops the shotgun starts in favor of three rounds of tee times.
Not only does the tweak in schedule put the tournament on par with the rest of the NTs, it also finds Tournament Director Jeff Mittl incorporating player feedback: With the older format, both the Open and Open Women's fields finished at the same time, which often found the women playing in front of smaller crowds. Tee times, then, will let galleries watch both fields finish. As a bonus, the change allows an event that annually sports a waitlist in the hundreds to open its doors to more competitors.
Mittl also said that there is planning in the works to implement a full set of women's tees, and that it was likely that the MPO and FPO fields will play Milo's East course twice and West course once.
As for its place on the schedule? Mittl was confident that the allure of Milo and its high-level competition would find players making the quick turnaround from Pro Worlds.
"I don't think that'll be a big issue. I think everybody will still make the trip from Utah," Mittl said. "And I think – I'm not for sure, but I think the Portland Open would be a week or two after, so that'll be again another nice swing. 
"That's not the time to let up on the gas," Mittl continued. "It's full steam ahead."
Delaware Disc Golf Challenge | Newark, DE
Date: September 11-13
Course: Iron Hill Disc Golf Course
Tournament Director: Adam Harris
"Some players are not ready for it and some players are mentally ready for it…and that adds to a little bit of the allure and the challenge to it," Delaware Disc Golf Challenge Tournament Director Adam Harris says of the event's daunting Iron Hill Disc Golf Course. "You know what you're getting yourself into, and by hole 16 you're still wondering, 'How am I hitting another tree?'"
Now embarking on its third season on the National Tour, there's a good chance more competitors will have a chance to experience the grind Harris talks about, as the Delaware Disc Golf Challenge will slot into the Northeast run of tournaments on a weekend that doesn't come directly after Pro Worlds. Harris is taking over for previous TD Jimi McIlvain--he'll still be involved in his preferred role as course caretaker and designer--and is excited to help draw more corporate sponsors to the event.
It's personal for Harris, too. Iron Hill is one of the courses he cut his teeth on as a player and designer, and when he heard McIlvain was on the tail end of running the tournament--or looking to take a year off, at the least--he was concerned it might lose its place in the national consciousness.
"This had to stay on the schedule, as far as I'm concerned," Harris said. "I had an opportunity to do something about it, so I did."
That said, don't expect him to come in and upset a good thing. The Delaware Disc Golf Challenge is all about that last word: challenge. Harris knows the event is already accomplishing that goal with Iron Hill's bruising terrain and gauntlet-style layout.
"We're gonna keep crushing it," he said. "I'm not gonna change very much at all."
Music City Open presented by Dynamic Discs | Nashville, TN
Date: September 25-27
Course: Ravenwood | Video
Tournament Director: Wil McKaskle
The 2019 Music City Open made waves when the Music City Disc Golf Club introduced the world to a new layout at Ravenwood that clocked in at more than 13,000 feet in length, making it the longest course in the world.
Now, the Music City Monster will make its debut on the National Tour, as the 2020 version of the tournament has been tapped as the tour finale.
"Everybody always talked about how they wanted to have a bigger presence on the tour in Nashville," Tournament Director Wil McKaskle said. "…It's been several years grinding away toward the goal of getting a National Tour or Major here in Nashville, and we couldn't be more excited."
While that means more elite pros will get to tackle the par-72 Ravenwood, it may not be the same as it was in 2019. McKaskle noted that the layout has changed every year it's been used for the MCO, and that course designer Shawn Sinclair is aiming to not only make use of some more of the property's wooded areas, but also to make the course flow more smoothly.
He also admitted they might take it a little bit easier on competitors.
"I think if anything, based on the feedback we got this year, some of it was a little bit much," McKaskle said. "There were a lot of people that weren't enthused about having four 1,000-foot holes to finish the round. There were some obvious concerns we didn't have the time or ability to address.
"This year they've given us keys to the gate and we're able to go out there and work it whenever we want," McKaskle continued. "There definitely will be more attention to detail put into it this year."
McKaskle said he and his clubmates are trying to emulate the Glass Blown Open model, where they bring more than just a tournament to the table. Being the last stop on the tour in a city known for its rich music history, too, presents an opportunity to impress.
"Thematically, that's definitely something we want to invest in a little more," McKaskle said. "It's definitely time to pull out all the stops and blow this thing out of the water."
****
As part of its continuing partnership, PDGA worked collaboratively with the Disc Golf Pro Tour to create a schedule that flows cohesively and balances the travel needs of a burgeoning professional scene. A linchpin of this schedule included a change to the date of the 2020 United States Women's Disc Golf Championship, which will now take place in May thanks to the impressive flexibility of the host team in Placer Valley, California.
The full schedule that includes all PDGA Majors, including amateur and age-based divisions, can be found in our A-Tier request article. Here's how the calendar shapes up with the PDGA National Tour, PDGA pro Majors, and the Disc Golf Pro Tour:
| Date | Type | Tournament | Location |
| --- | --- | --- | --- |
| February 27-March 1 | DGPT | The Memorial | Fountain Hills, AZ |
| March 13-15 | DGPT | Waco Annual Charity Open | Waco, TX |
| March 27-29 | NT | Texas State Disc Golf Championships presented by Latitude 64 | Tyler, TX |
| April 17-19 | DGPT | Jonesboro Open | Jonesboro, AR |
| April 29 - May 2 | NT | Dynamic Discs Glass Blown Open | Emporia, KS |
| May 15-17 | NT | Santa Cruz Masters Cup | Santa Cruz, CA |
| May 22-24 | Major | United States Women's Disc Golf Championships | Orangevale, Rocklin, Auburn, CA |
| May 29-31 | DGPT | San Francisco Open | San Francisco, CA |
| May 28-31 | Major | Tim Selinske United States Masters Disc Golf Championships | Columbia, MO |
| June 13-20 | Major | PDGA Professional Disc Golf World Championship | Ogden, UT |
| June 26-28 | NT | Beaver State Fling | Estacada, OR |
| July 3-5 | DGPT | Portland Open | Portland, OR |
| July 16-19 | Major | European Open | Nokia, Finland |
| July 24-26 | DGPT | Great Lakes Open | Milford, MI |
| August 7-9 | DGPT | Idlewild Open | Burlington, KY |
| August 13-16 | DGPT | Discraft's Ledgestone Insurance Open | Peoria, IL |
| August 22-29 | Major | PDGA Professional Masters Disc Golf World Championships | Johnson City, TN |
| August 28-30 | DGPT | MVP Open at Maple Hill | Leicester, MA |
| September 3-6 | DGPT | Discraft's Green Mountain Championship | Smugglers' Notch, VT |
| September 11-13 | NT | Delaware Disc Golf Challenge | Newark, DE |
| September 25-27 | NT | Music City Open presented by Dynamic Discs | Nashville, TN |
| October 7-10 | Major | United States Disc Golf Championship | Rock Hill, SC |
| October 16-18 | DGPT | Disc Golf Pro Tour Championship | Charlotte, NC |