JomezPro a Go for 2020 PDGA National Tour
JomezPro a Go for 2020 PDGA National Tour
Disc golf's largest video producer will handle all MPO lead cards
Friday, November 8, 2019 - 00:00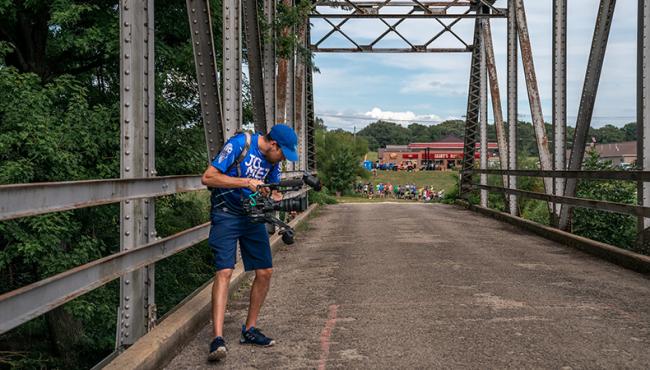 As disc golf video coverage has continued to ascend, one production team has been at the forefront of pushing the envelope. That company will now be the official MPO lead card provider of the 2020 PDGA National Tour.
JomezPro has reached an agreement with the PDGA to handle MPO lead card duties at all six events on the PDGA's annual circuit, beginning with a home state showing at the Texas State Disc Golf Championships in March. When Paul McBeth breaks history again, or Simon Lizotte defies disc golf physics, fans will be able to watch it on JomezPro alongside more than 160,000 other subscribers, a dedicated following that founder Jonathan Gomez — with an ever-expanding team — have helped to cultivate since 2012.
"We're excited to continue our partnership with the PDGA and bring everyone MPO lead card coverage from all of the 2020 PDGA National Tour events!" Gomez said.
Since dedicating themselves to disc golf coverage full time in 2017, JomezPro has continued to increase its offerings both on and off the course. In addition to eye-catching graphics and the fan-favorite commentary duo of Nate Sexton and Jeremy Koling, the crew has upped its output to include highlight reels, behind the scenes footage, and emotional, storytelling-based pieces. Add in a consistent, engaging social media presence, and it's a recipe that helps bring a tournament to more than just those on the ground.
"JomezPro's tireless work ethic and professionalism have always impressed us," PDGA Communications Manager Steve Hill said. "They help elevate events, and they have a loyal following that grows by the day. We couldn't be more happy to have them on the lead group all season. They've earned it."
Jomez's final round front nine video from the 2019 PDGA Professional Disc Golf World Championships currently boasts more than 1.75 million views on YouTube, making it far and away the most-watched disc golf production to date. That ability to break through to more than just disc golfers only adds to the company's appeal.
"Having Jomez on the lead card for every event seems like a no-brainer to me," Lizotte said. "We need the most eyes possible on us. We need the best possible disc golf production, and Jomez delivers every time. Good news to me!"
It's also good news for the sport's governing body, whose media department aimed for more consistency in 2020.
"Being able to know that, if it's a PDGA National Tour event, the MPO lead will be on Jomez, FPO lead will be on Central Coast Disc Golf, and MPO chase will be on Gatekeeper Media is huge," Hill said. "Fans who aren't on-site want to know exactly where to go for every tournament, and this only makes it easier. This also helps us deliver a better experience for our TDs and partners, which serves as a bonus for the tour."
With cell signal varying at PDGA National Tour events, live coverage for the circuit is still to be determined.
In addition to tournament coverage, JomezPro offers a slate of exclusive content — and helps defray production costs — through Patreon. For those who need a fix, the crew will be covering this weekend's Next Generation Disc Golf Tour Championship in Austin, Texas.