16 Courses. 4 Months. 1 Island Dream.
16 Courses. 4 Months. 1 Island Dream.
Ambitious Åland project promises disc golf wonderland by midsummer
Friday, May 29, 2020 - 20:05
It sounds like the stuff disc golf dreams are made of: Sixteen disc golf courses packed into an archipelago half the size of Rhode Island, all nestled conveniently between Stockholm, Sweden, and Helsinki, Finland. 
By July, Mats Adamczak intends to make it a reality with Disc Golf Island.
Adamczak is the Chairman of the Federation of Small Businesses in Åland, a chain of islands in the Baltic Sea that is home to 30,000 people and a usually vibrant tourism industry built around golf and fishing. But with the coronavirus shrinking business, Adamczak was tasked with finding a creative way to attract new clientele.
Aiming to appeal to more young people and families, Adamczak, a former member of the Finnish national floorball team who was responsible for bringing the 1997 International Floorball Federation World Games to Finland, was inspired by the recent stream of hiking and other outdoor, socially distant activity dominating his social media feeds. 
He's been playing disc golf since last year ⁠— "I'm trying, at least," he said with a laugh ⁠— and that helped the light bulb go off.
"Then I was thinking, 'What kind of sport is outside that attracts young people and families? Hmm. Oh yeah ⁠— disc golf, of course,'" he said. "And then it was so totally obvious that it's disc golf."
Åland already has two courses, but that wasn't enough to get travelers to choose to stop at the islands instead of continuing their ferry journeys between Finland and Sweden. Adamczak contemplated a three-course project, but even that didn't feel ambitious enough.
"Then I had to go all-in," he said.
So, with plenty of confidence and a side of bravado — "I have been eating bureaucrats for breakfast the last four weeks," he joked — Adamczak hatched a plan to develop 16 courses, one for each of Åland's distinct communities. And he intended to have every course open by July.
This July.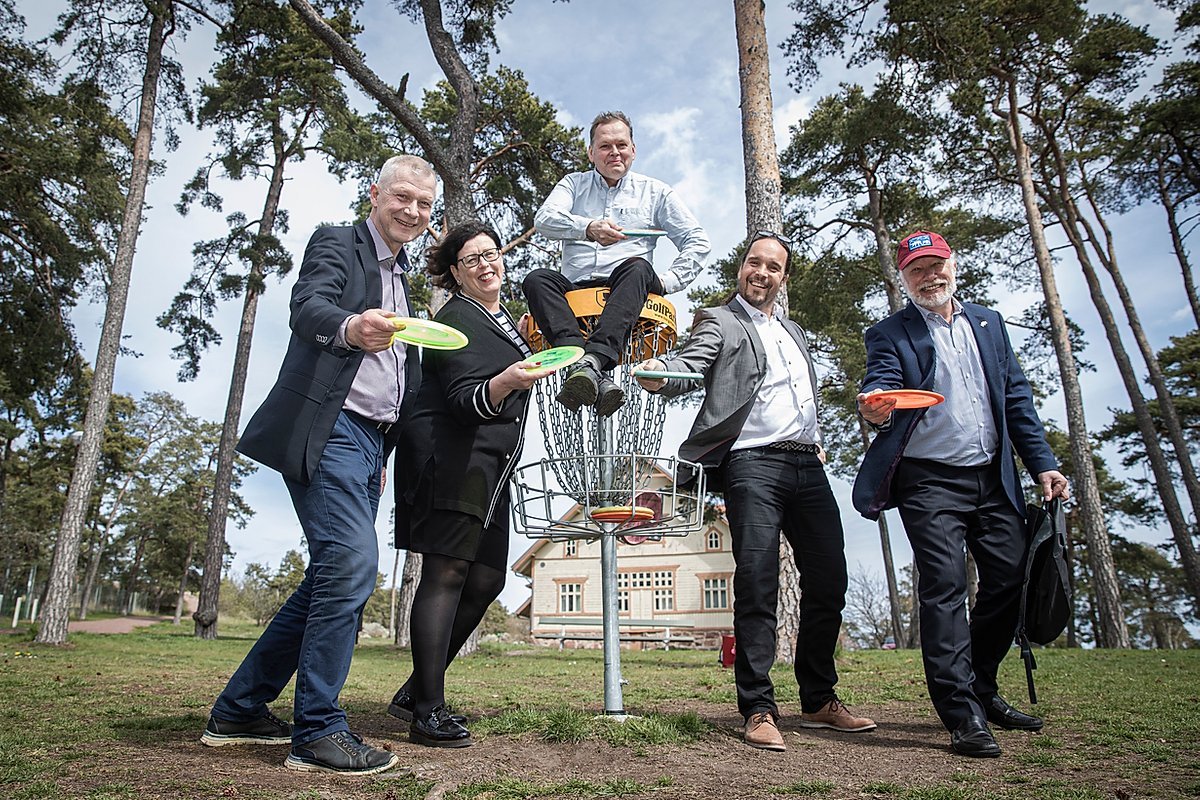 From there, he connected with design and install service DiscGolfPark, whose representatives were, admittedly, befuddled.
"When he contacted our sales rep in Sweden, we thought at first that he was talking about 16 holes — 16, you know, routes," DiscGolfPark Founder Jussi Meresmaa said. "And we were kind of interpreting that incorrectly [and told him] like, 16 holes — you should have 18."
"I was talking with Jussi and the guys, and they were thinking, 'What lunatic is this one that wants to have 16 courses in two months' time?'" Adamczak said. "Because the fastest delivery they have ever done is three months."
That speed is already being eclipsed. Adamczak has acquired the funding and property needed in each community, and DiscGolfPark has deployed three designers — including 2013 Finnish National Champion Pasi Koivu — to architect four courses per week over four consecutive weeks.
So far, they've knocked out 11 designs. The first full course, Seglinge DiscGolfPark, is already open.
"This magnitude of project has never been done before," Meresmaa said. "At least, I've never heard anything like this."
Indeed, the scope of turning Åland into Disc Golf Island is unique. One community has a population of only 90 people, and with the installation of a nine-hole course will have one disc golf hole per 10 residents. Tourists will be able to stay on the main island and mark 11 courses off their list, while more ambitious adventurers can rent a boat and aim to complete all 16 courses at the height of Midsommer. According to Adamczak, 2009 PDGA World Champion Avery Jenkins, a notorious course collector, is already planning to make the attempt.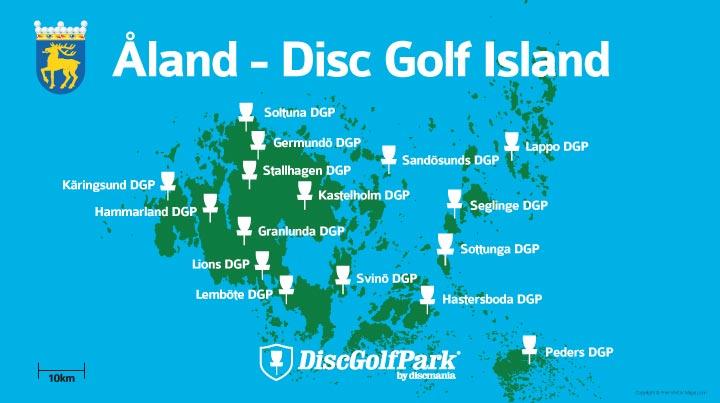 While Meresmaa said the initial audience for the courses is the recreational crowd, Adamczak said two of the courses — Soltuna and Sandösunds — will be designed with professional players in mind. He's eyeing the week following the 2021 European Open for a PDGA-sanctioned tournament.
"It's a perfect place between Finland and Sweden and Estonia, which are all the three biggest countries in disc golf at the moment [in Europe] by population and courses and density," Meresmaa said.
Add in collector discs for each community and an app that will show users real-time course congestion so they can plan their stops, and Åland has all the makings of a disc golf paradise.
"We are really trying to find different souls in the different courses, but we are trying to connect them so it will be the experience of a lifetime," Adamczak said. "...Something like a Disney park."
There is definitely magic in the making.