New World Record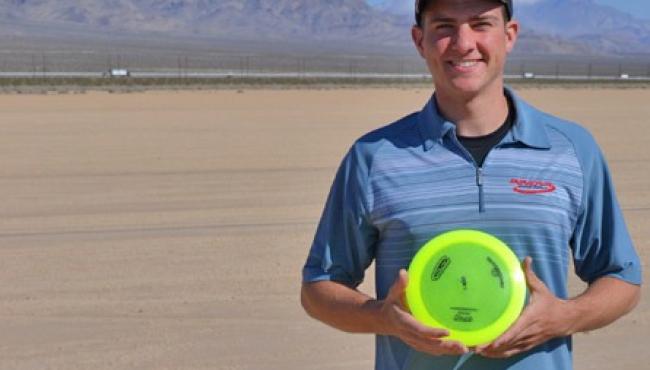 David Wiggins, Jr. sets new Distance World Record.
On Friday, April 13th, 16 year old David Wiggins, Jr. launched a 134-gram Innova Blizzard Champion Boss high into the desert sky. When it returned to earth, spotters confirmed the disc had traveled 836' (255m) and had broken the world distance record. A record that had stood untouched for nearly a decade. David was competing in the the High Desert Distance Challenge III on the Roach Dry Lake Bed in Primm, NV (elevation 2618'), about 50 miles outside Las Vegas. David's throw bested Christian Sandström's record of 820' (250m) that was set way back on April 26, 2002 with an Innova DX Valkyrie.
Friday's weather was breezy and cold with a threat of rain showers. David's record setting throw was made at approximately 3:00pm PDT during his fourth throw of the second distance set. Winds were blowing from the south at 14.5 mph. David was throwing 150 gram Blizzard Bosses but decided to try the 134 gram Boss instead and the rest is history.
Even though David is only 16 years old and still a Junior in high school, he is no stranger to distance titles. He has been pursuing them for most of his life. David set the record for boys under 13 at 577' (176m) in April 2008. One year later, he set the under 14 mark with a throw of 734' (224m). David trains just as hard for distance competitions as he does for golf tournaments. Now he owns the overall world distance record. It seems all of David's hard work and dedication have paid off.