Florida NT Return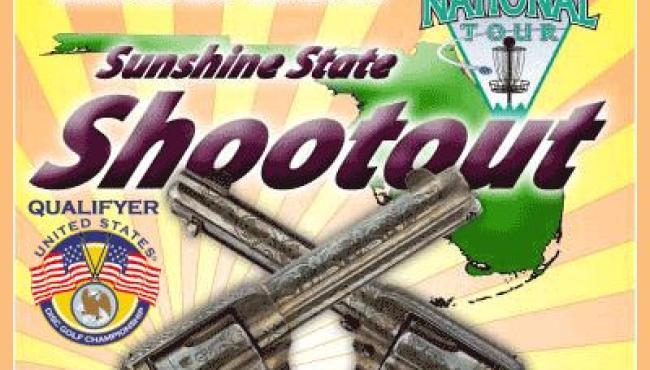 National Tour Finds Fertile Ground in Florida for Growing Disc Golf Scene
by Dr. John G. Duesler, Jr.
The PDGA National Tour makes its return to Florida at the Sunshine State Shootout after a four year hiatus from participating in disc golf's highest level traveling series.
Tournament Director, Mike Barnett, is relishing the opportunity to, not only once again prove his mettle to the disc golf community, but the chance to validate his high hopes for disc golf at Ocala's new disc golf facility, The Preserve at Pine Oaks Disc Golf Course, located alongside the Pine Oaks municipal golf course.
"One of the driving forces that took disc golf over the finish line with Ocala Recreation and Parks was the prospect of bringing bigger events to Ocala's new disc golf complex," Barnett explained.  "And now with the National Tour coming through this month, and The Players Cup match play tournament scheduled to make it's return at the same course this November, disc golf is a getting a chance to make good on its promise."
Indeed, with the economic troubles facing local municipalities throughout the nation, many governments are more open to exploring unconventional revenue streams.  And besides the high level of competition and community involvement our National Tour enjoys around the country, one of the untold stories about disc golf is the economic impact our events are having on our host venues.
"Word in Florida is now spreading more rapidly about disc golf," Barnett said.  "Especially now that Ocala has embraced our sport.  It's interesting to see that Orlando and surrounding counties are suddenly sitting up and taking notice and wondering how they can get involved with disc golf's biggest events.  Our hope is that our work with the city of Ocala sparks more widespread support of disc golf on a governmental level," Barnett concluded.
So clearly, the future of disc golf is bright in Florida, especially with uber-promoter Mike Barnett working so hard to move the sport in a positive direction.  In the land that is better known for stick golf, the flying disc is indeed making headway.  If Barnett's efforts continue to bear fruit in this fertile ground of relaxation and recreation, Florida may be become also known for its vibrant disc golf scene, in addition to the home-state of the legendary icon of our sport, Ken Climo.
The Sunshine State Shootout will be held in Ocala, Florida from March 26-28 at both the Pine Oaks Golf Course and Ocala Greenway Disc Golf Course.  Follow live scoring, reporting, and other media action on pdga.com. For more information or to register for the event visit www.SunshineStateShootout.com.