Nikko Locastro Wins the Memorial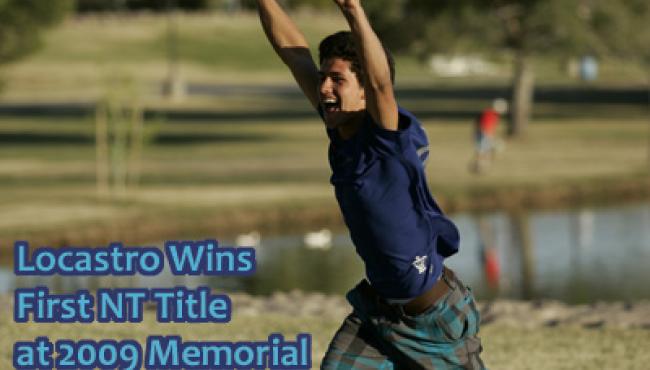 Locastro Launches NT with Win at Memorial.  The first stop of the 2009 PDGA National Tour concluded today in Scottsdale, Arizona at The Memorial. Nikko Locastro continued his early season success by capturing his first NT title, besting world-class golfer Avery Jenkins, 3-time Memorial champion Barry Schultz, and Arizona's own Paul Ulibarri.
Locastro pocketed the $2500 first place prize by riding the momentum from his 1089-rated second round in Fountain Hills. The Missouri native is one of the most colorful players on the NT, as well as one of the most talented. Still only 20 years old, Locastro has come into the 2009 disc golf season on a mission, adding the Memorial title to two other wins and a second he has accomplished already in this early part of the season.
Val Jenkins followed up last week's Gentlemen's Club title in Las Vegas with her second consecutive Memorial Championship this weekend in Scottsdale.  Her two throw win over rival Des Reading and three over Liz Lopez gets Jenkins off to a great start during this 2009 season, as well.  The two-time defending World Champion is playing with a high confidence level that is translating nicely into her game, especially with her intermediate approach shots. 
For a video recap of Final Round Coverage of the Memorial, check out http://blip.tv/file/1856070.
Photo Gallery:  http://www.flickr.com/photos/[email protected]/collections/72157614872799206/
PDGA Scoreboard: http://www.pdga.com/tournament-results?TournID=8387#Open
---
---
Memorial Moves to Fountain Hills for Friday Play.  The desert highlands welcomed the PDGA's best with its picturesque fountain that shoots 400-500 feet in the air, as well as a stiff breeze that put players into safety mode during much of the round. 
But safe play does not always translate into solid play, as the Women's Open division had their struggles around the basket, missing putts that they normally would drain with no problem.  Clearly, the windy conditions had an effect on their approach to the round, as our top three, Val Jenkins (+4), Des Reading (+5), and Liz Lopez (+7) all managed to maintain their great positions to capture the prestigious 2009 Memorial Title. 
The Men's Masters division had Dean Tannock moving up into a first place tie with PDGA-newcomer Robert Ryan from Colorado.  Both golfers are knotted at -10, while first-round leaded, Jim Myers, slipped back a few throws off the pace. 
We hope you are enjoying our Second-Round Video Coverage of the 2009 Memorial, brought to you by PDGA Media, in cooperation with Terra Firma Media Group.
---
---
2009 Memorial Underway with Great Play The 2009 National Tour is off to a quick start in Scottsdale and Fountain Hills, Arizona at The Memorial. 
And the event got off to a very quick start, as defending World Champion and Memorial Titlest, Dave Feldberg, found himself in a very talented grouping during this first round.  Feldberg was joined by 2009 USDGC winner and two-time World Champion Nate Doss, the very talented Avery Jenkins, and perhaps the hottest disc golfer on the tour so far Eric McCabe. 
Feldberg started out slowly on the first two holes, but caught fire, as he's been known to do.  A string of 11 consecutive birdies put Feldberg on top of the Men's Open division after the first round. 
PDGA Media, in cooperation with Terra Firma Media Group, is pleased to bring you first round coverage of this prestigious event. 
For First Round Video Coverage of the 2009 Memorial, check out http://www.pdga.com/videos/the-2009-memorial-thursday-coverage.   
---
---
2009 PDGA National Tour to launch in Scottsdale, Fountain Hills, Arizona ~ The Memorial to Kick off 7th Year of Disc Golf's PDGA National Tour
If it's the first week of March and it's disc golf, then it can only be The Memorial in Scottsdale and Fountain Hills, Arizona.  Again this year, Dan and Sue Ginnelly will host over 350 players from around the world, as they all kick off the 2009 PDGA National Tour on the pro side, combined with a massive PDGA Super-Tour event on the amateur side. 
As the presenting sponsor, Discraft has long been affiliated with The Memorial, where most disc golfers are taking their games out of moth balls and onto the extremely challenging confines of Vista del Camino Park in Scottsdale and the desert oasis at Fountain Hills. 
The PDGA Touring players' clinic, organized by Jay Reading, will begin the programming for the event, followed by a Fly-mart at Duke's Sports Bar, and highlighted with the head-to-head-on disc golf competition Thursday, Friday, and Saturday. 
And while The Memorial features most of the top-ranked disc golfers in the PDGA, this event is as much about camaraderie, as it is about competition.  So it truly captures the perfect combination of fun and flying discs. 
Make sure to stay posted to pdga.com for scores, photos, feature stories, and video highlights on this first event of the 2009 PDGA National Tour, as well as throughout the entire disc golf season.
Check out the video story on disc golf under the "Sonoran Living Show Segments "section on the left hand side of this website:
http://www.abc15.com/mediacenter/[email protected]&navCatId=27
PDGA Scoring Page: http://www.pdga.com/tournament-results?TournID=8387
Tournament Website: http://www.disqman.com/
[view_pager:Documents=25=1102]