'Lucky' Lizotte Leads Heading into Memorial Final
'Lucky' Lizotte Leads Heading into Memorial Final
McMahon set to give chase from two shots back
Friday, March 2, 2018 - 23:41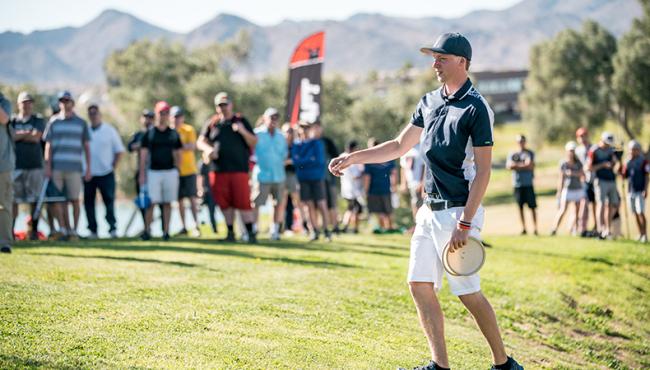 Sometimes you have to be lucky to be good. In Simon Lizotte's case Friday at the Memorial Championship, though, he was good before he was lucky.
Lizotte's 14-under par 42 at Fountain Hills certainly featured some fortunate bounces, but he also smashed chains with ease and rarely flirted with the course's signature water feature. The 1088-rated performance moved him into sole possession of the lead heading into Saturday's final at Vista Del Camino with a 34-under par 138.
Eagle McMahon and Nate Sexton tossed matching 12-unders as they made their way around the lake, which found McMahon clinging to his second-place standing with a 32-under par 140 and Sexton climbing into third at 28-under. James Conrad and Paul McBeth are tied for fourth place at 27-under par, with Conrad earning the last spot on the final round lead card after his 8-under par 48 Friday.
Lizotte was perfect inside the 10-meter circle and connected on three of six from long range, with his 40-foot death putt on Fountain Hills' 393-foot opening hole setting the tone. After years of facing a similar lie at the Memorial, Lizotte said he felt like the odds of making it were on his side.
"I've had that putt so many times now, and I thought, 'What are the chances of just missing it every time?'" Lizotte said. "So I thought, 'This is probably going in.'"
That start stood in stark contrast to that of McMahon, whose first drive of the day went into the drink. He put his re-teed shot under the basket, though, which made it easy to recover from the early error.
"My first shot I was trying to throw it long like everyone else does," McMahon said. "For some reason it came out, like, so soft, and my second shot I tried to do the same thing…so getting a four on one is kinda good. But the fact I parked my second shot for four was like, 'Alright, let's go!' I didn't have to think about it."
After Lizotte made his own good fortune to open play, he got the first of a few beneficial bounces when his crush on hole 2 crept just inside the out-of-bounds line. Karma then kicked his way after his drive on hole 5 rolled and bounced off the lone parked car that lined the fairway, keeping the shot safe, and once more when an errant tee shot on the 390-foot 11th caromed off a palm tree and dropped feet from the basket. Lizotte said he was "so embarrassed" after the latter drive, but that shots like that even out over the course of a tournament.
"It was one of these rounds where things were just going my way," Lizotte said. "I got like three pretty lucky breaks. When you get those lucky breaks you just gotta use your luck when you get it, and I feel like I did just that."
By the time he converted on another death putt to close the round, Lizotte was up two on the rest of the field. Though that final connection was yet another display of confidence in the face of Fountain's fearsome foe, Lizotte shrugged off the accomplishment.
"Dude, we're professionals. Easy," he said. "We've been here so many times. We've thrown in the water so many times…Maybe when I was 12 water scared, me but not anymore."
Sexton has rebounded in tremendous fashion after a penalty-laden 3-under par opening round. He's gone 25-under since that 995-rated showing to climb 62 places on the leaderboard via bogey-free play and a 95 percent putting success rate inside circle 1.
"I think I'm kinda getting my wintertime rust off here," Sexton said. "Little bit less windy, little bit less cold, and I'm starting to kind of play like I'm capable of, which is fun…To be on the lead card now is pretty surreal."
Defending Memorial champion McBeth slipped seven shots off Lizotte's pace after an inconsistent lead card performance. The Southern California native connected on three putts from beyond the 10-meter arc, but offset any of those gains by going out of bounds five times. He'll share the chase card with Grady Shue, who moved up five spots on the leaderboard with a 9-under par 47 Friday; Drew Gibson, who is aiming for a second consecutive week of finishing in the top 5; and 11-time Danish national champion K.J. Nybo.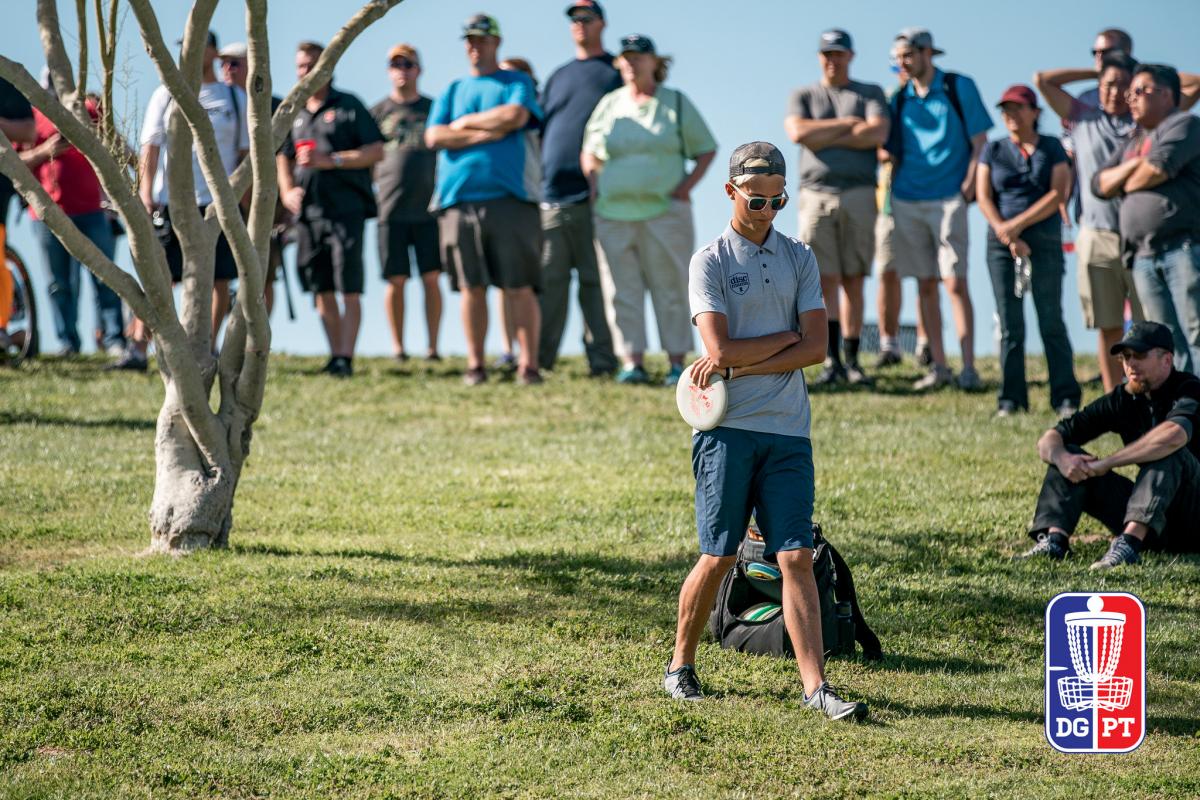 This marks the second weekend in a row that Lizotte and McMahon are on the final round lead card, and with that comes another chance for their friendly rivalry to flourish. Lizotte said their offseason trainer, Andreas Gertsch, put rules in place for them to keep their in-round banter positive, which he admitted is not always an easy task.
"We try to push each other, of course," Lizotte said. "Even though it's an individual sport we kind of behave like brothers. So at the same amount we want to beat each other we also, of course, support each other."
McMahon is looking for a second straight win after his triumph at the Las Vegas Challenge. He said he and Lizotte consistently aim to one-up each other, but that if he doesn't succeed in overtaking his friend that he'll be the first to congratulate him.
"Oh yeah, at this point I don't want to see anyone win unless it's me or Simon tomorrow," McMahon said. "I'm gonna go out there, and to go back-to-back [after winning the Las Vegas Challenge], that would be absolutely incredible. But if Simon pulls away I'm gonna shake his hand and say, "Dude, you did it."
"I feel like I have no pressure," McMahon continued. "Anything from here on out is bonus. It's almost like a victory lap, in a way."
Ever mischievous, Lizotte joked that he wouldn't mind if McMahon let him have this one.
"If we're tied tomorrow on hole 18 I hope he misses on purpose for me," Lizotte said with a laugh. "No. No. That's very unsportsmanlike."
The lead card will take on Vista del Camino at 4 p.m. ET, with live coverage being broadcast on the Disc Golf Pro Tour's YouTube channel. As always, real-time scoring and statistics will be tracked on UDisc Live.