Hambrick Wrap-up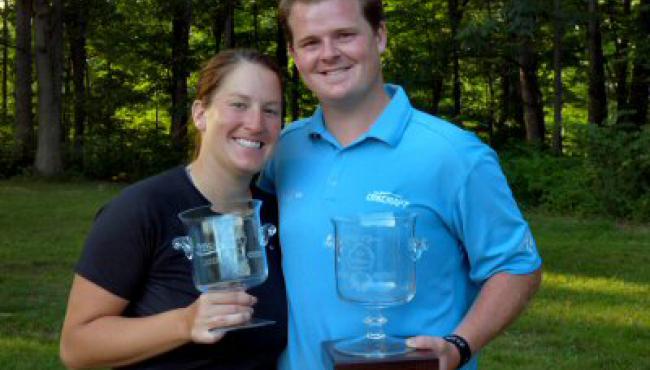 Coming from nearby Hinckley, Ohio, Valarie Jenkins has some early memories of the Brent Hambrick Memorial, but not necessarily from the course.
"Living in Ohio, these are the tournaments my parents would go to all the time," Jenkins remembered.  "And I would just sit in the car reading magazines.  I didn't even care."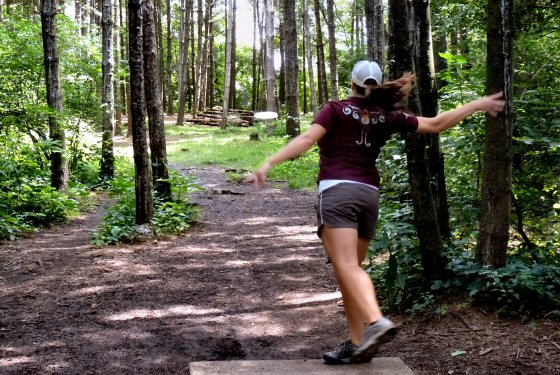 Valarie Jenkins used finesse in the woods and power on the open holes to capture her first Brent Hambrick Memorial Open Title
Of course, she would periodically peek her head out to see when Sharon and Leroy would be
completing their rounds, but eventually Val Jenkins did begin to care about disc golf.
"I began playing in these events when I was 16-ish, but as a teen-ager, I was having more fun with my friends," Jenkins continued.  "One of my oldfriends who lives here in Columbus even came out to the final nine today and that was great.  My old friends brag about me, but when they actually see all the people that come out to watch disc golf here at the Hambrick, that's amazing," Valarie beamed.
Her old friends had even more to be proud of this weekend, as Jenkins has regained her dominance again in the women's open division with a solid seven-throw win over Liz Lopez in Columbus.
"This year, I've felt that there are more women who are nipping at my heels," Jenkins noted, pleased to see a stronger women's division emerging in disc golf.  "It's cool.  I'm glad that I've been able to stay ahead of them most of the time."
Jenkins is finding the going more challenging, as it is not just Des Reading and Carrie Berlogar who are her main adversaries.  Last year's PDGA Rookie of the Year, Lopez is usually in the mix, as well as Liz Carr, Sarah Stanhope, when she could travel, and the newest faces in the women's open division, Paige Pierce from Plano, Texas and Sarah Hokom from Saint Peters, Missouri.  All these talented women will provide more than enough resistance to Jenkins in a couple weeks, as she goes for a fourth consecutive women's open PDGA World Championship in Crown Point, Indiana.  Only Elaine King (1991-1994) and Juliana Korver (1998-2001) have ever accomplished that level of superiority in women's disc golf.
---
Nate Doss has accomplished greatness in his still relatively young disc golf career. Two PDGA World Championships, a United States Disc Golf Championship, travel through most of the northern hemisphere playing disc golf, and a role as lead protagonist in one of the hottest disc golf movie projects to date (Chains) all combine to put Doss in a comfortable space when it comes to his competitive endeavors these days.  His primary objective now to put on a great show for the fans whenever he is on the course.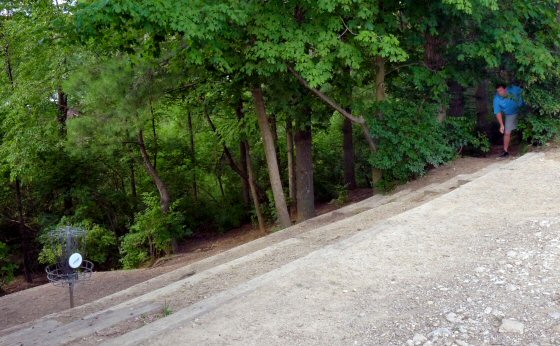 This incredible putt out of the woods set up the dramatic final hole finish for Nate Doss at the 2010 Brent Hambrick Memorial Open in Columbus, Ohio
True to form, Doss kept the disc golf world on the edge of their seats, as he and the top-rated local pro Brad Schick needed all 81 holes of the Brent Hambrick Memorial Open in Columbus, Ohio to determine a winner.

In front of hundreds of sun-soaked fans at the impressive Hoover Dam disc golf complex, Doss shared his best for last pinning the ninth hole of the finals on his approach to wrestle the National Tour victory from Schick, who's improbable 30-ft, par-saving putt on the uphill, hump-positioned basket clanged the front of the target.  That left Doss to essentially drop in and avoid the cruel fate he endured last year.
This putt gave Nate Doss the Hambrick Memorial title on the 81st hole of play
"I had Avery caddying for me and he said, 'Many tournaments have been won and lost on this hole'," Doss shared, referring to his two-throw advantage going into the exact same situation during the final hole of last year's Hambrick Final 9.  "I had a two throw lead and threw OB to take a five and Dave [Feldberg] and Avery [Jenkins] took threes to tie.  Dave won.  I definitely had that on my mind a little going into today's final hole," Doss revealed.
But instead of trying to hold onto a lead, Doss' goal was to unlock the tie that he and Schick had for the previous five holes.  The Columbus favorite, Schick had honors after Doss out-drove his main competitor by some 75 feet.  And while Schick had a difficult time deciding on whether an approach disc or driver would suit the prevailing tailwind, Doss tapped into last year's experience to put his upshot within ten feet of the target.  Schick's throw did not work out, as the driver skipped and rolled down the mound past the basket some 30 feet away, leaving the success of his previous two rounds' 11-under pars riding on the edge of whether he could can the come-back putt or not.  But the throw fell short and Doss was left to finally capture his Hambrick crown, perhaps a year later than he would have liked.
"Playing with Brad [Schick] was a pleasure, as was playing with the whole group this weekend," Doss smiled.  "Brad is a competitive guy, but he is also a good guy with a good heart.  At no point did I feel I had an edge on Brad," a clearly relieved Doss said.
Brad Schick had to bear down to get this shot out of the woods to try and save par at the Hambrick Memorial in Columbus, Ohio
Indeed, it was Doss who had to force matters today during play, as his three-throw cushion after yesterday's play put the bulls-eye squarely on his back for, not only Schick, but for top Masters competitor Brad Hammock and hard-charging Geoff Bennett to take aim.

And though Hammock and Bennett did stay within striking distance, it was Schick who actually hit his target, passing Doss during this morning's 27-hole round to take a one-throw lead into the finals.  And that may have actually been where Doss wanted him, as the galleries swelled to watch their local favorite seize the cherished Hambrick crown.
But if Schick was going to keep the Hambrick crown at home, he needed to do better in the
first three holes of the final nine where Doss evened things up on a Schick bogey on hole three.  Like two heavy-weights trading hay-makers, Doss and Schick went toe-to-toe on the next five holes leaving the climactic final hole to decide the winner.
#####